The Hanjin bankruptcy has created a strain on supply chains, which has basically led to a short-term impact on average container freight spot market pricing as well as an impact on supply and demand. Major container shipping lines including Hyundai Merchant Marine, HMM and Maersk (OTCPK:AMKBY) have more than capably picked up the slack for Hanjin's trade lanes.
The overcapacity issues plaguing the global container shipping industry have led to a systemic decline in average spot market freight prices, idled capacity, vessel scrapping and lower shipbuilding manufacturer production. Over the near term, the Hanjin Bankruptcy is not likely to solve the overcapacity issue, but with the increase in consolidation, the chances of more bankruptcies cannot be ignored.
For these reasons, paying attention to Seaspan's charter contracts during these challenging times is a must. This includes the company's balance of exposure to global container shipping lines, as well as the timing of when charter contracts will possibly expire. Some experts are anticipating lower charter extension or renewal rates, and in worst cases, more idled assets.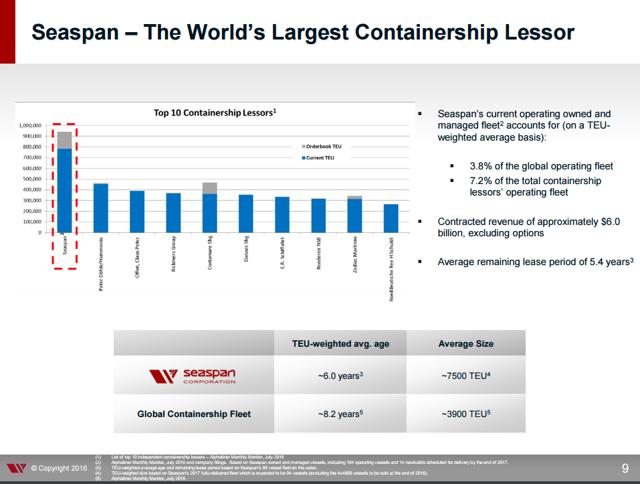 Click to enlarge
Source: Seaspan Second Quarter 2016 Financial Results Conference, July 26, 2016
Seaspan Corporation (NYSE:SSW) has stated on its recent investor presentations that the company has $6 billion in contracted revenue, excluding options. For the existing fleet and excluding options, these contracts extend out to May 2026.
Based on the newbuilding program, seven ships will be delivered in 2017 with one in late 2016, which will extend the company's contracts out to the late 2020s and mid-2030s. Seaspan is also the largest charter owner and manager by TEU capacity, expected to reach nearly 1 million by 2017 year-end, including managed vessels TEUs.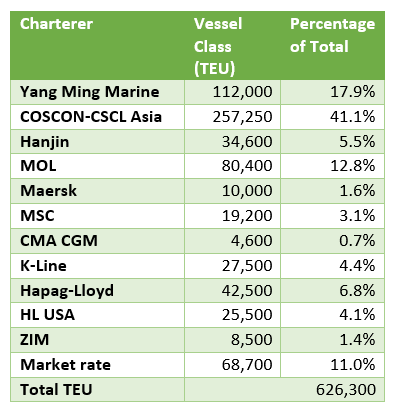 Source: Seaspan Corporation Fleet as of June 2016, excludes managed vessels TEUs
The majority of Seaspan's charter contracts, nearly 75 percent, were through COSCO Container Lines, Yang Ming Marine and Mitsui O.S.K. Lines, MOL. From the newbuilding program, another 55,000 TEUs will be supplied to Mediterranean Shipping Company, MSC representing 9 percent of the existing total and bringing the MSC percentage share to 8 percent from 3 percent for 2017. It should be noted that today's 19,200 TEU capacity for MSC will be removed this year as MSC will be purchasing these vessels.
Another 14,000 TEU capacity will be added to Yang Ming bringing the share just above 18 percent for 2017. And lastly, another 10,000 TEU capacity will be added to Maersk bringing the percentage share to 3 percent for 2017. The largest impact from these newbuildings will be upon COSCO, which will potentially witness a percentage decline to 36 percent.
Seaspan still has 20,000 TEUs which do not have charter agreements today; the company has stated that they are expected to enter into long-term charters in the future. Whether or not this does indeed happen will be dependent upon negotiated rates. The most recent daily charter rate stood at $46,500 for the YM Width which was entered into on May 29, 2016, a 14,000 TEU class vessel.
With the most recent 10,000 TEU class vessel receiving a daily charter rate at $37,500 on April 29, 2016, for the MOL Beyond, investors will want to see whether or not the vessels being delivered in late 2016 and 2017 receive similar daily rates, as well as the bareboat financial agreement with MSC.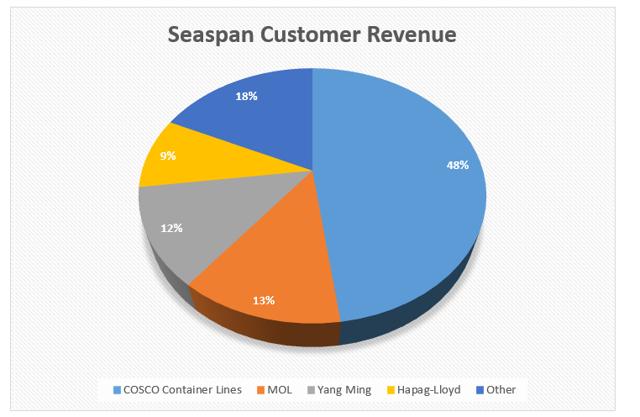 Click to enlarge
Source: Seaspan Corporation financials and personal database
When considering Seaspan's customer revenues for the first half of 2016, the same picture is illustrated with COSCO, Yang Ming and MOL representing nearly 75 percent of total revenues. The differences in TEU charter capacities and actual revenues are the result of the date the charter began, daily charter rates and any off-hire time.
Due to the importance of select customers driving revenues, investors should also consider the financial stability of COSCO, Yang Ming, MOL and MSC as they are estimated to represent over 75 percent of total TEU capacity next year.
As a benchmark, Maersk represents one the most financially strong global container shipping lines in the world. This can be attributed to the company's industry-leading leverage ratios and proportion relative to property and equipment.
MSC does not disclose its financials, but as second to Maersk in TEU capacity, would leave us thinking that the company should be in good shape. But unlike Maersk or MOL, MSC's business is solely focused on container shipping, and less diversified. CMA CGM's substantial majority of the business is also container shipping-based, and leverage levels have swooned higher from the recent acquisition of Neptune Orient Lines, NOL.
Financial transparency to a degree for COSCO, Yang Ming and MOL does exist. When going back to the Hanjin bankruptcy, the balance sheet can be one of the most telling areas to find some answers to sustainability. Today all major global container shipping lines are facing substantial pressure related to net income, operating cash flow and working capital. In some instances, all three could be negative.
From the balance sheet perspective, a primary focus should be on property and equipment and other assets that can be used as collateral, and the relationship to net debt. At year-end 2015, Hanjin had a net debt to property and equipment ratio which stood at nearly 92 percent. As the tables turned and Hanjin's profits and cash flows were severely impacted, there was not enough cash on-hand to sustain the business without major refinancing. This need, as we all know, was not provided.
As collateral becomes maxed out from borrowing, the ability to refinance what is owed can dry up as was the case with Hanjin. So from the balance sheet, paying attention to core long-term assets including net property and equipment, associated businesses and investments into other assets, and comparing this to cash on-hand and leverage is a good way to get a sense of how much collateral may be maxed out.
When comparing this with core customers for Seaspan mentioned above, we get a much better read on financial health and potential sustainability. COSCO as a separate entity from the former China Shipping Container Lines, CSCL Asia, held RMB 100 billion in property and equipment and associated businesses and other relative assets at 2015 year-end. The company also held cash on-hand at RMB 32.7 billion. Short-term and long-term debt stood at RMB 86 billion. This translated to a net debt to collateral-available assets at 53 percent.
For CSCL Asia, the company held RMB 67 billion in collateral-available assets and had RMB 14 billion cash on-hand. Short-term and long-term debt amounted to RMB 74.7 billion. This translated to a net debt to collateral-available assets at 91 percent. Clearly, the merger between COSCO and CSCL Asia was of the most importance to CSCL Asia. If not undertaken, this company could have faced a similar fate as Hanjin did. Combined at year-end 2015, both companies would have a ratio of 68 percent.
For Yang Ming, the company held NT$ 107 billion in collateral-available assets and had NT$ 23.8 billion cash on-hand. Short-term and long-term debt amounted to NT$ 76.6 billion. This translated to a net debt to collateral-available assets at 49 percent. The company could have some additional leverage-related obligations contained within other aggregated line items, but this would likely push the ratio closer towards 60 percent at most.
For MOL, the company held yen 1,376 billion in collateral-available assets and had yen 166.3 billion cash on-hand. Short-term and long-term debt amounted to yen 1,022 billion. This translated to a net debt to collateral-available assets at 62 percent. The first and third largest container shipping companies in the world, Maersk and CMA CGM held ratios at 27 and 66 percent, respectively.
Clearly, Maersk is one of the strongest financially positioned companies in this industry. Substantial mergers for COSCO and CMA CGM, while increasing this ratio, have not materially threatened the companies' financial stability and/or sustainability for the near term. All-in-all, roughly three-fourths of Seaspan's business looks to be on solid footing.
The remainder of the information below is meant to provide investors with a view of Seaspan's charter schedule. There are many variables which may impact whether charter options are executed as is or renegotiated; whether charters coming to end are renewed and/or offered to new customers, etc.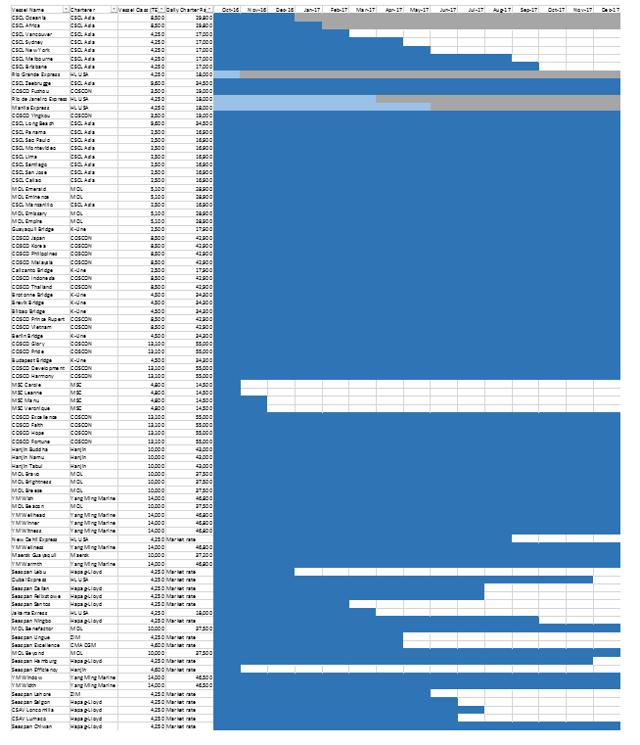 Click to enlarge
Source: Seaspan Corporation Fleet as of June 2016
There are a couple of items worth mentioning regarding the current fleet under charter through the end of 2017. First, the four bareboat charters with MSC, which are scheduled to terminate as of November 2016, will be purchased by MSC for $20 million. Second the majority of charters with terms ending in 2017 have some of the lowest daily charter rates and/or are using spot market rates.
Two vessels have recently gone off-charter for CMA CGM and Hanjin. Collectively, with the exception of the Seaspan Excellence for CMA CGM, these have reflected the shortest charters for Seaspan. The most intriguing charters will be the CSCL Asia 8,500 TEU vessels ending by January 2017, but with options to extend. Both of these charters currently have daily rates at $29,800.
There are also quite a few charters which will be coming to an end, some with options for extension, that fall around the $18,000 daily charter rate. Many of these charters will enter negotiations close to or after mid-June 2017, which does leave some time for the industry to improve. Regardless, these charters will offer important insights into how tough negotiations will be.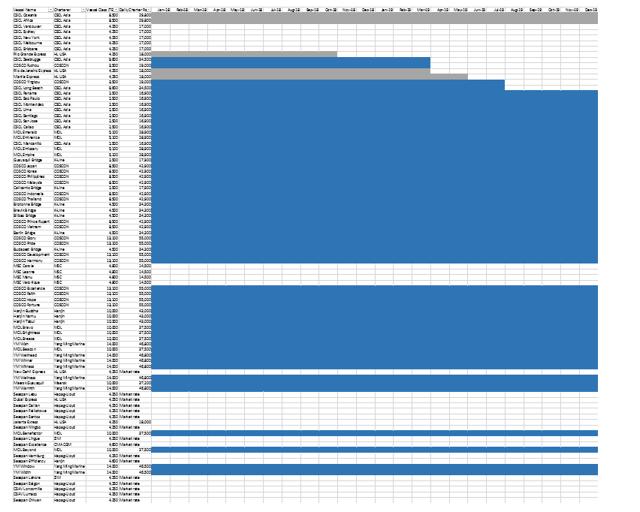 Click to enlarge
Source: Seaspan Corporation Fleet as of June 2016
The majority of Seaspan's highest daily charter rates are booked solid to 2019 and beyond. With the Hanjin spot market rate contract already finished, the important information for investors will be updated during the third quarter call regarding the three Hanjin charters at a $43,000 daily rate. These charters would have gone to 2024, not including options.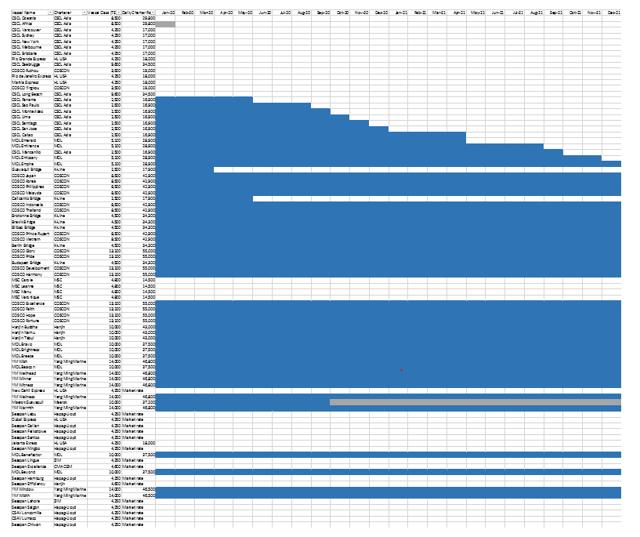 Click to enlarge
Source: Seaspan Corporation Fleet as of June 2016
By 2021, many of Seaspan's daily charter rates near $17,000 will be expiring. As in the following charts after, investors should be content to see the continued solid block of higher daily charter rates. They should also be also looking forward to getting some transparency on not just how expired charter rates will be negotiated, but also on what will be happening to some of the smaller TEU vessel classes.
For instance, with the new Panama Canal locks working, some smaller TEU vessel classes may end up being scrapped or their daily charter rate may substantially decline. In theory, as the competitive environment ensues, the survival of the fittest mentality is expected to lead to stronger pricing power at some point.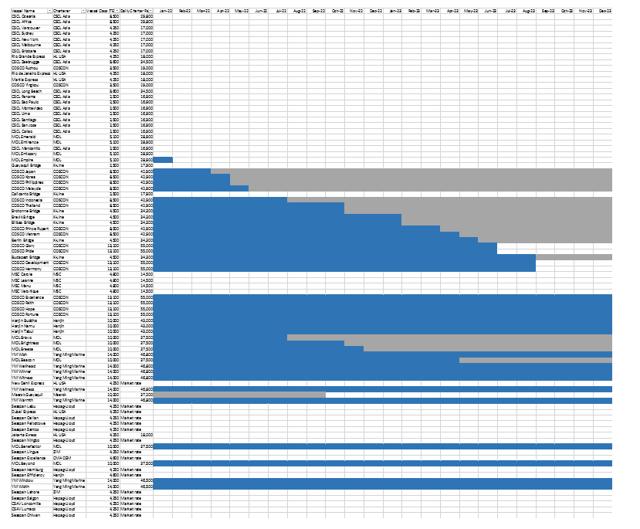 Click to enlarge
Source: Seaspan Corporation Fleet as of June 2016
Beginning in 2022 is when Seaspan will enter into the "option" period for many of the company's higher daily charter rate contracts. The remaining figures below display the option periods as they extend out to 2029.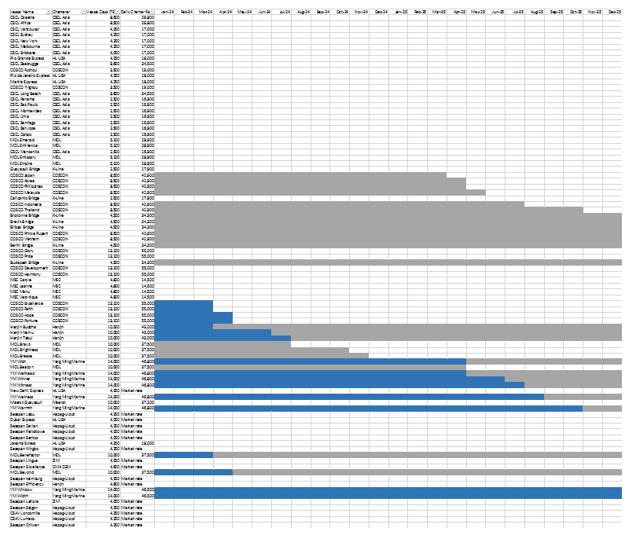 Click to enlarge
Source: Seaspan Corporation Fleet as of June 2016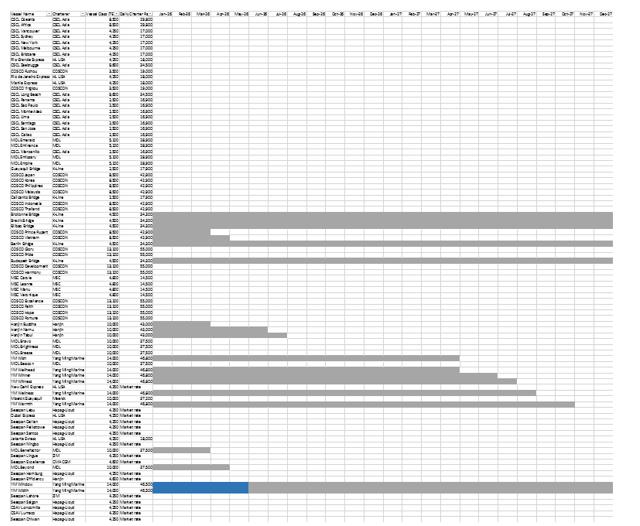 Click to enlarge
Source: Seaspan Corporation Fleet as of June 2016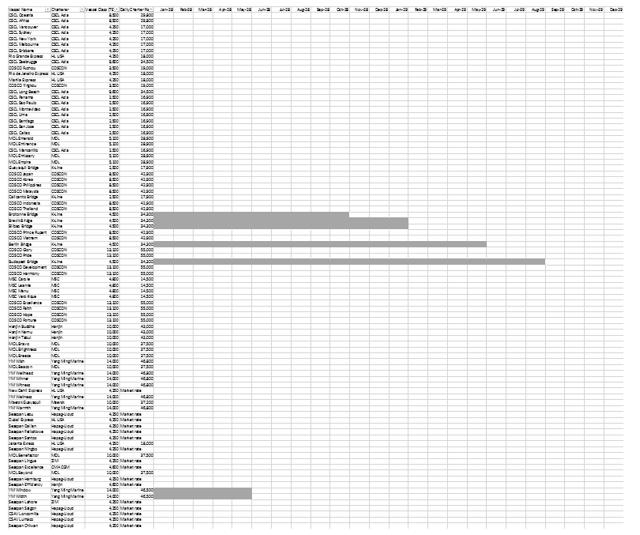 Click to enlarge
Source: Seaspan Corporation Fleet in June 2016
In conclusion, Seaspan is positioned well with respect to the fact that its highest daily charter rates represented the company's longest fixed-term charters. The company is quickly approaching 1 million TEU capacity when including vessels TEUs managed.
The global container shipping industry is definitely in a tough spot with no end in sight for a reversal. For this reason, it is highly important to continue to monitor the financial strength of Seaspan's most important customers.
As of October 9, 2016, 52 percent of TEUs and container ships were chartered, per Alphaliner. So it is not a question of the future for charter owners and managers, but rather a focus on who will survive and continue to grow.
Disclosure: I am/we are long SSW.
I wrote this article myself, and it expresses my own opinions. I am not receiving compensation for it (other than from Seeking Alpha). I have no business relationship with any company whose stock is mentioned in this article.