Rumors of a buyout signal two things. The company is either too cheap that the market expects buyers will come or the company is a value trap and no buyers will emerge. Speculation that Salesforce.com (NYSE:CRM) or Google (NASDAQ:GOOGL) (NASDAQ:GOOG) would buy Twitter (NYSE:TWTR) circulated again on September 23. On October 10, speculation cooled on Twitter finding buyer interest. That the micro-blogging site had a market cap bigger than that of Deutsche Bank (NYSE:DB) seems silly in hindsight. Still, there are four reasons Twitter's stock is approaching a bottom.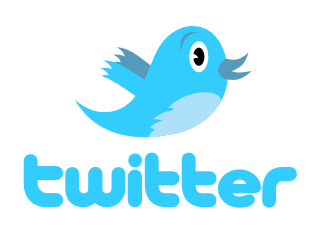 Deutsche Bank falls below Twitter's market cap, for a moment: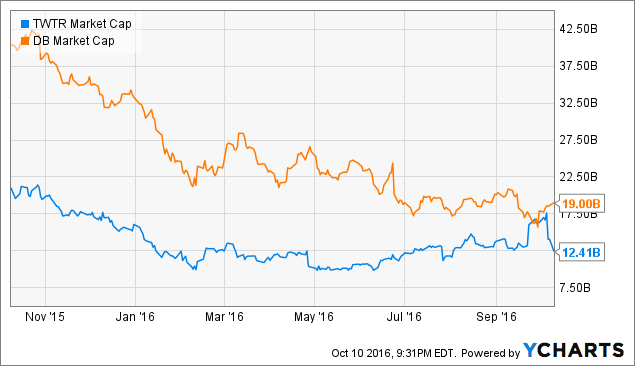 TWTR Market Cap data by YCharts
1. Twitter will stem drop in monthly active users
Twitter lost $521 million last year. In its second quarter, the company averaged 313 million users, but the company forecast a deceleration in revenue. Part of the drop is due to a shift of revenue from owned and operated advertising revenue to average revenue per advertisers. The NFL live-streaming deal, which started in September, will stem the drop in Twitter's monthly active users:
"the NFL live-streaming deal, while we're really excited about it and we've achieved some success in the marketplace on the advertising business, we'll only have two games in September, so two games in the entire quarter. And so, the impact of that will be proportional to the total number of games that we have. "
2. Twitter fits Google best
Rumors that Google is not interested in buying Twitter may be a negotiating tactic meant to hurt Twitter's stock price. Before Google acquired YouTube, the video sharing site was bleeding money. Under Google, YouTube's advertising revenue soared as did the active users. Having YouTube videos come up in search clearly helped the site. Twitter is a natural extension for Google. The site records and shares real-time chatter and breaking news. Microsoft (NASDAQ:MSFT) is a distant second place in finding a good fit with Bing. Due to the low market share for Bing, Microsoft would have a tough time finding synergies between its search engine and Twitter's site.
Google will find it challenging scaling AdWords on Twitter. Chances are good that it would figure that out, since Google has a strong track record and talented staff.
3. Twitter builds brands
Twitter's main problem is that brands try to be more like people. People on Twitter try acting like brands. That is why celebrities and companies thrive best on the site, while users flounder trying to grow their followers. When companies advertise their social media presence, Twitter is mentioned alongside Facebook and YouTube.
4. NFL deal creates moat for Twitter
Between 2014 and 2015, Twitter did very little to keep its users engaged. September 16th's NFL broadcast brought 16.4 million viewers on television. Twitter just needs a portion of them participating on its site for MAU (monthly active user) growth. That would put an end to the stagnant growth in the last two years.
Source: Statista
Investors hope that live streaming NFL on Twitter will improve the site's relevance in mainstream media. On Thursday night's game, Twitter drew an average of 243,000 viewers per minute. This pales in comparison to Yahoo's 2.36 million viewers a minute. Still, Twitter generated 2.1 million total views. Twitter still has a long way to go. Unless the cable televisions also live stream select tweets, use of the microblogging site will not go up after the NFL games.
Since Facebook (NASDAQ:FB), Instagram and Snapchat (Private:CHAT) did not get a deal with the NFL, Twitter now has a moat. As viewers grow, Twitter may win more deals with other sports leagues, such as with the Major League Baseball.
Twitter is not deriving any meaningful monetary benefit from the deal for now. It is not serving up any relevant ads with the NFL-related posts. The site must serve related ads to users, along their search activity and private chatter. Otherwise, the return on investment for advertisers will stay low.
Takeaway
Rumors that buyers are interested in Twitter are just noise that investors should ignore. The bigger story for Twitter is its NFL live streaming deal. It is not yet a success for Twitter, but it is a step in the right direction. The company is starting to hone in on its strength of sharing real-time posts. The immediacy of idea-sharing works well with NFL broadcasts. As it embraces longer tweets and encourages image and video sharing, its interactivity will just keep users coming back and using Twitter.
[+] Follow me for continued coverage on special situations. Click on my name next to my avatar at the top of the article. Thank you for reading.
Disclosure: I/we have no positions in any stocks mentioned, and no plans to initiate any positions within the next 72 hours.
I wrote this article myself, and it expresses my own opinions. I am not receiving compensation for it (other than from Seeking Alpha). I have no business relationship with any company whose stock is mentioned in this article.