My last article on Gilead (GILD) didn't make me many friends among shareholders. With a title like 'Is Gilead The Next Valeant (VRX)?' I shouldn't really be surprised.
But if I didn't earn your friendship, at least I may have earned you some money (and no offense, I'd rather have the latter). For those that actually read the article instead of going straight to the comment section, you will have noticed the Valeant comparison was down to price action only. I was backing up the Gilead truck at $76.8.
I bought at $76.8, just like I said I would. The only difference is I bought twice as many shares as I originally intended. Price has followed my expectations nearly perfectly, and this has given me added confidence.
The reason for this confident buy was the similarity of the Gilead price action post Q1 earnings and post Q2 earnings. For whatever reason, the moves were nearly identical and I'd been tracking this daily for around a month. If the Q2 reaction were to continue the similarity, price should bounce at $76.8. This was the 'map' provided at the time.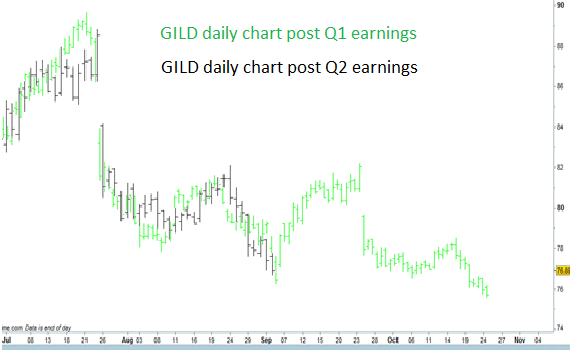 And this is the same overlay today: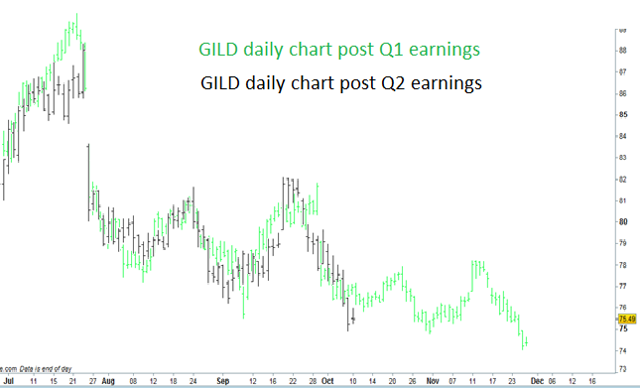 Click to enlarge
It's quite an amazing repeat. It's as if the algorithms are stuck in a loop. That said, this 'amazing repeat' is not as profitable as I would have liked. As I said in my last article,
If price continues to follow, we should get a move back to at least $82. However, I am looking for much more.

There are times when we can expect price action to repeat, but the repetition cannot keep going indefinitely. Eventually, there has to be a break, and there is evidence this break is coming soon.
The move did get back to exactly $82.07, but unfortunately it carried on following instead of breaking the repeat. Having bought twice as many shares as I originally intended at $76.8, I did close half for around +6.5%, but 'looking for much more' in the end got me much less. Gilead has since made a new low and I am still holding two batches at a $78.3 average.
If price action continues to follow we have the map above showing us what to expect. It looks pretty uneventful for the next month or so. If there is an imminent acquisition, it is being kept very quiet as the patterns have not changed one bit. The algos will likely continue the same programs until there is a fundamental change to break the loop.
Earnings
There is nothing better to interrupt a trading pattern than earnings. Gilead is expected to report Q3 on November 1st.
I won't hazard a guess if the numbers are good or bad, but I do know that when a stock has declined 37% from the highs, only a bolt from the blue will cause a sustained sell off.
I still like the fundamentals of Gilead. There aren't many stocks with such a healthy balance sheet, a 2.5% dividend and a trailing PE ratio of just 6. But this is going over old ground; everyone knows this and the price action reflects it.
I will monitor the price patterns going into earnings. To help me do this I will continue to monitor Valeant. I know readers hate the comparison, but I think it is helpful. I will say it again: I am not comparing the fundamentals of the two companies. Try and forget I am even using Valeant if that helps.
I am comparing the price action of two Biotechnology stocks. Both have declined for around a year and could be said to be in bear markets. Both responded in similar ways to earnings reports earlier in the year by gapping down and then forming similar patterns. Both stocks were in repeating loops. Valeant diverged from this repeating pattern just before August earnings.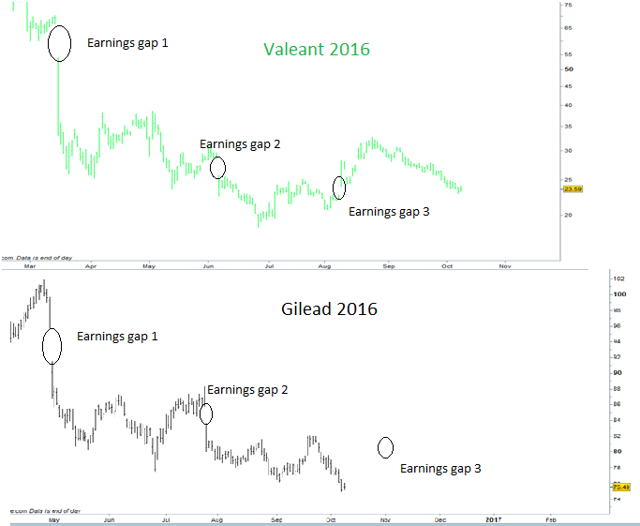 Click to enlarge
Of course the correlation is not 100%; that's impossible. But surely you can see the similarity? I think if Gilead holds up into the November 1st report, the positioning of participants in these two stocks at the point of the earnings report is going to be a very good match.
Positioning is the biggest influence to the price response to earnings. It is why apparent good news can be sold and apparent bad news bought.
Unless there is something completely surprising in the report, we could expect a similar gap up and rally. If you look at Valeant's Q2 report released in August, there is nothing spectacular at all. A small miss on EPS and a miss on revenue. But expectations were low and positioning was prime for a squeeze. This is what I'm looking for in Gilead.
Conclusions
I may not be that great at fundamental analysis, or at picking titles, but I have called Gilead pretty well over the last two months. I first provided the earnings map in my August 16th article and it has caught every single pivot since.
I could have traded the map better, but I am looking for larger moves. The earnings expected on November 1st could be the catalyst for this rally. I will continue to hold.
Click "follow" by my name at the top of the article to receive updates and other trade ideas.
Follow me on Twitter - @elroytrader - for shorter term ideas and trade entries etc...
Disclosure: I am/we are long GILD.
I wrote this article myself, and it expresses my own opinions. I am not receiving compensation for it (other than from Seeking Alpha). I have no business relationship with any company whose stock is mentioned in this article.