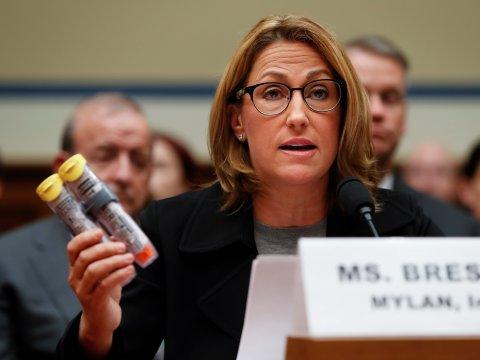 Mylan CEO Heather Bresh. Source: Business Insider
Earlier this month Mylan's (NASDAQ:MYL) CEO Heather Bresch met with Congress to discuss rapid price hikes for EpiPens. I found Ms. Bresch to be extremely evasive. Her long foray into explaining "gross-to-net" pricing and the Byzantine healthcare distribution system was confusing at best. The most astonishing revelation was Ms. Bresch's claim that despite the $609 list cost for a twin pack of EpiPens, Mylan only made $100 after rebates and costs.
A few days later Mylan clarified that the company's profits on EpiPens were actually 60% higher than Ms. Bresch had originally claimed:
But in response to questions from The Wall Street Journal, Mylan said Monday that the profit figure presented by Ms. Bresch included taxes, which the company didn't clearly convey to Congress. The company substantially reduced its calculation of EpiPen profits by applying the statutory U.S. corporate tax rate of 37.5%-five times Mylan's overall tax rate last year.

Without the tax-related reduction, Mylan's profits on the EpiPen two-pack were about 60% higher than the figure given to Congress, or $166, it said in a new regulatory filing to the Securities and Exchange Commission Monday.
I reached out to Mylan for further clarification. Lauren Kashtan, head of Mylan's communications department, provided the following official statement on the matter:
Tax is typically included in a standard profitability analysis and the information provided to Congress has made clear that tax was part of the EpiPen® Auto-Injector profitability analysis. In fact, Mylan has provided Congress with a detailed analysis of EpiPen® Auto-Injector profitability. It also is important to note that use of a statutory tax rate for the jurisdiction being analyzed (in this instance, the U.S.) is standard. Just as we did not use a blended global tax rate, we also did not allocate corporate expenses associated with running the business, which would have further reduced its profitability. We believe it is most appropriate, and conservative, to focus entirely on EpiPen® Auto-Injector specific costs and associated taxes.
Nonetheless, it was unclear from Ms. Bresch's testimony that the $100 profit figure was post-tax. Not only did she confuse Congress, but she confused me as well. During the hearings Ms. Bresch provided a tremendous amount of detail on gross-to-net revenue; she did not speak to details of gross or net profit on EpiPens, but why not? Below are two hypotheses:
Downplays Mylan's Dependence One EpiPens
EpiPens are a "must have" for schools in case students have a severe allergic reaction. On the strength of demand from schools Mylan then raised the price of the device from $100 when it acquired the product in 2007 to over $600 in 2016. Its Q2 2016 revenue from the Specialty Segment, which includes the EpiPen auto-injector, grew by 34% Y/Y. Revenue from other segments was only up about 4%.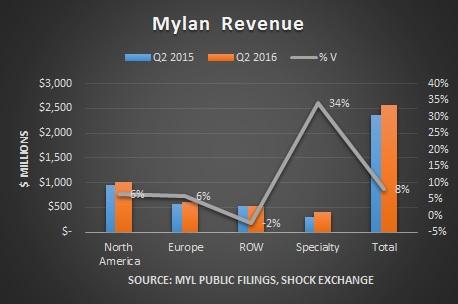 Meanwhile, gross margin expanded from 43% to 46% during that time frame. Operating costs were practically flat so the increase in margins helped grow operating income by nearly 50%. It also gives the impression that Mylan is a growth company.
Anything that could potentially impact EpiPen sales or prices could also have an outsized impact on Mylan's operating income and share price.
Does Not Give Competitors Sensitive Information
Investors and customers tuned into Mylan's hearings with Congress. Competitors, Sanofi (NYSE:SNY), (OTCPK:SNYNF) and Teva Pharmaceutical Industries (NASDAQ:TEVA), (OTC:TEVJF), were also likely watching for data on Mylan's pricing and margins. We now have a better understanding of Mylan's true EpiPen profits. This is important for two reasons. First of all, it gives competitors a gauge as to how profitable they could potentially be on their auto-injectors. If their margins are less than 27% (Mylan's stated margins) then they have to cut product costs or increase prices to match Mylan's margins.
Secondly, the data could give competitors a better sense of how to negotiate contracts with pharmacy benefit managers ("PBM"), hospitals and doctors. This is invaluable information in that it could put competitors on par with Mylan though they might not have Mylan's volume.
I previously suggested that requesting sensitive or non-public information from drug manufacturers could be an impediment for the Vermont Initiative. It would also behoove companies not to raise prices so rapidly that it attracts state or national lawmakers. Being prompted to cut prices by lawmakers could be costly and embarrassing. Having to turn over sensitive data that could be used against it by competitors could be an unquantifiable risk.
Conclusion
EpiPen profits are highly important to Mylan, and those profits are likely to be cut by political pressure or market forces. Sell MYL.
Disclosure: I am/we are short MYL.
I wrote this article myself, and it expresses my own opinions. I am not receiving compensation for it. I have no business relationship with any company whose stock is mentioned in this article.
Editor's Note: This article discusses one or more securities that do not trade on a major U.S. exchange. Please be aware of the risks associated with these stocks.