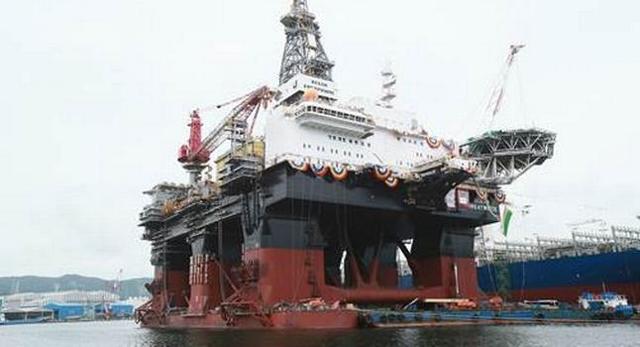 Click to enlarge The SemiSubmersible Ocean GreatWhite. Courtesy Hyundai
Diamond Offshore (NYSE:DO)
This article is an update of my preceding article on Diamond Offshore published on September 13, 2016.
On October 10, 2016, BP announced that it is quitting the Great Australian Bight:
BP Plc won't proceed with oil exploration in the offshore Great Australian Bight five years after it began looking for resources in the area and before it was allowed to drill any wells.

The decision to step away from the project offshore South Australia follows a review earlier this year of the company's upstream strategy and wasn't influenced by delays in getting the plan approved by Australian regulators, the London-based energy producer said in a statement Tuesday.

"We have looked long and hard at our exploration plans for the Great Australian Bight but, in the current external environment, we will only pursue frontier exploration opportunities if they are competitive and aligned to our strategic goals," Claire Fitzpatrick, BP's managing director for exploration and production Australia, said in the statement.
The same day, October 10, 2016, Diamond Offshore announced the following:
HOUSTON, Oct. 10, 2016 /PRNewswire/ -- Diamond Offshore Drilling, Inc. ((NYSE:DO)) has been notified by its customer, BP, that BP will no longer pursue a drilling campaign in the Great Australian Bight. In 2013, BP entered into a contract with Diamond for Diamond's harsh environment ultra-deepwater semi, the Ocean GreatWhite, and had intended to use the rig on the Great Australian Bight campaign. BP has confirmed that its decision will not impact Diamond's rig contract. BP and Diamond are exploring alternative locations for the Ocean GreatWhite.
A little bit about the Australian Bight: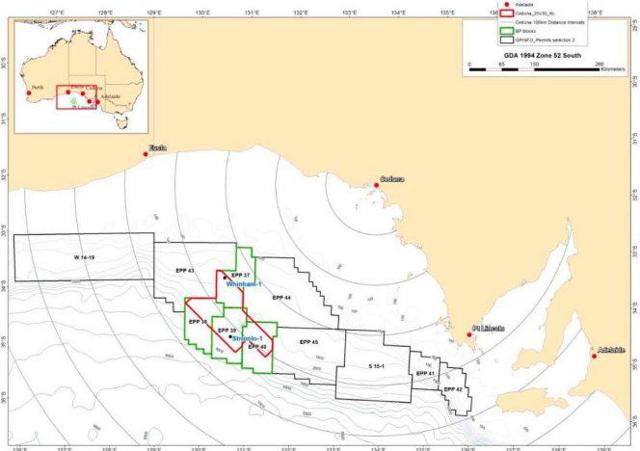 Click to enlarge
The submersible Ocean GreatWhite, which is now in Singapore on testing process -- with stability problems detected -- supposedly, to commence her work with BP in the 4Q'16 at a day rate of $585k/d. The semi-submersible GreatWhite is the world largest semisubmersible read to drill.
Ocean Greatwhite is approximately 403.5 feet long and 255.9 feet wide and is the first MOSS CS60E and largest rig in the world.
However, BP had trouble getting the second plan for great Australian Bight drilling to be approved by the Australian government. BP released the second plan on August 19, 2016.
Stromlo-1 is located some 600 kilometers west of Port Lincoln and 400 kilometers southwest of Ceduna, in a water depth of approximately 2250 meters. Whinham-1 is located approximately 600 kilometers west of Port Lincoln and 350 kilometers m southwest of Ceduna, in a water depth of approximately 1150 meters.
And we learned that,
Plan rejected

British oil company BP has recently submitted a second environment plan proposing drilling of two exploration wells in the Great Australian Bight.

The oil firm's first plan, proposing four exploration wells, was rejected by the Australian offshore safety and environmental management authority NOPSEMA, as it didn't meet the regulatory requirements. NOPSEMA is expected to come back with the decision by September 19, 2016.
Greenpeace was fighting the drilling using a "bolts issue" that was not really a problem with the Ocean GreatWhite, which is a different design of the UDW Drillships.
Greenpeace Oceans campaigner, Nathaniel Pelle said: "It's unclear how or whether National Offshore Petroleum Safety and Environmental Management Authority (NOPSEMA) will take the bolt issue into account when considering BP's latest environment plan, yet their verdict is due within days. This process has been conducted behind a veil of secrecy," said

"A spill off the southern Australian coast on the scale of the 2010 Deepwater Horizon disaster would be horrific.

"Not only would it wipe out marine life found nowhere else on earth, like the endangered Australian Sea Lion, it would destroy local tourism and fishing industries that rely on a healthy ocean.

"Yet Australians are being kept in the dark about BP's environmental and safety plans. NOPSEMA has already rejected them twice, and now we're hearing that the rig may be fitted with dodgy bolts.

"BP's perilous activities must be abandoned before our southern coastline is put in grave danger."
It seemed that BP finally gave up on the project under pressure and a continual delays.
Unfortunately, The semisubmersible Ocean GreatWhite was supposed to commence drilling in 4Q'16 South of Ceduna - Australia Great Bight -- and obviously the drilling will not happen.
The question is what will be decided between BP and DO?
According to Diamond Offshore, BP said that the decision will not impact the Diamond's rig contract. It is important because BP could have eventually use the "force majeure" pretext to terminate the contract without any compensation.
As a recent example, I advise you to read the case of The Semi-Submersible West Leo In Ghana, West Africa owned by Seadrill Partners (NYSE:SDLP).
The rig was terminated earlier with no termination fee because of a dispute between Ghana and Ivory Coast. Tullow Declared "Force Majeure" On The Semi-Submersible West Leo with a total backlog loss disputed by SDLP/SDRL of $357 million.
In May 2013, we learned that BP contracted the Ocean Greatwhite to drill the Australian Bight. Day rate was $585K/d for a duration of 3-year. Backlog estimated at $640 million.
Diamond Offshore has ordered the rig from the world's biggest ship builder, Hyundai Heavy Industries, which is based in Ulsan, South Korea. The new rig will cost $US755 million to build and commission - with a delivery target of November, 2015.
For the ones who want to serious look at the last DO fleet status, I recommend my article published on Seeking Alpha, on September 1, 2016. Click here.
Actual estimated Backlog (September) is $3.9 billion. The BP contract represents 16.4% of the total backlog estimated, which highlight how important is this contract for Diamond Offshore.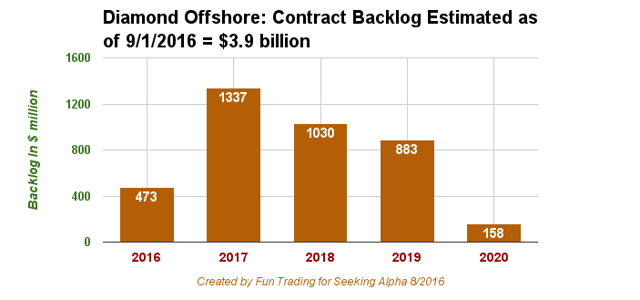 Click to enlarge
Conclusion:
Diamond offshore is experiencing some tough winds recently. This news is quite neutral if BP can find a new project for the Ocean GreatWhite but it is not an easy task. However, it may be expensive for BP and DO who will have to accept some financial concessions.
The risk potential is an extended idle time, before the semi-submersible GreatWhite finds a new work to replace the Bight project. It may be some form of partial termination? At least, BP is not using the "force majeure" and seems playing fair.
BP may replace the 3-year firm contract with a 1-year contract at a lower day-rate, and some termination fee to compensate the loss in backlog? We will have to wait cautiously what BP and DO will agree finally?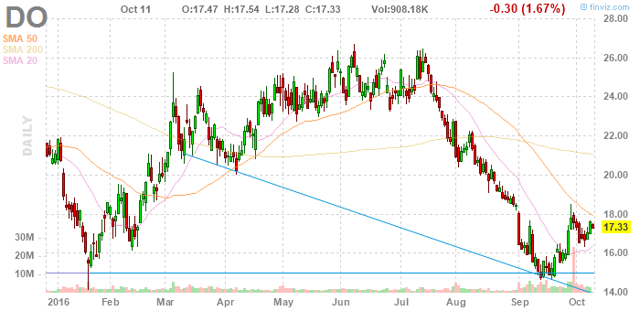 Click to enlarge
The stock recovered recently from a low in the $14's, but the trend seems negative despite bullish oil prices. I am afraid DO will eventually retest $14 before December.
Recently, the company suffered a few technical and costly bolts problems with the black series drillship, and now, this new situation with BP is quite worrying.
I recommend DO as a hold with a buy rating at or below 14.50
Important note: Do not forget to follow me on DO and other offshore drillers. Thank you.
Disclosure: I/we have no positions in any stocks mentioned, and no plans to initiate any positions within the next 72 hours.
I wrote this article myself, and it expresses my own opinions. I am not receiving compensation for it (other than from Seeking Alpha). I have no business relationship with any company whose stock is mentioned in this article.