About a year ago, I was continually valuing the efficacy of the global liquefied natural gas trade. Global arb spreads were closing rapidly, reducing the attractiveness of the market for new entrants. However, a few companies were fortunate enough to secure contracts many years back, allowing them to have high, consistent sales over the next couple of decades. ConocoPhillips (NYSE:COP) is one of those positive beneficiaries and investors need to take note of their lucrative LNG operations.

Click to enlarge
Source: ConocoPhillips
ConocoPhillips' Exposure To LNG
Right now, the major catalyst for COP is that Australia Pacific LNG (APLNG) is on track to ship its first cargo from their second train later this month. This comes after the first train shipped nearly 47 cargoes in the last 10 months. This kind of pacing shows that the company's topline stands to receive a much needed boost after crude oil and natural gas prices have had a dismal 24 months.
According to the company's 10-Q, APLNG is a VIE, or a variable-interest entity where COP has a majority stake at 37.5%, just not majority voting rights. To give you an idea of how important APLNG is, listen to VIE's CEO Page Maxson: "We currently provide approximately 25 percent of domestic gas to the east coast market, with sufficient reserves to meet both LNG and domestic demand."
Now, COP doesn't get all the glory of APLNG as it shares the VIE with Sinopec (NYSE:SHI) and Origin Energy (OTCPK:OGFGF, OTCPK:OGFGY). Additionally, there has been a few tax changes (see page 42) and FX translation losses that have caused some short-term setbacks for the interest. However, these should be settling after Q3 earnings which positions the segment to have lower expectations to beat in 2017.
Interestingly enough, COP's exposure to LNG is much larger than just these two trains. The best part about COP's LNG operation is that it is a global undertaking. One of the largest segments, that isn't heralded all that much, is the Alaskan operation. Alaska currently contains 20% of their worldwide liquids production. Earnings from that segment are down 57% YOY, but much of the revenue there is weighted in crude oil. While this decline is significant, shareholders should keep in mind that 2017 will have substantially low expectations so the opportunity for a strong beat on an earnings report is certainly present.
This significant earnings dip isn't surprising either. The average North American price received was just $2.49/MMBtu in Q2, putting the YTD average at $2.79. All things considered, this isn't that bad as the Henry Hub averages during these time frames are significantly lower. It really shows COP's ability to get a premium for their products, in particular.
The company also has an exposure in Corpus Christi LNG, which is run by Cheniere Energy (NYSEMKT:LNG). Corpus Christi is expecting its first shipments to be made in 1H2019, which while is far away represents a significant long-term growth opportunity for COP as there's a total of $1.5 billion of annual fixed fee revenue for the next 20 years as this is what Cheniere has secured in its contracts. Below is the timeline for Corpus Christi to come online.

Click to enlarge
Source: Investor Presentation
COP's partnership with Cheniere also extends to their first project at Sabine Pass in Louisiana, which has already had a year's worth of cargoes delivered. It was the first American LNG export and a real achievement for the industry. Sabine Pass LNG is particularly attractive for COP because they get a share in the $2.9 billion annual fixed fee revenue that also has an average contract life of around 20 years.
The other LNG project that I think investors should focus on for the time being is Darwin LNG. Darwin LNG has the capability of transporting 3.7 million tonnes of gas per year, has been lowering its feedstock costs rapidly, and primarily transports it to Tokyo-based customers. This is one of COP's oldest LNG transport operations, being in commission for a decade now. It makes about one delivery per week to Tokyo. The consistency of this project is what makes it attractive and accretive to shareholders, especially considering Japan still has one of the largest global gas arbitrage spreads. No surprise here that on the recent 10-Q, the company stated that it received the highest average price per MMBtu among core natural gas operations, at $3.47/MMBtu YTD and $3.06 in Q2.
Market Attractiveness
The hardest part with a market like this is continually gauging its attractiveness. Typically, how LNG global exporting works is that companies like ConocoPhillips will engage in long-term contracts of sometimes 10,15 or even 20 years to provide a fixed amount of natural gas on each delivery. Deliveries can vary in frequency. The higher the security in this business the better because these contracts are built upon fixed fees plus a premium over the Henry Hub. Sometimes the premium is applied to a different global gauge, but that varies from contract to contract.
Assuming that COP has contracted with premiums related to the Henry Hub, they've had a tough last 12 months, but are now starting to see some upside. This is perfect timing, too, considering that their second train from APLNG is about to come online and make its first delivery.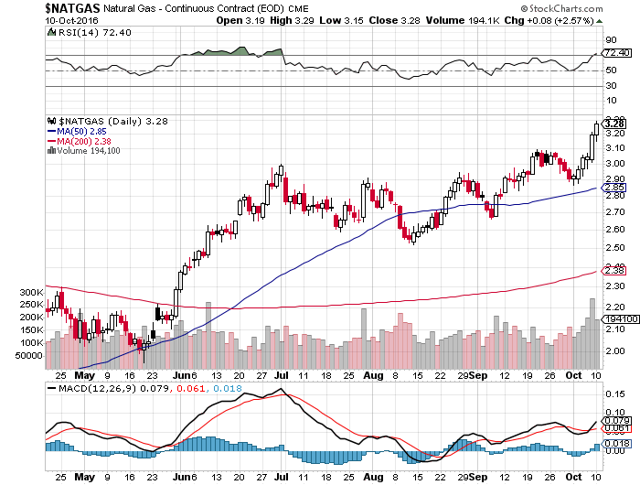 Click to enlarge
Source: StockCharts
Now, according to partner Cheniere Energy, LNG's composition of total gas consumption will be 15% by 2030, up from 10% right now. More importantly, perhaps, is that there is going to be a 50% global demand increase for natural gas by 2030. If these statistics are correct hen the market is highly attractive. Since natural gas is a cleaner fuel, this is believable at a high level. I'm further convinced by this market's attractiveness because of Europe's major transition out of coal-fired power and toward natural gas and solar.
Conclusion
Diversifying into LNG is something that could allow for COP to outperform on an earnings report, especially if guidance is increased. The market outlook looks solid and COP shareholders could really see significant accretion if the company expands its LNG operations. Additionally, having a large amount of fixed-fee revenue helps the company reduce uncertainty in a pricing environment where there has been so much negativity.
Disclosure: I/we have no positions in any stocks mentioned, and no plans to initiate any positions within the next 72 hours.
I wrote this article myself, and it expresses my own opinions. I am not receiving compensation for it (other than from Seeking Alpha). I have no business relationship with any company whose stock is mentioned in this article.