Goldcorp (NYSE:GG) investors seem to be losing faith in the company of late, as gold prices have dropped on account of positive jobs data in the U.S., which many think is a precursor to a hike in the Federal Funds rate. This seems surprising to me, since the Federal Reserve has not hiked the interest rate even once this year on the back of economic uncertainty in the global markets and lower-than-expected job growth in the U.S.
For instance, in the month of September, the U.S. economy added 156,000 jobs, well below the expectations of an increase of 176,000. Additionally, the unemployment rate went up slightly to 5% from the prior 4.9%. As a result of such mixed economic signals, Chicago Fed President Charles Evans said there is no urgency to hike the interest rates in December, which the market is already factoring in the price of gold.
So, in my opinion, the recent drop in gold prices might not be sustainable, and this opens up a buying opportunity in Goldcorp going into the company's third-quarter earnings. Let's see why.
Goldcorp is set to improve
Over the past three months, Goldcorp shares are down almost 30%, which gives investors a good entry point as the company is set to release its third-quarter results in a couple of weeks. I am saying this because Goldcorp is expected to witness remarkable growth in both the top as well as the bottom lines in the second half of the year.
Analysts anticipate Goldcorp to report earnings of $0.12 per share and $0.17 per share in the third and the fourth quarters of the year, respectively. These earnings estimates point toward a remarkable improvement in its bottom line, considering its losses of $0.04 per share and $0.15 per share in the third and final quarters of 2015, respectively. Thus, Goldcorp is set to post a massive increase in its earnings in the third quarter, and it is likely that the trend will continue in the last quarter of the year as well.
The most important thing is that the company is expected to report such an incredible earnings growth despite analysts predicting its revenue to drop by 5% on a year-over-year basis. However, the top line estimates for the ongoing quarter specify a 33% growth on a sequential basis. Moreover, its revenue for the fourth quarter is projected to come in at $1.1 billion, representing an increase of 3% on a year-over-year basis and 6% on a sequential basis.
Thus, in the second half of the year, Goldcorp is set to arrest the decline in its revenue performance and also turn profitable at the same time. This will give shares a boost and enable the company to make a comeback as far as its performance on the stock market is concerned. But what are the catalysts behind the improved performance of Goldcorp? Let's find out.
Factors that will drive its financial performance
Goldcorp recently reaffirmed its production and all-in-sustaining costs guidance for the year. The company expects its production to come between 2.8 million and 3.1 million ounces at all-in-sustaining costs in the range of $850-925 per ounce. This reiteration of guidance should boost investors' confidence, as the company had reported production of 613,400 ounces last quarter, which was down nearly 32% on a year-over-year basis. Also, its all-in-sustaining cost had increased approximately 25% to $1,067 per ounce in the second quarter of 2016 due to lower production.
The reaffirmation of the production guidance can be credited to the company's efforts of increasing grades at a number of mines and an earlier-than-expected plant restart at Peñasquito. Although Goldcorp is now focusing on the planned lower ore grade at Peñasquito, it still expects this plant to witness a higher net asset value on the back of a ramp-up in stripping activity and the deployment of an optimal pit shell design.
Due to an increase in stripping, the company will witness an improvement in grades, which will ultimately enhance its production and lower its AISC. In fact, Goldcorp will be witnessing higher grades at Peñasquito post-2018 because it plans to mine higher grades at the bottom of the Peñasquito pit. The graph below illustrates the steady recovery in the grades at Peñasquito.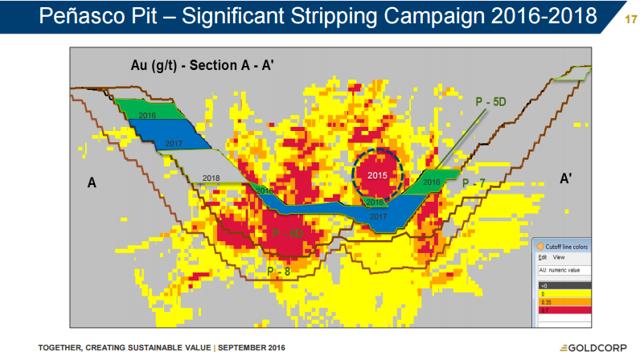 Click to enlarge
(Source: Goldcorp)
Apart from this improvement in grades across its mines, Goldcorp is adding new attractive projects to its portfolio. For instance, the expansion of its Musselwhite Materials Handling Project will provide the company with an incremental annual production of 20%, which should also reduce its mining costs by over 10%.
The most important thing to note here is that this project is expected to deliver an after-tax IRR of 25% to Goldcorp. The key reason behind such an attractive internal rate of return for the project is the higher grade at mines. This project has proven and probable grade of 6.80 grams/ton.
Decentralization and optimization to improve its operational efficiency
Goldcorp expects savings of $250 million in sustainable annual efficiency by 2018 due to the recent move of decentralization and optimization of its operations. The company has so far identified approximately 50% of its targeted annual efficiency by way of reduction in the workforce and low-risk, low-capital intensity Brownfield projects such as Pyrite Leach and the Musselwhite Materials Handling Project.
For example, due to workforce reduction and other operational improvement initiatives at Cerro Negro, Goldcorp is expected to realize savings of $65 million of annual efficiencies this year. Also, in July, the company identified annual administrative savings of $55 million. In fact, it remains on track to fully realize administrative costs savings due to its efforts of decentralization of the company that should reduce its employee by almost one-third by 2017 across its regional and corporate offices.
Conclusion
Hence, in my opinion, it will be a good idea to use the drop in Goldcorp shares going into earnings, since the company will be able to make a comeback on account of better earnings results. Also, as discussed above, it is making the right moves to enhance production and reduce costs at the same time. So, in my opinion, investors should consider buying the drop at Goldcorp due to upside possibilities in the long run.
Disclosure: I/we have no positions in any stocks mentioned, and no plans to initiate any positions within the next 72 hours.
I wrote this article myself, and it expresses my own opinions. I am not receiving compensation for it (other than from Seeking Alpha). I have no business relationship with any company whose stock is mentioned in this article.