If you are familiar with the dynamics that characterize the consumer sector you might not be surprised by the surge in the equity value of Procter & Gamble (NYSE:PG), whose shares have risen 30% since a multi-year trough of about $68 in early September 2015.
There are some obvious risks now, however.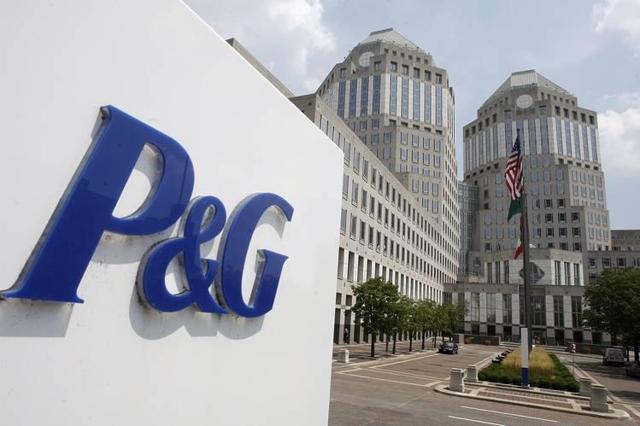 Click to enlarge(Source: wsj.com)
Value
Given a current share price of $89, its stock trades at 24.1x diluted earnings per share of $3.69 for fiscal 2016, which is well above average since 2011.
Some of its key financial highlights for the past year are shown in the table below.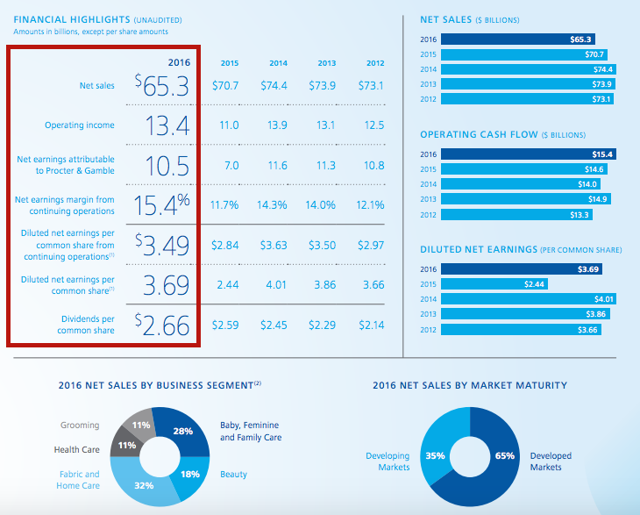 Click to enlarge(Source: Procter, 2016 annual results)
In short, trailing sales fell, operating income and core margins rose, while earnings per shares also surged, although write-offs in fiscal 2015 make such a comparison a bit misleading.
Of course, the dividend -- its main attraction -- was once again on its way up.
First-quarter results for fiscal 2017 are due on 25 October, and should be closely watched to determine whether its fundamentals are any better than in the second half of fiscal 2016.
That said, other external factors also contributed to help its market valuation cope with a strong dollar, falling volumes and several other headwinds that its core business units had to face over the past 12 months or so.
Brexit Boost
In the wake of Brexit, the shares of several consumer staple companies soon started to defy gravity, rallying hard and reaching levels never seen in the past.
As you might know, the bond-like features of these kind of stocks have rendered them very attractive in a low-rate environment; value hunters and income investors are keen to build long positions as other value-accretive options in the stock markets worldwide remain thin on the ground.
Take Reckitt Benckiser (OTCPK:RBGLY, OTCPK:RBGPF) of the UK. In less than two weeks after the referendum, its equity appreciated over 10%, hitting a record high of 7,786p in London.
Unilever (NYSE:UL) is another good example, with its share up almost 15% since the Brexit vote. Similarly, a few other stocks in the consumer goods space performed strongly on both sides of the Atlantic, and now have their shareholder rubbing their hands with glee at the idea of rapidly rising returns in a world where rate hikes will most likely be gradual.
Of all the companies I monitor, only a few -- Colgate-Palmolive (NYSE:CL) and The Coca-Cola Company (NYSE:KO), in particular -- have disappointed.
Given recent trends and obvious challenges, P&G will have to prove it can grow organically on rising volumes, but it has the time to deal with a few bumps on the road. Its stock has risen since late June, although its solid performance is more event-driven, rather than led by macroeconomic factors.
Debt
Its net debt position is clearly sustainable, but how about bondholders?

Click to enlarge(Source: Morningstar)
Sifting through its debt portfolio, all-in returns have clearly diminished since July across a large number of bond issuances, yielding negative returns based on trends for their prices, and excluding coupons.
Procter is a solid investment-grade rating, but the spread associated to its five-year credit-default swaps -- which represents the cost of insuring outstanding debts against the possible default of the issuer -- has widened since the summer, according to boursorama.com. Undoubtedly, expectations of higher rates weighed on its debts' performance, yet the performance itself could also indicate that its recent corporate strategy hasn't gone down very well with debt investors.
While net leverage -- as gauged by net debt divided by adjusted operating cash flows -- is under control, the price mix of its products offering remains unfavorable. So, there could be some pain ahead for shareholders and bondholders alike.
Still, my wife is making a bundle, at least on paper.
If you want to know why, you might want to read my previous coverage, which can be found below.
As a reference, in my previous columns I had not considered PG to be a core holding, mainly due to its rich stock valuation, implied trading multiples and volumes/price mix.
Disclosure: I/we have no positions in any stocks mentioned, and no plans to initiate any positions within the next 72 hours.
I wrote this article myself, and it expresses my own opinions. I am not receiving compensation for it (other than from Seeking Alpha). I have no business relationship with any company whose stock is mentioned in this article.
Editor's Note: This article discusses one or more securities that do not trade on a major U.S. exchange. Please be aware of the risks associated with these stocks.