Although Sony (NYSE:SNE) has a clear edge over Microsoft (NASDAQ:MSFT) in the gaming console segment, its problem vis-a-vis Microsoft is that it doesn't have a platform. Microsoft has one, and although it is a waning, flagging, erratic, cumbersome platform (yes I am an Apple (NASDAQ:AAPL) guy), it is, still, widely used by millions of good folks around the world. With Microsoft's new approach of bundling Xbox games onto Windows 10, it is doing what every platform owner wishes to do - utilize the platform. Sony, though trying to use its VR and its Vue TV as add-ons to the PlayStation 4, forcing a multimedia platform onto its 40 million PS4 consumer base, is still a long distance away from creating a proper multimedia platform. That gives Microsoft an edge.
Microsoft is doing a lot of things right in the gaming arena. It is the only "game" in town with its own platform. Apple has an awesome platform but no dedicated gaming console, Facebook (NASDAQ:FB) has neither although it has game,; and Sony has the one and not the other. Although Microsoft stopped revealing sales figures for the Xbox, the One reportedly reached the 20 million mark recently. The PS4, however, at 40 million, is much further up. Apple sold 1 billion iOS devices, so just imagine if, someday, Apple could make a dedicated gaming console - iGame, anyone? - on top of its iOS platform.
Microsoft's gaming-PC integrations
Microsoft is making Windows 10 cross-enabled with the Xbox as it makes a number of popular games available on both the PC and the Xbox where you can buy one game and play on both, sync games across devices, save a game in one device and play on the other, and so on. This isn't a world-shaking technical breakthrough, but it is still something Sony doesn't have. It doesn't have Windows.
Last year, when it launched Windows 10, Microsoft said it will enable developers write apps only once, and using its new Windows Universal Platform (UWP), that same app could be run on any Windows 10 device, including, eventually, the Xbox One. It is also making every effort to "turn every Windows device into an Xbox," so that all sorts of cross device features can be added to the Windows platform and Xbox. This will turn the Xbox into a service - called "Xbox as a service" - giving Microsoft more real estate in the fast-growing subscription-service segment.
While Sony does make some features available for streaming on PCs and Macs, like I said, it doesn't have a platform it owns. It doesn't have a platform-based customer base that it can attract. What it is now trying to do to address this exact deficit is build a bunch of products - hardware products - around the PS4. These are the Vue live streaming channels network and the VR virtual reality console. The previous quarter Sony made $3.2 billion from its gaming business, which is almost 78% of its total revenue. So it is critical for Sony to get its game business right, especially since its smartphone, life insurance and semiconductor businesses are all sagging. Sony does have a subscription-service also in its PlayStation Now, which offers various PS4 features for a subscription. But it lacks a cohesive way to put everything together in a useful, practical ecosystem.
Microsoft also has another, albeit dubious, edge in the Windows smartphone segment where it can gradually add more game support. As more and more people get into smartphones, a large gaming market with some dedicated software and possibly add-on hardware may become a reality. Sony doesn't have any stake in the smartphone business, not in the OS. Microsoft has a stake, although I wouldn't call it an edge. It missed the smartphone boat long ago.
MIcrosoft plans to launch Project Scorpio next year, which is touted as the most powerful Xbox console ever, with a very powerful chip under the hood. There are rumors that this console will support Facebook's Oculus Rift headset as-is, which means Sony will lose its edge in the VR segment as well. Now VR isn't a big thing right now, but there's the major possibility that it will become the big deal in gaming in a few years. Both Microsoft and Sony are positioning themselves near that pie, and we have to see who gets the major share.
Sony's edge over Microsoft
Having been the most popular gaming console since forever, Sony has an edge that Microsoft and the rest do not have - it has a long and loyal relationship with video game developers who build many of their most advanced games with the PlayStation in mind. Even a number of VR games like "Batman: Arkham VR" and the to-be launched "Resident Evil 7" are (being) built for PlayStation VR. A gaming console, after all, is only as good as the games you can play with it - and that's where Sony has an edge over Microsoft, as the following two diagrams show: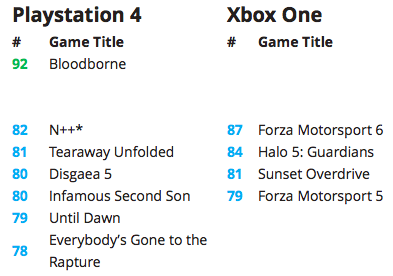 Source - Geekwire
PS4 has just too many more exclusive and better games than the Xbox, while, according to this possibly biased source, Nintendo has the most and best games.
So, who is the winner?
In the current technology time zone, which is to say, two years +/- 2016, Sony is clearly the winner by the sheer number of consoles it sells and the almost 300 million game units it also sells. While Microsoft leads in neither games nor consoles, it has a platform it is trying to build on. Personally, I do not think a poor platform will convince too many dedicated gamers to migrate from the PS4 unless Microsoft can also deliver on better games, better UI and overall gaming experience. Although not an avid gamer, I have used all three consoles for long periods of time, and I don't believe PS4's overall experience can be beaten by the Xbox in its current avatar.
Disclosure: I/we have no positions in any stocks mentioned, and no plans to initiate any positions within the next 72 hours.
I wrote this article myself, and it expresses my own opinions. I am not receiving compensation for it (other than from Seeking Alpha). I have no business relationship with any company whose stock is mentioned in this article.