Recent selling in the telecommunications sector has now created interesting buying opportunities. Verizon (NYSE:VZ) stock has decreased approximately 12% from its 52-week-high set in July this year. The company hasn't lowered its dividend since 2000 and has been increasing it at a 3-4% pace since 2007.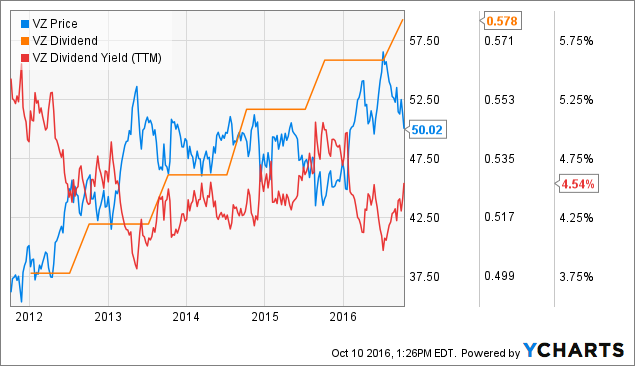 VZ data by YCharts
Verizon's basic business is providing phone service which isn't very exciting at all. Even offering high-speed mobile data service (4G beyond) is considered fairly normal these days than spectacular. To put differently, the business is quite boring.
However, boring is not bad in this case. The stable and predictable nature of the business combined with its steady albeit uneven moderate growth produces significant cash flows used to pay dividends and dividends for the investors.
The company boasts a current dividend yield of 4.5% which is backed by a sub 60% payout ratio. Investors relying on income, particularly predictable income, just have to like this stock.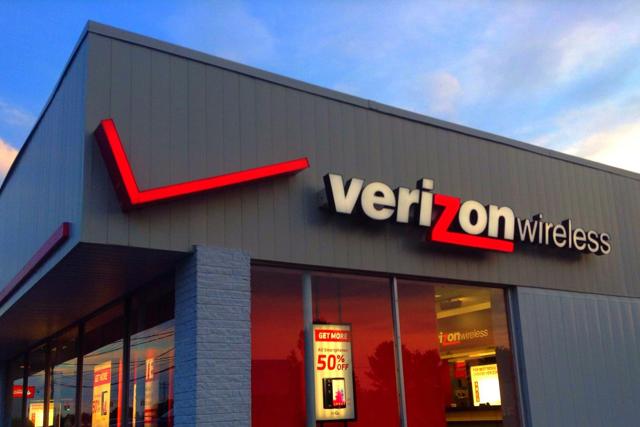 Click to enlarge
Source: digitaltrends.com
Verizon has more than 110 million wireless subscribers under its belt making up 70% of revenue and a whopping 90% of operating income. Together with rival AT&T (NYSE:T) the two combined account for a staggering 68% of market share (as of Q2/2016) in the wireless/cellular business in the US.
Despite the predictable nature of that "boring" telecom business, growth is limited and won't come from new customers or acquiring competitors. This has been dragging down the stock price as investors seemingly underestimate the impact of Verizon's strategic reactions to these trends. The only real response to this is to "think big."

Unlike rival AT&T, Verizon has decided not to acquire any competitors (keyword: AT&T's failed attempt to acquire T-Mobile US (NASDAQ:TMUS)) but instead diversify its business and extend it beyond the telecommunications sector.
Verizon is expanding its business model
Given that organic growth is limited VZ has to better monetize its existing customers. Providing higher data capacity alone simply won't help as competition is adversely affecting prices per gigabyte.
So, instead of trying to sell more or different services to its customers the company has decided to sell services to other companies.
In its quest to do so Verizon carried through two key deals:
Acquisition of AOL in May 2015 for $4.4B
Acquisition of Yahoo in July 2016 for $4.8B
Why on earth is Verizon spending billions of dollars for two dead juggernauts of the old web? At the time VZ was buying out AOL and Yahoo both companies were confronted with immense problems which aren't likely to be solved by these acquisitions. The only real catalysts these transactions could deliver for Verizon are via big data and advertising technology.
AOL is providing key advertising technology at a relatively bargain price
That AOL deal was a bargain for Verizon. It provides Verizon with key advertising technology for online media which is only matched by the likes of Facebook (NASDAQ:FB) and Google (NASDAQ:GOOG) (NASDAQ:GOOGL). This instantly catapults Verizon into the bustling online advertising sector provided the company can complete the puzzle, i.e. leveraging the new technology on its existing customer base and selling these services to target customers to other companies.
Yahoo brings in a big user base and world-class analytics platforms
AOL brings in millions of active users with detailed user profiles and a world-class advertising technology. Yahoo on the other hand, although having struggled financially for years and confronted with a declining user base, is still home to more than a billion monthly active global users and is likely to come in third when it boils down to big data relating to user profiles and preferences, only behind market leaders Google and Facebook. And then there is Verizon with its immense experience and user base in the mobile platform. Let's put that into perspective:
More than a billion of active users
Big datasets on these user's activities
A powerful advertising, search and analytics platform
In-depth experience in the mobile space3
Investor takeaway
These key strategic moves described above have the potential for significant future growth and Verizon isn't stopping there. Knowing that organic growth in the telecommunications sector is limited the company continues to diversify as recent acquisitions of Telogis and Fleetmax have demonstrated.
Verizon is expanding its business model from selling services to its end users to selling services to other companies which grant them access to Verizon's vast customer base on mobile and on web.
If these deals turn out starting to bear fruit this will positively affect the firm's bottom line, cash flows and ultimately the company's dividends.
At current valuation levels ($50.20) and dividend growth (3%) a simple dividend discount model analysis discloses that the stock is somewhere in between fair valuation and overvaluation and from that standpoint alone not a strong buy.
So, the key question is how much market share can Verizon snatch from the multi-billion dollar mobile advertising market?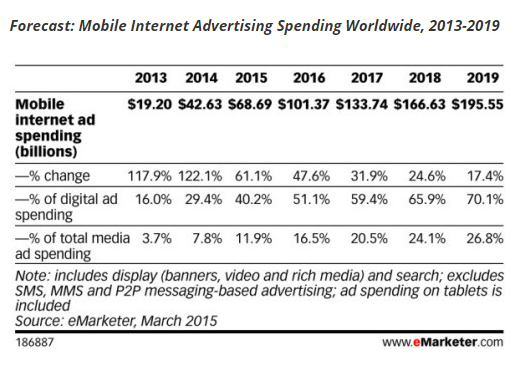 According to eMarketeer.com the market is set to almost double by 2019 and reaching a whopping $196B volume in mobile internet spending.
If Verizon is able to only snatch 5% of this by 2019 (3% in 2017 and 4% in 2018) and assuming a gross profit margin of 60% this translates into additional yearly profits of $5.85B ($4B in 2018 and $2.4B in 2017).
In 2015 Verizon paid $8.5B in dividends. The projected additional profits from these new ventures calculated above amounts to $12.3B over the next three years. If all of this is paid to shareholders then the dividend could easily double and make this stock a very compelling buy.
Conclusion
Verizon represents a compelling buying opportunity for dividend investors believing in the transformation of the business model and the potential of growth in the mobile advertising space. While Verizon will not be on eye level with GOOG and Yahoo it has the potential to be a very powerful and successful competitor in this business. For investors this means profound dividend growth in a stock which is already paying a 4.5% yield at current levels while still maintaining a payout ratio just below 60%.
If you like this content please hit the "follow" button. Let me know in the comments section if you believe in this turnaround strategy. Would you invest into VZ right now? What do you make of all these acquisitions?
Disclosure: I am/we are long VZ, T.
I wrote this article myself, and it expresses my own opinions. I am not receiving compensation for it (other than from Seeking Alpha). I have no business relationship with any company whose stock is mentioned in this article.