We think it's +85 Bcf for this week's storage report.
We raised our estimate by +1 Bcf from last week. Physical storage data was slightly higher than what we expected, thus explaining our increase. If storage injections come in around our figure, the year-over-year surplus will decrease by 12 Bcf. Looking at our updated injection figures, we expect the year-over-year storage to be in deficit by Nov. 4.
US natural gas (NYSEARCA:UNG) production all week last week averaged below 70 Bcf/d. Canadian gas imports averaged over 6 Bcf/d. Total supply relative to the week before was slightly lower.
Demand weakened as moderating temperatures lowered power burn week over week. Our data shows that injection figures won't be over 100 Bcf like some have estimated. An early Bloomberg survey shows a range of +75 - +95 Bcf.
Looking at last week's storage report, we see some downside bias going into this report. The +8 injection above our estimate looked off, and if that's true, then we could see it catch up in this week's report.
Despite our end of October injections being revised higher, natural gas prices marched to new highs yesterday before selling off a bit today. Currently, early November injection figures are ready to shatter the five-year minimum. Recent weather forecast reports we receive point to an early heating start for Canada, and this is prompting our weekly piece titled, "Big Picture Outlook - Why Canadian Natural Gas Producers Will Benefit the Most." This will be released to premium subscribers on Sunday.
Looking at our storage forecasts and recent Canadian import flows, we see AECO gas prices materially rebounding in the case of a cold winter. Recent forecasts show a higher certainty of a colder-than-normal winter partially from the reemergence of La Nina.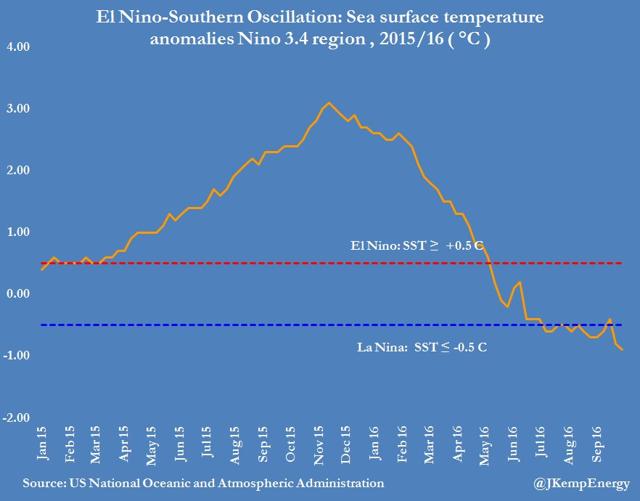 Using the recent weather updates, storage by April 2017 will be materially below the five-year average, and Canada could run the risk of running out of gas if imports remain high. This poses several issues for the US. With our expectation that US gas production will only increase 2-3 Bcf/d in the next several months, if Canadian gas imports drop to 4.5 Bcf/d, it would add 10.5 Bcf of withdrawals weekly from storage. Using this as a base, we see the risk of natural gas prices spiking a very real possibility over the upcoming winter.
We will be posting the Big Picture Outlook piece this Sunday to premium subscribers. If you are interested, please consider signing up here. Thank you for reading Natural Gas Daily.
8-14-Day Outlook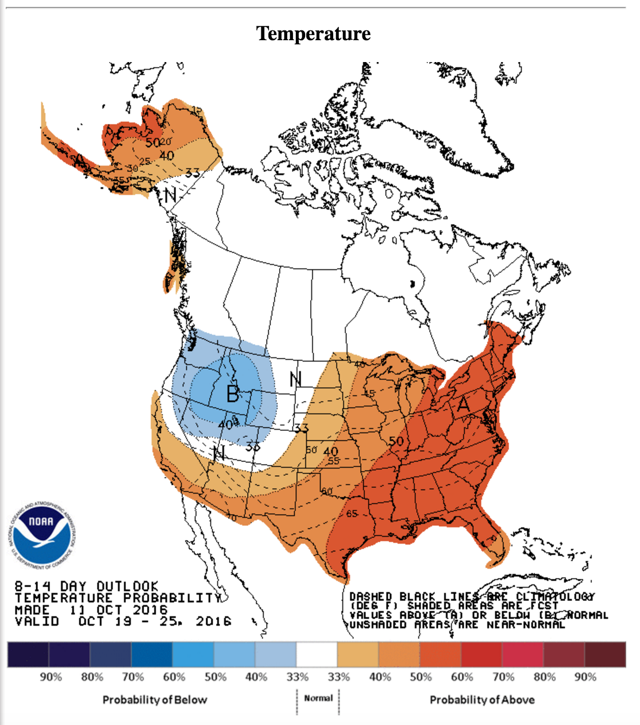 Disclosure: I/we have no positions in any stocks mentioned, and no plans to initiate any positions within the next 72 hours.
I wrote this article myself, and it expresses my own opinions. I am not receiving compensation for it (other than from Seeking Alpha). I have no business relationship with any company whose stock is mentioned in this article.