Opening Rant
The equity market is falling today, and to me, it seems quite clear that the reality of higher rates and a stronger dollar are not all that good for stocks. This notion that a rate hike is "good" and needed will become problematic not just for equity investors but bond investors as well. Why? Well, if the markets begin to price in higher rates and stocks start to go lower, where are all the equity investors going to run to hide? When bond yields rise, the price of the bonds goes down. When bond yields go up, the dollar strengthens. A stronger dollar is bearish of commodities and even gold (NYSEARCA:GLD). Not only that a more robust dollar hurts US multinationals' ability to grow earnings, there will be little hiding room should the Fed be intent on raising rates.
Equity Markets and Sectors
The S&P 500 (NYSEARCA:SPY) is down about 1 percent today and is now sitting at 2140.

There is so much congestion in this area of the S&P 500 hourly chart, the market could find support anywhere in this 2135 area. However, a retest of the 2120 lows of September doesn't seem all that improbable.
What is the worst performing sector today? Well, of course, the biotech (NASDAQ:IBB) group. This sector is getting pounded with the IBB index down over 3%. This brings the ETF to the penultimate support level around $277.

This $277ish level in the IBB has proven to be adamant support since July just as $300 has proven to be very stiff resistance. If this level should not hold, then it will be on to $270 and then the next stop is likely somewhere into the $240s.
Materials (NYSEARCA:XLB) are the second worst performing sector today down almost 1.5%. Again, this should not be surprising as a strong dollar hurts commodities and the companies that produce these commodities.

Yield and Currency
The dollar is stronger today, pretty much across the board. The euro (NYSEARCA:FXE), the pound (NYSEARCA:FXB), the Swiss Franc, the Chinese RMB (NYSEARCA:FXI), the Peso. The only currency that is stronger today against the dollar is the yen. To be honest, the yen at some point had to stop weaken for at least a day or two or three.
The pound just seems to be in freefall state and seems destined to reach the flash crash low around 1.15 vs. the dollar.

The euro broke an important trend line today. This trendline was established in December of 2015. We saw the yen break a similar trendline last week and now the same is happening in the euro.


The euro is likely heading back to a 1.09 handle vs. the dollar.
And finally the main culprit, yields on the 10-Year Treasury (NYSEARCA:TLT) today are trading at 1.75% and were as high at 1.79%. Don't get me wrong, it is at 1.75%, which is still a very low rate. However, it is all relative. Remember what we are competing against in an NIRP world, where bunds yield 0.02% and JGBs yield -0.05%. Look at the chart below of 10-10s and you can see the spreads between Treasury, bunds and JGBs widening.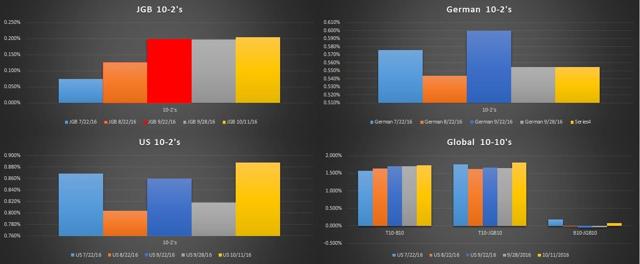 Not only that you see the shift in the steepness of the Treasury yield curve increasing by looking at the 10-2s.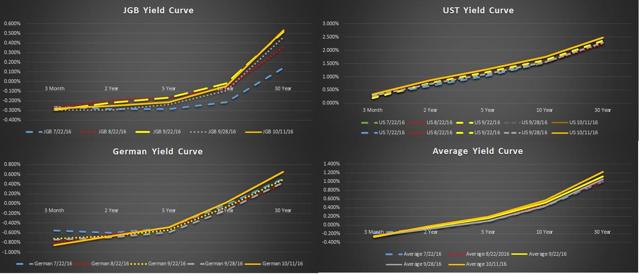 We can also see how the whole Treasury curve has shifted toward higher rates as well.
Why Do We Care?
As I talked about at the beginning of the article, all of these markets are interconnected. There may be a lag between when one market moves vs. another, but eventually, they all catch up to each other. A rising interest rate environment, with a strengthening dollar, will make it difficult for investors in US equity markets. This could likely lead to more volatility down the road as well.
Summary
Equity markets today seem to be falling as the realization of what the bond and currency have been telling us now for weeks. The Fed may indeed actually raise rates in December. This could be just a slight recalibration in the equity market or the start of something bigger. Time will tell.
If you'd like to get a full listing of the different parts of we currently have a rating or view on you can find a list in our members-only area.
Remember, if you like reading these commentaries, make sure you follow us with that little + button at the top of the page next to our name. If you really like us, then join us in our members-only area where we cover even more topics.
Disclosure: I/we have no positions in any stocks mentioned, and no plans to initiate any positions within the next 72 hours.
I wrote this article myself, and it expresses my own opinions. I am not receiving compensation for it (other than from Seeking Alpha). I have no business relationship with any company whose stock is mentioned in this article.
Additional disclosure: Mott Capital Management, LLC is a registered investment adviser. Information presented is for educational purposes only and does not intend to make an offer or solicitation for the sale or purchase of any specific securities, investments, or investment strategies. Investments involve risk and unless otherwise stated, are not guaranteed. Be sure to first consult with a qualified financial adviser and/or tax professional before implementing any strategy discussed herein. Past performance is not indicative of future performance.