Quick Take
Forterra (Pending:FRTA) wants to raise $340 million in an IPO for its infrastructure water and building pipe business.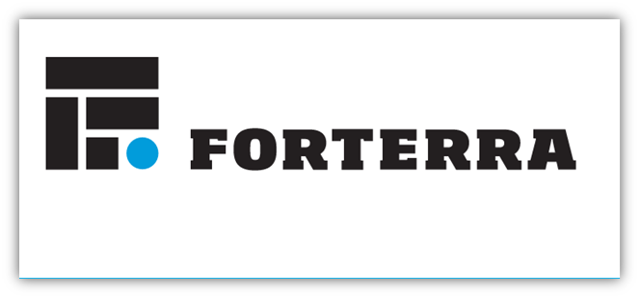 Click to enlarge
The market for North American water infrastructure projects is projected to grow significantly in the years ahead, as municipal entities and residential real estate stoke demand.
My opinion on the IPO is a CAUTIOUS BUY.

---
Company
Forterra is the new name for a group of building products companies that have been acquired and combined by large private equity firm Lone Star Funds.
The company serves most U.S. and Eastern Canadian markets via its 96 manufacturing facilities and 5,565 employees.
Forterra's motto is "The First Mile to the Last Mile," which means it covers the water infrastructure grid for residential, nonresidential and infrastructure markets.
Company CEO is Jeffrey Bradley, who has been with the firm since September 2015 and was previously CEO of Globe Specialty Metals.
Forterra has two presidents, who oversee the two company's two main divisions:
Mark Carpenter, President, Drainage Pipe & Products
William Kerfin, President, Water Pipe & Products
Technology
The company manufactures water, drainage, structural and storm water pipe and management systems.
Product families include:
Drainage Pipe & Products
Water Pipe & Products
Structural & Specialty Products
Storm Water Management Systems
Thus, the company's products range from large diameter piping that delivers water from treatment centers, manages drainage along transportation corridors and smaller diameter pipe that delivers potable water to end-users.
Below is a brief video from Forterra:
(Source: Forterra YouTube)
Forterra claims to be "the largest producer of concrete drainage pipe and precast products by sales volume in the United States and Eastern Canada."
Market
The U.S. market size for drainage and water transmission pipes is estimated to be $18 billion by 2018, representing 7.7% per year growth, according to a report by Freedonia Group.
Per the report, most of the demand will come from municipal end uses, while building construction will be the fastest-growing segment.
Interestingly, the study says that the "best opportunities by product will be found in the dominant and fastest-growing plastic pipe segment."
Forterra also cites an improving picture for US residential housing starts after a 50-year low experienced in the wake of the 2008 financial crisis and real estate crash: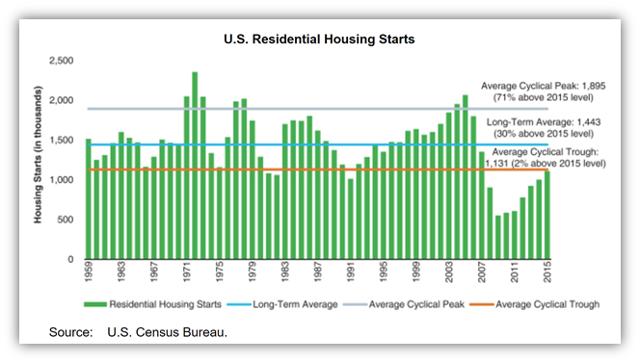 Click to enlarge
(Source: U.S. Census Bureau/Forterra S-1 Filing)
An additional source of support for the large market opportunity was in December 2015 when the US federal government enacted the Fixing America's Surface Transportation Act, or the FAST Act, which authorized $305 billion of funding over five years to upgrade transportation-related infrastructure, most of which pertains to highway spending.
This source of funding positively impacts the company's Drainage Pipe & Products business which is a function of new highway construction and existing highway improvement projects.
An even greater potential market size was explored in the 2010 report by the US Conference of Mayors - Mayor's Water Council.
The report anticipated a 20-year spending need for water infrastructure of $3.8 trillion, assuming a mid-range growth rate of 5.22%.
Competition
Direct competitors differ depending on the product segment, but include the following companies:
Rinker Materials/Cemex (NYSE:CX)
Oldcastle
LaFarge/Holcim (HOLN.F)
McWane
American Cast-Iron Pipe Company
Thompson Pipe Group
As a result of Forterra's active acquisition history which includes seven acquisitions in the past three years, the company is one of the few market participants of scale, and several other competitors are significantly smaller in size.
Acquisitions have been both tuck-in and transformative and have added to the company's potential investment value of being able to provide significant exposure to the twin markets of Drainage Pipe & Products and Water Pipe & Products.
Below is a chart showing the combined 2015 results by segment and end market: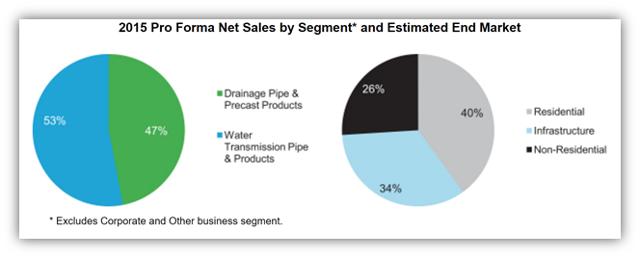 Click to enlarge
(Source: Forterra S-1 Filing)
The chart indicates an almost even distribution between Drainage and Water Transmission segments and a diversified end market division of revenues.
Financials
Forterra's recent financials present a picture best summarized as:
Increasing Revenues, likely due to its acquisitions
Increasing, though uneven, Gross Margins
Variable Cash Flow from Operations
High total debt
Below are the company's predecessor and successor operational results for the past 2 ½ years (2014/2015 Audited GAAP, 2016 unaudited):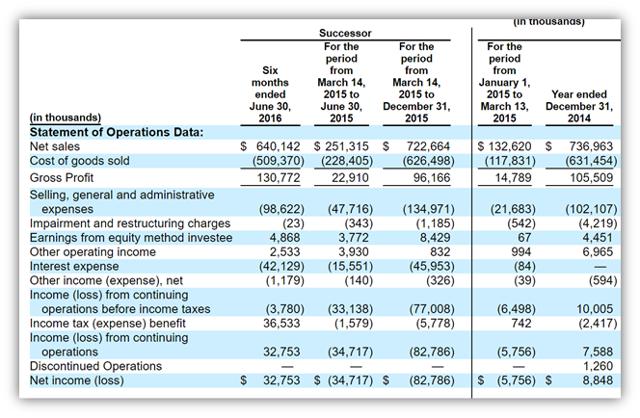 Click to enlarge
(Source: Forterra S-1 Filing)
Revenue
H1 2016: $640 million, 67% increase over prior
2015: $855 million, 16% increase over prior
2014: $737 million
Gross Margin
H1 2016: 20%
2015: 13%
2014: 14%
Cash Flow From Operations
H1 2016: $6.4 million used
2015: $73.2 million
2014: $26 million
As of June 30, 2016, Forterra had $41.8 million in cash and total debt of $1.45 billion.
IPO Details
Forterra wants to raise $340 million in net proceeds by offering up to 19.8 million shares at a midpoint price range of $20 per share.
A total of 63.8 million shares will be outstanding after the IPO, assuming the underwriters purchase all options available to them.
The company intends to use the net proceeds from the offering for the following items:
$260 million to repay outstanding indebtedness under its junior term loan
$36 million to repay outstanding indebtedness under its senior term loan
$7.8 million to pay a prepayment penalty for its junior term loan
the remainder ($36.2 million) for working capital and general corporate purposes
Upon completion of the offering, private equity firm Lone Star Funds (through its indirect interest in sole shareholder Forterra US Holdings LLC) will still own 67.5% of the outstanding common stock and may not sell its shares for a period of 180 days after the effective date of the prospectus, the normal and customary lock-up period.
No other shareholders will be directly selling in the IPO, although company directors and executives own interests in Forterra US Holdings, which is the only selling shareholder.
Goldman Sachs is the lead left underwriter. Credit Suisse is also a joint book-running manager, and has conflicts of interest due to its existing loans to the company.
Commentary
Forterra appears to be the culmination of an acquisition 'rollup' effort by private equity firm Lone Star Funds with the goal of developing a water infrastructure powerhouse.
As the US and Canada have significant deferred water infrastructure projects, the company appears to be perfectly placed to take advantage of recent funding legislation and significant need for municipal water project maintenance and replacement.
Additionally, as the residential real estate market continues its steady rebound after the financial crisis and real estate crash of 2008, Forterra appears to be well positioned to take advantage of that growth.
Of course, much of this growth potential is dependent on the continued low-interest rate environment enabling government budget expenditures and private industry residential real estate development.
Valuing a combination like Forterra which is growing as a result of its acquisition success presents a challenge.
Price/Sales
A Price/Sales multiple for a comparable basket of building materials companies is approximately 1.15x.
Given Forterra's significant revenue growth, which is partly a function of its recent acquisition history and can't continue indefinitely, and due to its favorable diversification between drainage and water segments, I would assign it a Price/Sales multiple of 1.5x.
2016 annual revenue run rate of $1.28 billion x Price/Sales multiple of 1.5 = $1.92 billion valuation.
EV/Sales
Assuming a $1.92 billion enterprise value, the resulting EV/Sales multiple would be: 2.57x
I'm only cautiously optimistic about the IPO because it's an unknown as to how well the company can drive toward profitability after digesting so many acquisitions over the past three years.
Also, sales growth, once the acquisitions have come to an end, will need to be entirely organic in nature, and the company has not yet proven itself as to its ability to grow organically.
Since the company is proposing to value itself at approximately $1.3 billion, I would consider the IPO a CAUTIOUS BUY.
---
I write about IPOs and tech 'unicorns'. If you want to receive future articles automatically, click the +Follow link next to my name at the top of this article.
Disclosure: I/we have no positions in any stocks mentioned, and no plans to initiate any positions within the next 72 hours.
I wrote this article myself, and it expresses my own opinions. I am not receiving compensation for it (other than from Seeking Alpha). I have no business relationship with any company whose stock is mentioned in this article.