This is more than interesting, and telling. Here's the original top 10 from my evaluation of the top holdings of Vanguard's Dividend Appreciation Fund (NYSEARCA:VIG) - those companies are Chevron (NYSE:CVX), Exxon Mobil (NYSE:XOM), Procter & Gamble (NYSE:PG), Coca-Cola (NYSE:KO), IBM (NYSE:IBM), GE (NYSE:GE), Johnson & Johnson (NYSE:JNJ), Wal-Mart (NYSE:WMT), PepsiCo (NYSE:PEP), and AIG (NYSE:AIG).
Of course, VIG tracks the Nasdaq Dividend Appreciation Select Index. The fund was introduced in May of 2006.
That's a scary looking list, AIG lost almost all of its value. From Yahoo Finance, here's a chart for AIG from May 1 of 2006 to September 28 of 2016.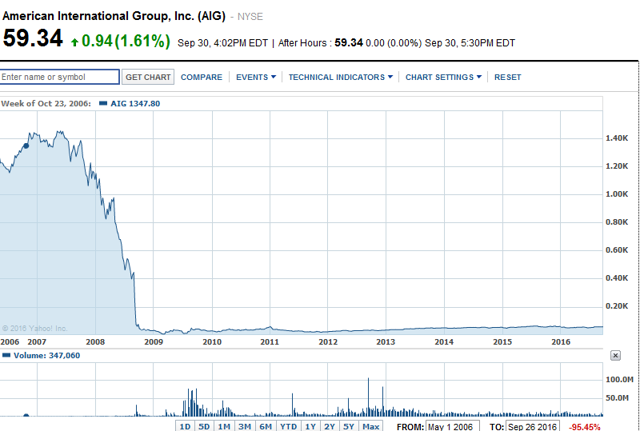 Click to enlarge
Certainly, if one had a portfolio of only ten companies and one of those companies lost almost all of its value, that's too big a loss to recover from in such a concentrated portfolio.
GE is also a company that had significant difficulties in the Financial meltdown that included a dividend cut. Here's GE from May 1 of 2006 to September 28 of 2016.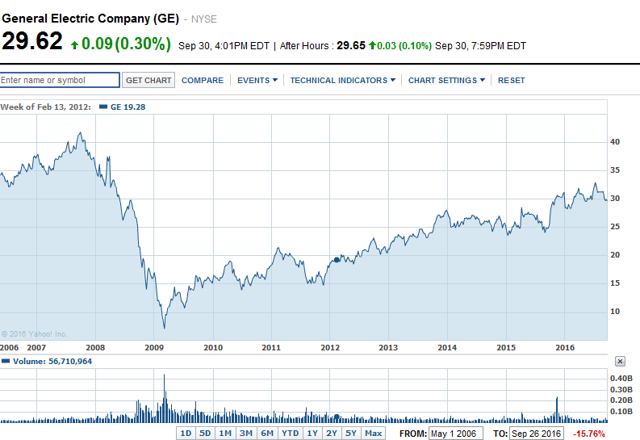 Click to enlarge
And what about the recent 'energy sector recession'. Here's XOM and CVX from January 2 of 2014 to September 28 of 2016.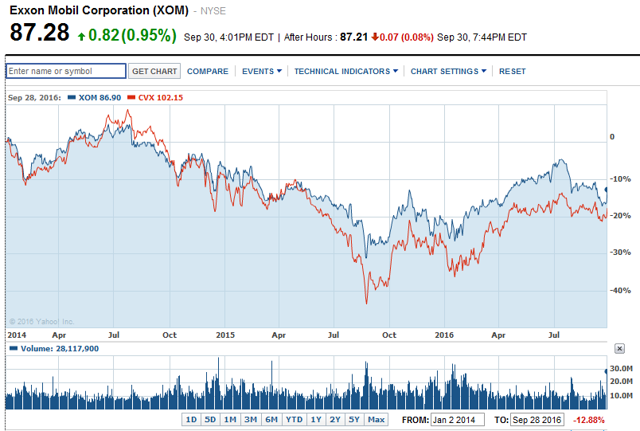 Click to enlarge
Not good. And wait, there's more bad news. We know that IBM has become more than out of favour in recent years. Nobody but Warren likes IBM these days. Not only that, the Vanguard Fund no longer likes or holds two of the other original holdings; dividend Aristocrat stalwarts Wal-Mart and Procter & Gamble have been booted out. The index applies a 'dividend health' screen that looks for dividend sustainability and it can be a little jumpy at times.
There's not a lot of dividend growth love going around here with these original top 10 holdings. IBM is also hanging out on the VIG sidelines with 'all of the above'. We're left with Johnson & Johnson and the Cola and snack companies of Coke and Pepsi to carry the dividend and total return torch. As Meatloaf might sing "Three out of ten, ain't bad."
So what happened to an investor that might have been an index skimmer in 2006 and purchased those top 10 companies and simply held to date, reinvesting the dividends along the way?
Incredibly, according to low-risk-investing.com, the above Top 10 portfolio's total return was 100.8%, underperforming the SPDR S&P 500 ETF's total return of 104.3%. The total return includes stock price appreciation and dividends. What? The portfolio's return was not half or less than that of the S&P 500?
Here's the total return chart from low-risk investing, the y axis represents total returns, the x axis represents duration in months. We see the top ten portfolio in green and the S&P 500 in red. The period is from May 1 of 2006 to September 30, 2016.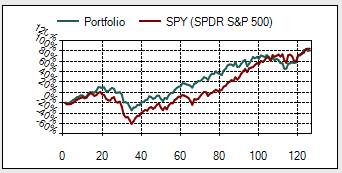 Now my favourite part of the above chart is the period when the portfolios and lines both tank (The Great Recession). The green line tanked less, much less. And then the top ten portfolio went on to beat SPY for many years. The divining rod of a meaningful dividend growth history strikes again. Many of us embrace companies or funds or indices with a meaningful dividend growth history in the hope that we'll have a lower volatility mix in a major market correction.
Here's the individual company returns according to low-risk investing.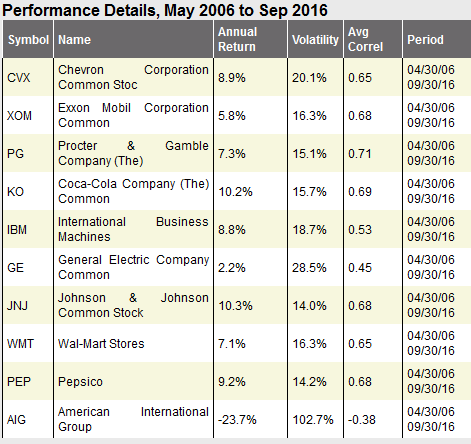 The index skimmer that trusted the index and the market pricing, did more than OK through a major correction. And that's with 2 companies almost getting wiped.
As you may know, I skimmed 15 of the top holdings of VIG in April of 2015. You can see my recent update here in the article Buying Dividend Growth Stocks Without Looking; 17 months later. In that article, you'll find links to my evaluation of the VIG top 10, top 15, and top 20 holdings over the years. My studies led me to the conclusion that 10 holdings was not enough. I am more comfortable at 15, and perhaps I should have gone to 20, or I should go to top 20, but only time will tell. My articles and portfolio will tell as well, ha.
That original top 10 group did do its job through and out of the recession, greatly outperforming the benchmarks with much lower volatility. Back in 2006 and 2007, if one went down the top holdings list, they might have added from McDonald's (NYSE:MCD), Colgate-Palmolive (NYSE:CL), 3M (NYSE:MMM) or Lowe's (NYSE:LOW). Add those companies into the mix and you'll see even greater stability and a sustained outperformance of SPY and VIG.
Again, for risk management reasons, I bought my top 15 for potential performance through a market correction. I am not concerned about underperformance in a bull market, though I am human, and I would like an outperformance in every condition. If you check the article link, you'll see that top 15 list and that it did outperform the S&P 500 and VIG over the last 17 months.
As you can tell, I do not think there is much opportunity for guesswork to add total return value in the large cap space, and in the large cap dividend growth space. We always buy at the market price. And that price includes an assessment of the current earnings and future prospects and collective worth of a company. And certainly that market evaluation is only an educated guess. Even the professional market participants cannot know the future. Management does not even know what might be their earnings more than a quarter out.
In my mind, what is important is consistency and perseverance and investing in an unemotional state of mind. Yes, like a sloth. And as always, one must know and invest within their risk tolerance level. As I like to write, investing ain't rocket surgery; certainly not in the large cap space.
Buy. Hold. Add. Invest like Spock without emotion, and your portfolio just might live long and prosper.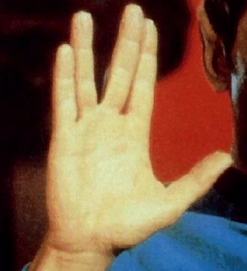 Thanks for reading,
Dale
Disclosure: I am/we are long JNJ, PEP, WMT, LOW, MMM, QCOM, TXN, MSFT, ABT, MDT, UTX, CVS, WBA.
I wrote this article myself, and it expresses my own opinions. I am not receiving compensation for it (other than from Seeking Alpha). I have no business relationship with any company whose stock is mentioned in this article.
Additional disclosure: Dale Roberts is an Investment Funds Advisor at Tangerine Investment Funds Limited a subsidiary of Tangerine Bank, wholly owned by Scotia Bank; he is not licensed to provide professional advice on stocks. The opinions expressed herein are Dale Roberts' personal opinions relating to his experience as an investor and are not those of Tangerine Bank or its subsidiaries and/or affiliates. This article is for information purposes only and does not constitute investment advice or an offer or the solicitation of an offer to buy or sell any securities. Past performance is not a guarantee and may not be repeated. Investment strategies are not suitable for everyone and you should always conduct your own research or speak to a financial advisor.