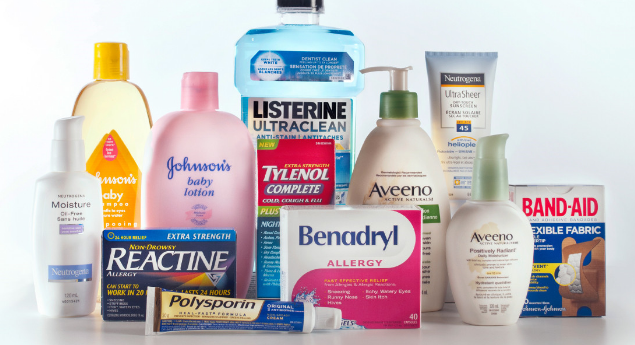 To say that Johnson & Johnson (NYSE:JNJ) hasn't been one of my favorite stocks in the past is an understatement. The company's track record is impeccable but at the same time, the stock has been very expensive on any metric you can think of. That has led me to stay on the sidelines and while I've missed a decent rally as a result, it seems to me that JNJ has been inflating and the only remedy is lots of sideways action or an outright selloff. Following the Q2 earnings report the stock hit new highs but since that time, it has drifted down, certainly making it more attractive than it has been in the past. Heading into the Q3 report due out next week, here's what I'm looking for to determine if JNJ is finally a buy or if flat is the new up for JNJ.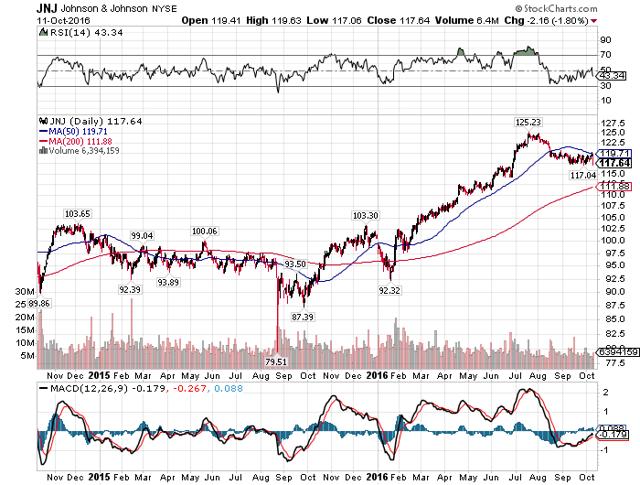 Click to enlarge
Revenue growth has always been a point of contention for me with respect to JNJ because, well, there hasn't been much in the past. JNJ's multiple suggests lots of growth but that just isn't the case. Analysts are looking for ~4% revenue growth in Q3, roughly congruent with what it did in Q2. That has been good enough for investors in the past but with the stock drifting down, is it still good enough?
In Q2 the Pharma segment made up for marked weakness at its other units so the mix will be interesting to see in Q3 as well. The consolidated number is obviously very important but in terms of sustainability, the mix is meaningful as well. After all, having one strong segment isn't as desirable as broad-based strength.
In addition to mix, I want to see the dollar's impact on JNJ's revenue. Like any other multinational, JNJ is dependent upon the dollar's strength when translating its global revenue. That has cost JNJ dearly in the past although the impact was more muted in Q2 as the dollar has settled down of late. I still think the dollar is a longer term headwind for JNJ or any other multinational as the Fed is expected to raise rates one time this year. If that happens one would think it would happen again at least once next year and that should put a bid under the dollar relative to other major currencies that are still seeing easing from their central banks. If that happens, JNJ's revenue for next year would be at risk as well and could potentially dampen growth more than estimates are accounting for today. Again, that's a longer term risk but if you own JNJ, you need to care about what the Fed does because it will directly impact JNJ's revenue stream going forward.
One thing that JNJ has been absolutely tremendous at delivering is margin improvements. JNJ has been hard at work improving efficiency and the results have been astounding. Operating margins were up 310bps in Q2 through a combination of lower SG&A costs and higher gross margins and I don't expect anything different for Q3. JNJ's productivity in this space has been amazing but I'd caution that these kinds of gains aren't generally repeatable. It is almost certain that JNJ will be able to maintain its gains going into next year but 300bps gains in operating margins are virtually impossible to repeat, so earnings estimates for next year must take into account the fact that operating margins are likely to be closer to flat. Any guidance JNJ provides here will be critical in terms of adjusting estimates for next year. Q3's number is going to be great but it is the forward looking one I'm more interested in at this point.
JNJ is going for 17.6 times this year's earnings heading into the Q3 report, certainly a more reasonable multiple than what we're used. The fact that JNJ has come down since hitting its new highs a few months ago has helped immensely in terms of the valuation and while JNJ's EPS growth in the mid-single digits isn't exactly awe-inspiring, it has been good enough. Again, any clues from guidance will critical as I expect another really nice quarter from JNJ outside of revenue growth.
On another valuation metric I like to use - yield - JNJ looks far less rosy. This chart shows JNJ's yield for the past decade and the results don't bode particularly well for longs.

Click to enlarge
Source: Simply Wall St.
This shows that JNJ is near its decade-lows in terms of yield as the only other time it was going for 2.7% was two years ago, which preceded a multi-month downtrend. Obviously, JNJ recovered but it is certainly something to consider if you own the stock.
Overall, I think JNJ will report a Q3 that looks rather much like Q2; weak revenue growth, moderate dollar impact and huge margin gains. Guidance will be critical so I'll definitely be interested to see that but JNJ is certainly cheaper now than it was after the Q2 report. JNJ is getting to the point where I don't find it to be prohibitively expensive and that is quite the shift for me. If JNJ moves down off of the report or even just sideways, I'll be interested. The yield valuation scares me a bit but on an earnings basis, it is borderline cheap. We'll just have to wait and see what Q3 looks like first.
Disclosure: I/we have no positions in any stocks mentioned, and no plans to initiate any positions within the next 72 hours.
I wrote this article myself, and it expresses my own opinions. I am not receiving compensation for it (other than from Seeking Alpha). I have no business relationship with any company whose stock is mentioned in this article.