International payment processing services are undergoing rapid change since the financial crisis of 2008 and the continued rise of online e-commerce.
While the availability of credit card-based payments by Visa (NYSE:V), MasterCard (NYSE:MA) and American Express (NYSE:AXP) and early market entrants such as PayPal (NASDAQ:PYPL) are well known, the opportunity for disruption is significant in the international payment transfer system outside of credit card transactions, as small businesses and freelancers have joined numerous online marketplaces worldwide.
Historically, the legacy banking system has handled payments between individuals or businesses through its antiquated 'wire transfer' system.
The problems with the existing international payments system are that it has been both expensive and slow for users, often costing up to $50 per transaction and requiring 3 to 4 days for the settlement of the transaction.
Additionally, it has been difficult and unwieldy for small business owners to use, requiring them to navigate an unfamiliar process for a slow and expensive result.
While inconvenience, cost and settlement time drawbacks may not be an issue for large enterprises, for SMBs wanting to transact large volumes of business online, that paradigm has been largely unworkable.
Seeing the opportunities, a number of international payment processing startups have entered the market with faster and less expensive options for merchants and users.
Certainly, the established tech companies have their own initiatives, such as Apple Pay (NASDAQ:AAPL), Android Pay (NASDAQ:GOOG) (NASDAQ:GOOGL) and Square (NYSE:SQ), but these solutions, while competitive in some respects, still rely on existing credit card payment gateways to some extent, increasing the cost for merchants.
Technology startup companies focused on international payments, such as Worldpay (OTCPK:WDDYF), Adyen (Private:ADYEN), which I previously covered here, Boku, Braintree, Credorax, Go Cardless, Ingenico, Green Dot (NYSE:GDOT), iZettle, Payoneer (Private:PAYO), Remitly, Transferwise and others, are stepping into the opening to provide services that are specifically tailored to SMBs.
While the private market funding trend for payment companies has been uneven lately, the longer-term trend shows tremendous new investment in the area, as startups begin to generate traction in the sector.
Below is a chart showing private funding volume and number of deals by quarter since Q1 2012: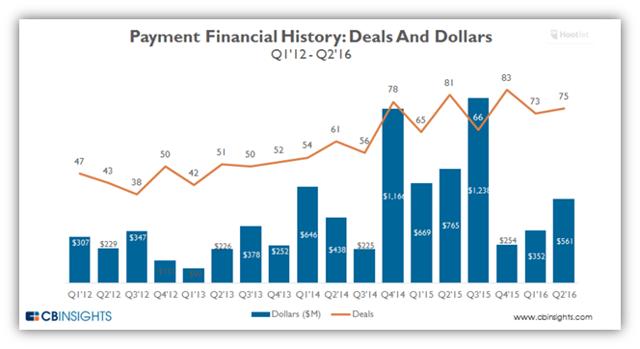 Click to enlarge
(Source: CBInsights)
New York-based Payoneer is one such budding 'unicorn' candidate that is receiving significant attention from investors.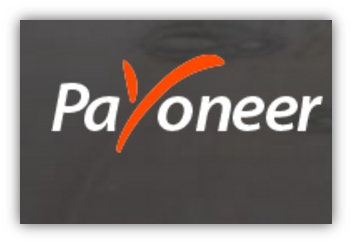 Payoneer, founded in 2005 by Yuval Tal, is headed by CEO Scott Galit and is active in 200+ countries with 150 currencies.
The company recently landed $180 million in growth stage financing from an investor syndicate led by growth equity firm TCV, which has been active in the complementary industries of e-commerce and marketplaces.
I spoke with TCV Principal Nari Ansari to find out more about Payoneer and TCV's investment thesis.
(The following answers have been edited for length and clarity)
How would you describe the change in the international payments space?
We think there's a few different elements at play; the most important piece of foundational context is the growth of global e-commerce.

From a tailwind and opportunity standpoint, the global aspect of e-commerce was not as prevalent ten years ago as it is today. Payoneer works with sellers across a range of growing marketplaces worldwide to facilitate international payments to get them paid conveniently, quickly and cheaply.
Payoneer is focused on the SMB and freelance markets in developing countries and has developed e-commerce APIs for marketplace applications.
Below is an explainer video on the company's approach:
(Source: Payoneer YouTube)
To say that the international payments market size is large would be an understatement, since it is estimated that $155 trillion is currently transferred each year internationally.
According to a special report by McKinsey, cross-border transactions are expected to increase from a recent historical 0.2% CAGR from 2008-2013 to 0.3% from 2014-2018, as shown in the table below: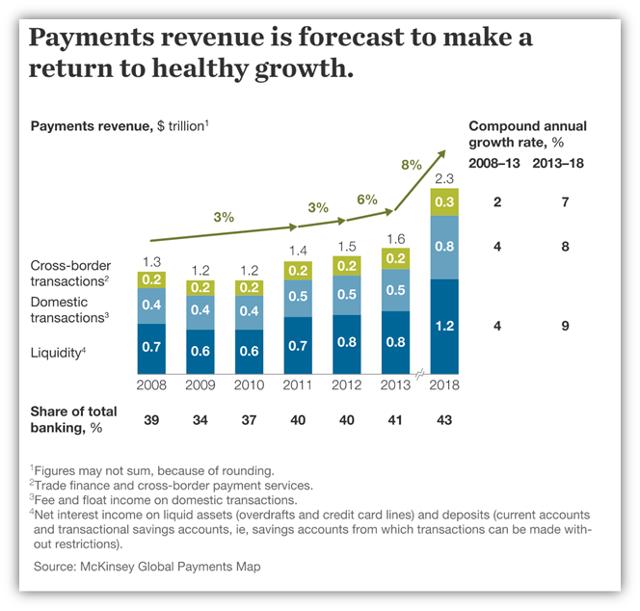 Click to enlarge
(Source: McKinsey & Co.)
This significant change represents a return to growth for international payments after a period of stagnation as a result of the 2008 financial crisis.
Additionally, the report states that the Asia-Pacific region, including China, which currently accounts for 40% of payments activity, will comprise 56% of the global increase in revenues during the next five years.
I asked lead investor TCV's Nari Ansari how Payoneer intends to take advantage of this new growth environment:
Payoneer has a two-pronged approach:

They directly contract with large marketplaces to become a preferred payments provider at the platform level. Marketplaces want to reduce friction for their market participants, so are receptive to improved payments processing with added convenience, speed and low costs.

Payoneer is also developing a strong brand by directly marketing to SMB's in developing markets, where they host forums to talk about how they can help local SMBs accelerate their business. SMBs want to use Payoneer because they want one way to get paid even though they may be selling through multiple marketplaces.
With such a large market opportunity, the company has numerous competitors, as shown in the 'periodic table' below: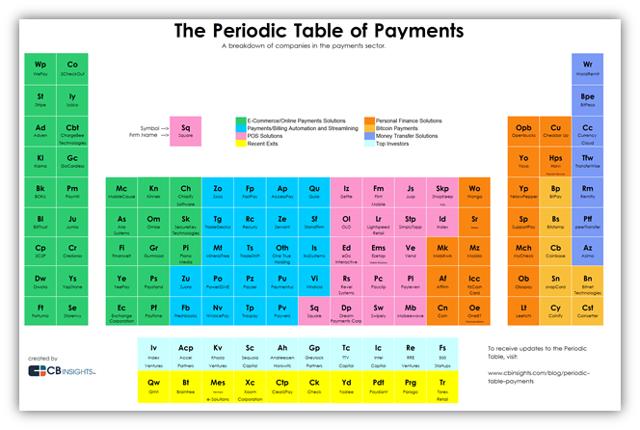 Click to enlarge
(Source: CBInsights)
These companies are focused on various of aspects related to international payment. Payoneer's services are aimed at the "seller" side of the transaction process, no doubt because this is how the company can demonstrate the greatest value to the payment process and focus its marketing efforts most efficiently.
TCV's Ansari shared his thoughts on my next question: Whom do you see Payoneer disrupting or displacing the most?
PayPal is the company that comes up the most, but largely what Payoneer is competing against is the old way of slow and costly bank transfers that the legacy banking system is known for.

A typical international bank transfer takes 3 to 4 days and is costly to SMBs. In the new world of instant e-commerce, that slow and costly approach doesn't work.

The use case of an SMB/freelancer working via online marketplaces didn't really exist 10 to 15 years ago, so Payoneer is replacing checks and wire transfers by providing services that have been built for the current online and marketplace environment.
Payoneer has received a total of $270 million in financing between five rounds from a number of top venture capital firms in the U.S. and Israel.
So, the company has plenty of financial resources to continue its growth initiatives.
CEO Scott Galit recently said, "We want to make sure we're in control of our own destiny," he said. "If we go public, it'll be because it's the right step for the company, not because we need capital."
The company is reported to have exceeded $100 million in revenue in 2015 and has been valued by the venture capital database firm PitchBook at $880 million.
This valuation, if accurate, would represent a roughly 8.8x Price/Sales multiple vs. a 4.76x multiple for public competitor PayPal.
As for the future for companies such as Payoneer, much will depend on their ability to execute in far-flung locales while retaining a viable business model.
These companies run the risk of 'boiling the ocean' by spreading themselves too thin in developing markets in relation to their financial resources.
While capital is cheap and the e-commerce/marketplace mega-trends represent the 'wind at their back', growth at all costs to gain market share may be a risky approach.
Also on the horizon is the promise of blockchain and distributed ledger technologies.
I asked TCV Vice President Amol Helekar if they see blockchain technologies impacting international payments anytime soon?
Distributing trust across a broad range of an ecosystem is pretty powerful. As a later stage growth investor, we can monitor the early stage and to the extent that one company breaks out and invest accordingly.

We don't have a specific view on the time-frame; there are a number of technologies that are playing out right now in financial services, identity management, security and a lot of other applications broadly.

Many startups are on their way to achieving product market fit. Whether it is currency-based applications like Bitcoin or settlement clearing ledger type of applications using blockchain more broadly, we think different applications might have different time frames to adoption, product market fit and ultimately growth; however, as a technology it is already having a pretty significant impact.

We track all the players, the miners, exchanges, wallets/vaults, capital markets applications, etc., and we look at them both for whether they are investable as well as how our portfolio can make use of their technologies.
The opportunity in international payments is significant, and companies like Payoneer have the initiative on their side.
But legacy banks are not sitting still with new technologies such as Bitcoin and blockchain variants.
A number of banks have been joining various blockchain transaction consortia, such as that of R3, which counts several dozen financial firms including the world's largest banks as members.
The purpose of these consortia is for institutions to learn and experiment with various protocols that can streamline their operations.
The incumbents realize that competitors such as Payoneer are pursuing their legacy business with a vengeance and they have no choice but to innovate in response, exposing themselves to the 'innovator's dilemma' in the process.
Over time, consumers and companies of all sizes will see the fruits of such healthy disruption and competition in the form of greater convenience, access, quality of service and lower cost.
The payments revolution is well underway.
I write about IPOs and tech 'unicorns'. If you want to receive future articles automatically, click the +Follow link next to my name at the top of this article.
Disclosure: I/we have no positions in any stocks mentioned, and no plans to initiate any positions within the next 72 hours.
I wrote this article myself, and it expresses my own opinions. I am not receiving compensation for it (other than from Seeking Alpha). I have no business relationship with any company whose stock is mentioned in this article.