On October 7th, the management team at Vanguard Natural Resources (NYSE:VNR) released a presentation whereby they discussed, in some detail, their expectations for the next few years. Last week I published an article in which I said that their decision to exercise a 30-day grace period on their interest payments made under some Senior Notes was a major red flag, as was the fact that they hired an outside firm to explore options for the business. However, I also said that this does not guarantee bankruptcy (but certainly hints very strongly at it). In what follows, I plan to go over management's release and give my thoughts on their expectations moving forward.
Disclosure
As a disclosure, my goal here is not to regurgitate management's presentation. I do not believe that would be accretive to my readers in any way, shape, or form. With that being said, I do draw quite a bit from management's presentation in this article but for those who want to look at the comprehensive data provided by the business, in which management discusses performance expectations for certain key properties, I recommend you check it out here.
Management's planning for the future
Truth be told, Vanguard's presentation is a first for me. No, it's not the first investor presentation I've looked at (I've gone through more than I'd care to remember). What is a first is that I've never seen a company exercising a 30-day grace period, whose shares are trading next to $0, and whose future has never looked more bleak than it does today, plan ahead for several years into the future. This means that management is either confident in their ability to save the business, is desperate to raise capital before it's too late (or even stave off their lenders), or is off their rockers. Either way, I like the enthusiasm at work here.
In essence, by taking into consideration current hedging and by assuming that, starting next year, oil prices average $52.50 per barrel while natural gas prices average $3.25 per Mcf, management is performing the same kind of analysis I have done on other companies (and even Vanguard) in the past. What's different between my work and theirs, however, is the fact that since they have access to greater detail regarding cost data, as well as how changes in capital expenditures should impact operations, their numbers are better to work with (though there is a risk that management will understate costs in order to make their bottom line better).
Using management's own numbers, we can see the results in the image below. What you can see by looking at it is that management is projecting cash flow data from 2016 all the way through 2020 at the aforementioned oil and natural gas prices. Personally, I would be shocked beyond belief if oil prices average such a low level beyond 2017 but the idea of remaining conservative is something I champion while performing financial analysis because the fact of the matter is that projecting materially higher prices (or even modestly higher prices) year after year would open the firm up to justifiable criticism.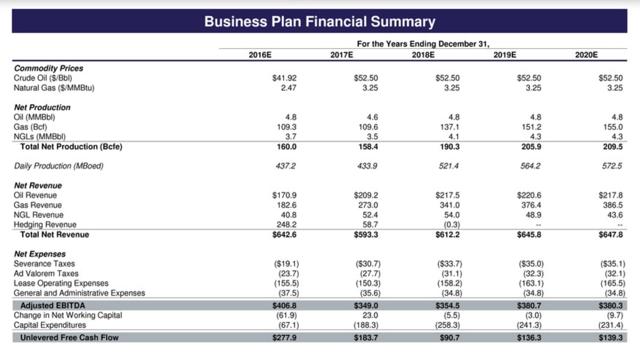 Click to enlarge
*Taken from Vanguard
Assuming that Vanguard's management team is correct in its analysis, the firm should generate EBITDA of $349 million next year, a number that should increase in 2018 before peaking at $380.7 million in 2019. This is all fine and dandy but the fact of the matter is that EBITDA is not, in my opinion, a confidence-instilling metric. Rather, the firm should be using cash flow. They do show free cash flow for each year from 2016 through 2020, which is calculated as EBITDA less changes in working capital plus capital expenditures (and they believe capital expenditures will increase in the not-too-distant future in order to more than offset the 11% annual decline rate of their energy producing properties).
There's a problem here
Even if you consider the low point, which would be free cash flow of $90.7 million in 2019, there's an issue that investors need to be careful about; Vanguard's "free cash flow" is not really free cash flow. What they are showing in these financials is referred to as unlevered free cash flow. While in business school, I mostly encountered unlevered data when projecting returns for projects or for a company as a whole by looking at its unlevered cost of capital, which basically strips out the impact of interest expense associated with debt and shows returns that way.
This can be good for capital planning purposes, but for a business like Vanguard, which has debt of around $1.90 billion and no way (that I can reasonably think of) to delay interest expenses for a prolonged period of time, using unlevered free cash flow is only okay if they are planning on replacing all or a majority of their debt with new debt. After incorporating annual interest expense of $89.59 million per year, with current long-term debt numbers factored into the equation, cumulative free cash flow for 2017 through 2020 would come out to just $191.64 million compared to the unlevered number of $550 million they calculated in their presentation.
Again, this doesn't necessarily mean that Vanguard is dead but what we are likely seeing here is an attempt by management to find an outside investor to inject debt into the firm or they are trying to convince their credit facility lenders not to kill the firm during their redetermination. If the firm had more of its debt tied up in Senior Notes, which are trading at a discount to par, I would be very excited about these prospects and would likely buy into its common shares, but with $1.37 billion of its debt (about 72% of debt outstanding) under its credit facility and lenders already pushing for repayment on some of that, I'm cautious.
One reason for my caution is that, even if management can raise outside capital, the risk of a further reduction in the credit facility creates downside risk because such a capital raise would be (absent a surge in energy prices) a one-time deal. The other reason is that any sort of outside funding would likely have a high interest rate (at least 9% per year). If, for instance, $372 million of its credit facility could be reduced and Second Lien Notes could be issued at 9% per year, net interest expense per year would rise by $22.47 million, meaning that free cash flow in 2018 would actually dip into negative territory. Should energy prices fall again or stay low for an extended period of time, an additional reduction in the credit facility could be disastrous.
Takeaway
Truthfully, I'm not sure what Vanguard is planning and I hope management can succeed in salvaging the business. However, this presentation, whereby management projects cash flows a few years out when it looks unlikely they will be able to do anything but (if they are lucky) buy a short amount of time or be able to work on changing their capital structure, looks like a long shot. I could be wrong and I hope I am but even for investors who think the future for Vanguard is bright based on the financial numbers management demonstrated, it's important to be aware of the unlevered mechanics presented and to not mistake them for actual free cash flow.
Disclosure: I/we have no positions in any stocks mentioned, and no plans to initiate any positions within the next 72 hours.
I wrote this article myself, and it expresses my own opinions. I am not receiving compensation for it (other than from Seeking Alpha). I have no business relationship with any company whose stock is mentioned in this article.
Editor's Note: This article covers one or more stocks trading at less than $1 per share and/or with less than a $100 million market cap. Please be aware of the risks associated with these stocks.