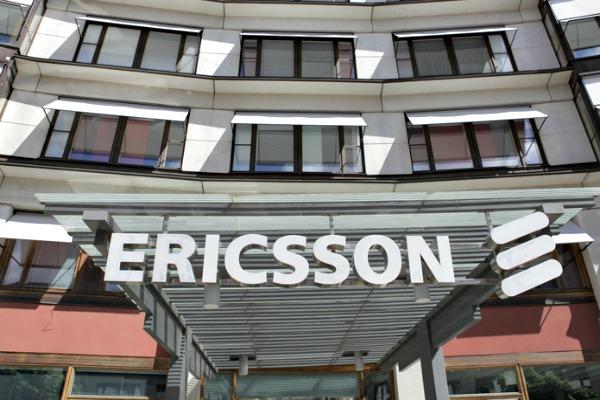 Credit: economica.net
It doesn't get much worse for the Swedish telecom service provider.
Investing in Ericsson (NASDAQ:ERIC) is like having one of those bad dreams that you keep falling and can't reach the floor. The stock has returned a stomach-turning -27% this year so far by market close yesterday - vs. the S&P 500's (NYSEARCA:SPY) +5% - and -32% over the past 52 weeks.
And to make matters worse, the company today pre-announced that "earnings this year will be 'significantly lower' than expectations amid weaker broadband demand." CEO Jan Frykhammar offered little encouragement by saying that "current trends are expected to continue short-term."
I bought ERIC late in April, in true "catch-the-falling-knife" style, after shares dropped 15% following a concerning 1Q16 earnings report in which a substantial restructuring plan was announced. So far this year, ERIC has been, by a very long stretch, the worst-performing stock in my otherwise double-digit returning portfolio. And it looks like the free-fall is not over yet.
Today, I review the highlights of Ericsson's preliminary earnings call that took place this morning with CEO Jan Frykhammar and CFO Carl Mellander and discuss some key takeaways. I finally revisit whether I should hang on to shares or sell them following another round of awful news for the Swedish company. Be sure to leave your own opinions in the comments section below.
Highlights from yet another painful quarter
During the pre-announcement call, CEO Jan Frykhammar explained that the bleak short-term outlook that management shared during the company's 2Q16 earnings call no longer properly reflects the accelerating negative trends that he now sees, especially in regards to Ericsson's Networks division (49.5% of last quarter's total revenues). Whereas the segment experienced a -11% decline in constant-currency terms last quarter, management expects it to drop another -19% in 3Q16 - illustrating that the hole is deeper than most had previously anticipated.
Management also shared the following unaudited and preliminary summary of what 3Q16 should look like. Networks revenues are expected to drop the most, while Global Services and Support Solutions should see a combined -8.5% decline YOY - nothing to brag about. Top line softness should be accompanied by a sharp five-percentage point drop YOY in gross margins - partially justified by a revenue mix shift away from the slightly more profitable Networks division, but also likely the result of the typical pricing pressures that accompany a period of instability like this. Ericsson is still expected to post a positive ex-restructuring op profit for the quarter of about $180 million (in USD), but it should amount to only one-fourth of last year's 3Q op income.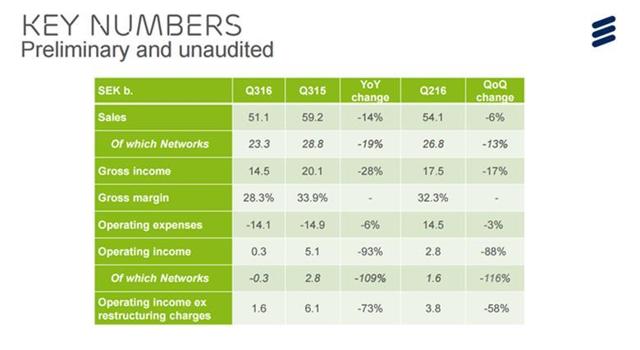 Click to enlarge
Source: Company's 3Q pre-announcement slides
The key driver behind the softness seems to be, according to management, the same that had been previously discussed: macro-economic factors, especially in emerging markets like Brazil, Russia and parts of southern Europe. The CEO denied any internal structural issues that could be contributing to the significant headwinds. I wonder, however, how reliable this remark might be, considering that the recent material changes in the company's business structure and senior executive team understandably suggest an environment of internal disruptions, and not one of stability or status quo.
Lastly - and perhaps one of the few pieces of good news for shareholders this morning - management confirmed not only that the current cost-reduction plans will continue to be pursued, but hinted at possible additional measures to cut expenses as a result of falling sales volumes.
Trying to make sense of it all
It is no secret that Ericsson competes in an extremely challenging environment that has seen telco clients like Verizon (NYSE:VZ), AT&T (NYSE:T) and Deutsche Telekom (OTCQX:DTEGY) - only to name a handful - scale back capital spending following the completion of their recent infrastructure upgrades.
Last quarter's YOY net sales "walk" (see below) makes it very clear that the top line headwinds that Ericsson has been experiencing is very broad-based. Emerging markets ex-South East Asia seem to be hurting the most, and localized stability (in China, for example, a sizable market where the 4G transition is still underway) is the best that Ericsson has been able to achieve.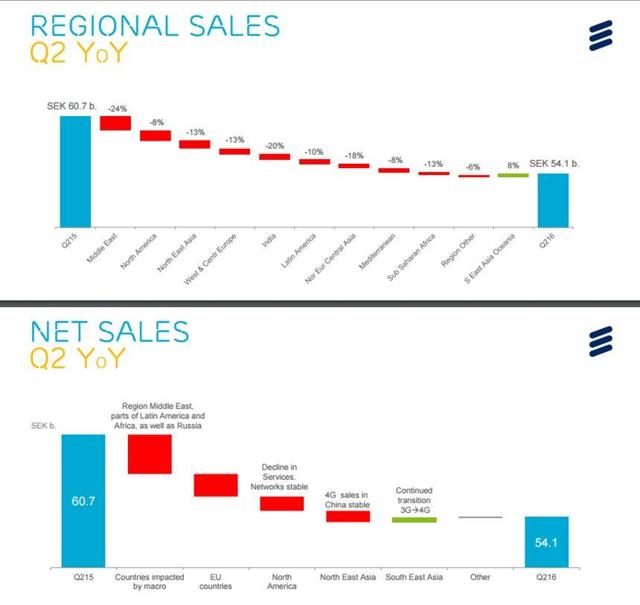 Click to enlarge
Source: Company 2Q earnings presentation
Given the bleak scenario, any upside to Ericsson's future financial and stock performances is likely to take time to develop, and will almost certainly start with bottom line improvement driven by sharp cost cuts - and not by top line tailwinds. The question is: can Ericsson shrink fast enough to match the unraveling of its networks business (short term), and will it be able to do so without jeopardizing its status as one of the top three, large-scale names in the radio and core networking business (long term)?
Should I hold on to ERIC?
ERIC has most definitively become a speculative play at this point. The company seems to be in the thick of a cyclical transition that is likely to put downward pressure on the stock until signs of a turnaround begin to emerge.
The reasons why I bought ERIC in the first place included (1) the company's stated focus on the more promising cloud services, IP networking, TV and media equipment, and carrier OSS/BSS software markets, (2) its strategy to move the business model farther away from the unpredictable and cyclical service provider segment (Ericsson planned to generate up to 25% of its revenues from non-carrier clients by 2020, up from 10% in 2014), (3) very low forward P/E in the low double-digit territory, and (4) a dividend yield of 4.5% (now closer to 7%, after the sharp drop in share prices over the past 6 months) that would pay me to wait until the company was able to replace its top executives and gain its footing in a turbulent and challenging market.
Today, few of the reasons that I've laid out above matter much in the short term. For the time being, I will hang on to ERIC as a small and speculative portion of my overall portfolio, understanding that a bottom might not yet be in sight. I see the stock as a high-risk, potentially high-reward play that is likely to create anxiety in those investors that like to check their portfolio returns on a daily basis or weekly basis.
Disclosure: I am/we are long ERIC, SPY.
I wrote this article myself, and it expresses my own opinions. I am not receiving compensation for it (other than from Seeking Alpha). I have no business relationship with any company whose stock is mentioned in this article.
Editor's Note: This article discusses one or more securities that do not trade on a major U.S. exchange. Please be aware of the risks associated with these stocks.