I wrote about International Tower Hill Mines (NYSEMKT:THM) on Seeking Alpha in July, recommending the stock as the best bet on a rising gold price. I still feel that way. This is an update on the company, the stock, and the state of the gold mining sector after the sharp correction we have just experienced.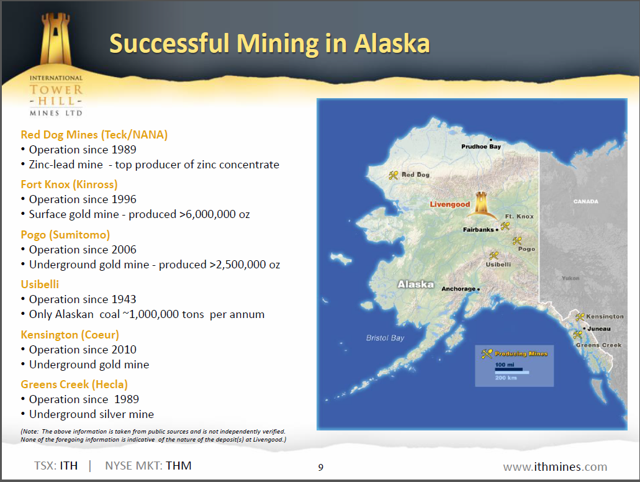 Click to enlarge
It's true that THM share price has suffered a setback since July. After rising from $0.90/share to as high as $1.40/share, it has pulled back all the way to $0.69/share during the severe gold market correction that just happened during the past couple of weeks.
Of course, it's no fun seeing an investment decline in value. But patient and committed investors who still believe gold is in the early stages of a new bull market can take advantage of this correction as a new buying opportunity.
If, and when, THM does go on to reach the much higher highs that I am expecting in the years ahead, you will make more gains, not less, because of this correction - as long as you buy, not sell, more shares at the cheaper price we have now. That is what I have done.
The pullback in THM, in fact, is a confirmation that the stock is leveraged to the gold price. The fact that the price drops sharply when gold price falls has a flipside: it rises sharply when gold price rises. It goes both ways. If you buy more shares after the pullbacks, you can benefit from the price movements in both directions.
Most of the people who have been selling gold and miners in this correction are probably not long-term gold investors - they are speculators. They bought after the upside breakout earlier this year, hoping to ride the trend higher. Then they saw the beginning of the recent pullback as a downside breakout, and they sold to cut their losses. Their loss is our gain, if we buy now.
The New Pre-Feasibility Study
THM released a new Pre-Feasibility Study for its Livengood Gold Project in September. Investors should, of course, read and review this study and the updated numbers and estimates in it. Here is my summary of the most important updates and my interpretation of these.
Overall, the study appears to reflect a plan to lower capital expenses by mining about 6.75 million ounces of relatively higher grade ore. This figure may appear small compared to the 15 million ounces of gold in the ground that THM's previous resource estimates stated. But the good news is, the new study shows the company has a workable plan in case gold price doesn't rise as high as we expect. It's good to be flexible and have a Plan B.
I pay attention to the stated amount of Measured Mineral Resources. That is now stated at about 10.8 million ounces in the new study. But below that in the table "Sensitivity of Mineralization Inventory Contained In Pit Shells Defined By Whittle Analyses at Different Gold Prices within Pit Shells", it states that at a $1476 gold price, the Measured Mineral Resources are up to 13 million ounces, plus almost 1 million Indicated and 2 million Inferred. So the 15 million ounce target is still on the table, if the gold price cooperates as we expect.
As I noted in the prior article, THM needs to obtain financing by the beginning of next year to make an approximately $15 million payment for land claims. Hopefully, the more flexible plan in the new study will facilitate the obtainment of the financing the company needs for the derivative payment. Given THM's financial backers - John Paulson, Tocqueville Asset Management, and AngloGold Ashanti (NYSE:AU) - I'm confident the company will find a way to get that financing in any case.
Bottom line: The correction flushed a lot of short-term speculators out, making room for medium- and long-term investors to add more shares at a better price and make bigger gains in the end.
Disclosure: I am/we are long THM.
I wrote this article myself, and it expresses my own opinions. I am not receiving compensation for it (other than from Seeking Alpha). I have no business relationship with any company whose stock is mentioned in this article.
Editor's Note: This article covers one or more stocks trading at less than $1 per share and/or with less than a $100 million market cap. Please be aware of the risks associated with these stocks.