General Electric (NYSE:GE) announced that the company agreed to acquire LM Wind Power, a manufacturer and supplier in the wind industry, for $1.65b. In the press release, management provided the following information about the purchase price and the anticipated impact to earnings:
"The acquisition is valued at 8.3 times pro forma earnings before interest, taxes, depreciation and amortization (EBITDA) (2016 estimate). The transaction is subject to customary regulatory and governmental approvals and GE expects to close the transaction in the first half of 2017. GE expects the acquisition to be accretive to earnings in 2018."
This deal is not enough to move the needle for an ~$260b company, but, in my opinion, the acquisition (if closed) is another step in the right direction for a conglomerate that is in the middle of a significant transition to become a "simpler, more valuable company". The biggest takeaway from press release is the fact that the acquisition is expected to be accretive to earnings in 2018. The year 2018 has come up over and over again in the recent press releases/presentations and the reason for this is that management's new strategy is more-focused on creating long-term value instead of beating the next quarterly earnings estimate (a topic that was discussed in "GE: Investors Must Remember That This Is A 2018 Story").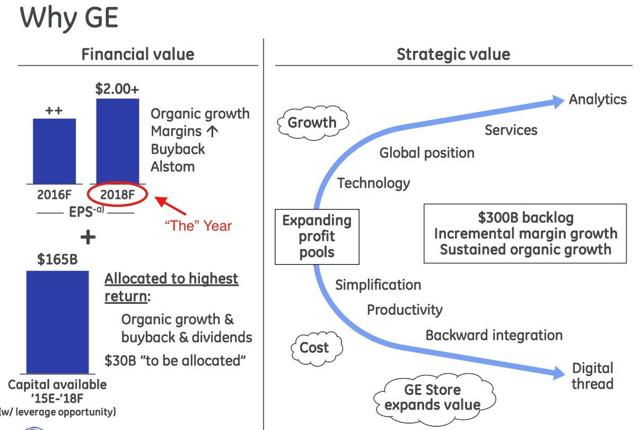 Click to enlarge
(Source: GE's 2016 Annual Outlook --edited by author)
In "GE: Small But Meaningful Investments", I described the importance of the company investing for the future and I specifically highlighted the growing solar and wind industries. As such, the LM Wind Power acquisition is another promising small but meaningful investment.
Why Does The LM Wind Power Acquisition Matter?
LM Wind Power has operations in more than 8 countries so the company utilizes its economies of scale to set itself apart from other competitors in the wind industry. Management highlights the following facts about the company:
The world's leading component supplier to the wind industry, providing blades, service and logistics
Rotor solutions are supplied to 30 global and national wind turbine manufacturers
Since 1978, the company has produced more than 185,000 blades corresponding to a capacity of ~ 77 GW - each year contributing to saving nature more than 147 million tons of CO2
For the most recent quarter, LM Wind Power reported impressive growth in both its quarterly revenue and EBITDA numbers.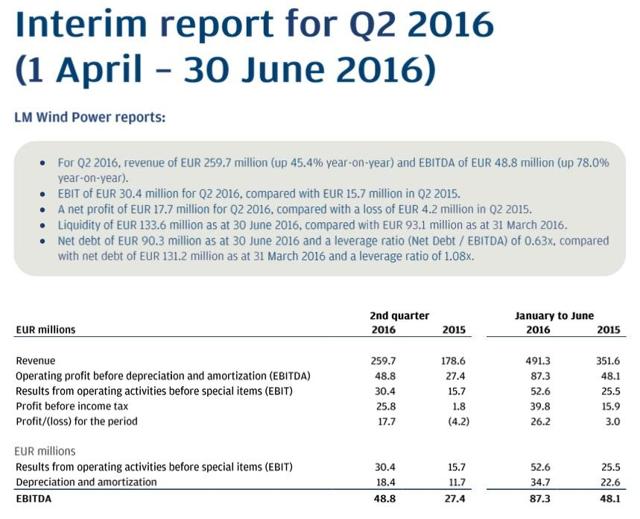 Click to enlarge
(Source: Interim Report, Q2 2016)
As shown, LM Wind Power was able to grow its revenue and EBITDA by ~45% and ~78%, respectively. Management mentioned that revenue increased YoY in all regions, with Europe showing the highest growth rate for the quarter. For the EBITDA increase, management noted that the growth was due to higher sales volumes, cost cutting, and improvements in operational leverage.
LM Wind Power's past results are not as impressive as the Q2 2016 numbers but it appears that the company has been building momentum over the past 5 years.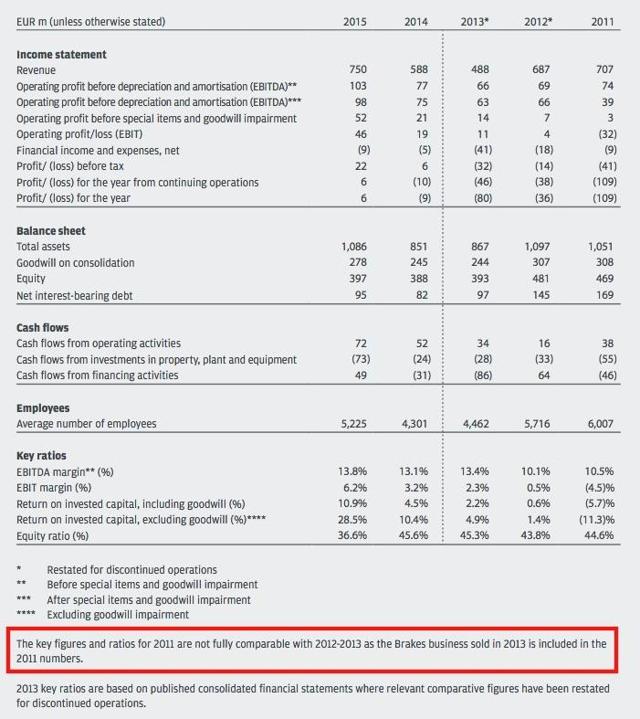 Click to enlarge
(Source: LM Wind Power's 2015 Annual Report --edited by author)
Full Disclosure: See management's note related to the sale of the Brakes business.
Again, the LM Wind Power will not be enough to move the needle for GE, but, in my opinion, this type of small tuck-in acquisition is exactly what the conglomerate needs to help fuel the transition to becoming a more industrial-focused company. Moreover, this acquisition is in line with GE's long-term strategy of growing in the renewable energy space.
In addition, the graph below provides valuable insights into not only how wind capacity has grown over the years but also how it is expected to continue to growth through 2020.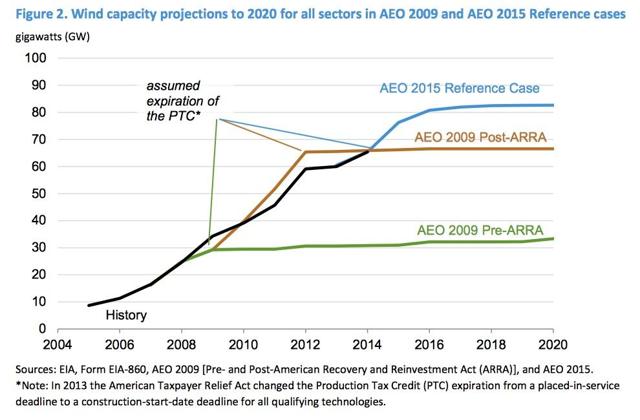 Click to enlarge
(Source: EIA's March 2016 Wind and Solar report)
Therefore, GE definitely has a market opportunity in this space and the LM Wind Power should be considered a small bet that has the potential to greatly impact future earnings.
Bottom Line
The LM Wind Power acquisition will not have a positive impact to earnings this year or next, but these type of deals are relatively small bets that have the potential to have impactful longer ranged benefits.
General Electric's stock has been pulled down along with the other companies in its industry, as several industrials have already lowered 2016 guidance with Honeywell (NYSE:HON) being a recent example, but I believe that most of GE's current concerns are short-term in nature and that the company's future looks brighter the further that you look out.
GE is a long-term buy at today's price, so long-term investors should enjoy being paid an above-average dividend (~3% yield) and wait for the pieces to fall into place.
If you found this article to be informative and would like to hear more about this company or any other company that I analyze, please consider hitting the "Follow" button above.
Disclaimer: This article is not a recommendation to buy or sell any stock mentioned. These are only my personal opinions. Every investor must do his/her own due diligence before making any investment decision.
Disclosure: I am/we are long GE.
I wrote this article myself, and it expresses my own opinions. I am not receiving compensation for it (other than from Seeking Alpha). I have no business relationship with any company whose stock is mentioned in this article.