The Q3 2016 earnings season is not starting out well. The traditional first out of the gate important report, aluminum company Alcoa (NYSE:AA) was a big disappointment. It missed profits, missed sales estimates, and revenue fell at its fastest growing division. Its stock was down over 11% on the day, while the Dow Industrials closed down 200 points. Behind the scenes, the U.S. dollar has been rallying since early October and the pound, euro and yen have been selling off. If this continues, it will only further depress profits for companies with substantial overseas earnings. The Fed raising rates will in turn depress profits for companies that borrow a lot since they will have to pay higher rates.
Corporate earnings and sales have been in a depressed state for several quarters. S&P 500 companies are expected to report declining earnings for the sixth time in a row according to FactSet data. Sales have already declined for six quarters and it is expected they will manage to break their losing streak this quarter. There have been dozens of sales warnings from companies recently, however, so it may not be a slam dunk. Despite the poor earnings and sales picture since early 2015, the U.S. stock market has managed to hit new all-time highs or stay close to them. This cannot go on forever. Either earnings have to improve, and improve significantly, or stock prices have to go down.
It is actually quite amazing despite zero or close to zero central bank interest rates since late 2008 (almost eight years at this point) and trillions in quantitative easing, corporate earnings are not doing better. Central bank policy seems to have reached its limits though because it is damaging the ability of banks, insurance companies and pension funds to function. So, it can either stay the same or become more restrictive. The Fed itself seems locked into raising rates in December, since it has not done so in September and is highly unlikely to do at its next meeting just before the presidential election. This will create a headwind for earnings and make it more difficult for them to grow going forward.
Currency is another risk, especially for multinationals and firms, such as technology companies, that sell a significant amount of product outside the United States. If the dollar is rising, when revenues in other currencies are converted to it, less is gotten for them and profits go down. If the U.S. dollar rally continues, earnings in Q4 2016 and possibly Q1 2017 are likely to be light and a seven or eight quarter earnings and even sales decline is possible. As can be seen in the chart below, the U.S. dollar is rising and the euro, yen, and pound are falling.
U.S. Dollar, British Pound, Euro, and Japanese Yen from September 28th to October 11th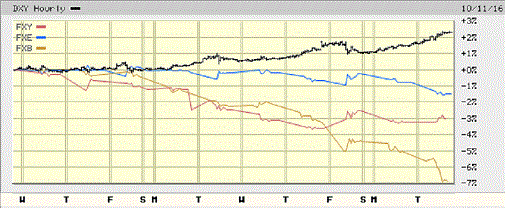 Black line, U.S. dollar, blue line euro, red line yen, gold line pound
The stock market looks ahead, however, and there are signs that a prolonged price downturn is on the way. One of the most reliable markers of this is increased intra-day volatility. Markets either tend to go sideways for an extended period at a major top or have a sharp rise and fall. Both happened at the peak in 2000. The Nasdaq had a sharp blow-off top, while the Dow had a broad top and traded around the 10,000 level for many, many months. In the current rally, the Dow hit a peak around 18,100 in December 2014. It closed on October 9, 2016 just above 18,100. While there's been a great deal of talk about rallies, there has actually been very little progress in the last two years.
Since early September, the daily trading range on the Dow has noticeably picked up (see chart). I've seen this several times in an aging top, just before a sell-off is about to take place. This intra-day volatility can last a few months, though, before the breakdown starts. This means the period after the election is particularly dangerous for the markets. In the chart below, note that the trading range suddenly expanded in September, and was smaller before then.
Dow Industrials Two Month Daily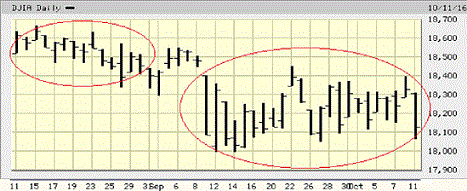 .
Earnings season is likely to keep this type of volatility high. There should be many earnings reports that drive the market up and down. On any given day, it could go in either direction. Options players can have a field day, trading options on the major indices: DIA, SPY, QQQ, or IWM. If earnings overall are down once again(and earnings season will be mostly over by Election Day), long-term investors should consider doing something to protect their portfolios. Those who do not want to lighten their stock holdings, should consider taking small leveraged short positions on the major stock indices (DXD, SDS, QID, TWM) or buying some out-of-the-money puts with expiration dates several months out.
Disclosure: I/we have no positions in any stocks mentioned, and no plans to initiate any positions within the next 72 hours.
I wrote this article myself, and it expresses my own opinions. I am not receiving compensation for it (other than from Seeking Alpha). I have no business relationship with any company whose stock is mentioned in this article.