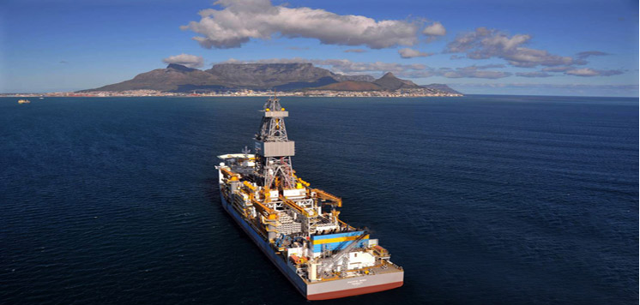 Click to enlarge
Pacific Bora. Source: company's website.
Pacific Drilling (NYSE: PACD) has just published its fleet status report. The company, which has recently got consent solicitation from its bondholders, continues to fight an uphill battle in the current troubled offshore drilling market. Without further ado, let's look at the report.
Pacific Drilling announced that Pacific Bora has completed its contract with Chevron (NYSE: CVX) in Nigeria on September 27. The dayrate for Pacific Bora in September was $230,000.
Initially, the dayrate for Pacific Bora was $586,000. September dayrate for Pacific Bora highlights one more time the current state of the offshore drilling market. A whopping 60% discount from pre-crash levels is the new reality even for modern state-of-the-art drillships and such rates will be persistent for some time.
Certain hopes were associated with Pacific Bora getting some additional work from Chevron. These were indeed "hopes" rather than "expectations" as the priorities of oil majors are clear.
Bloomberg has recently reported that Chevron was seeking to sell its Bangladesh assets for $2 billion. The company is also trying to sell its Asian geothermal energy assets.
These moves speak of one priority, the sacred cow - the dividend. It is next to impossible that Chevron and other majors will dedicate funds to deepwater exploration at times when they need to pay the dividends and oil prices are roughly 50% below their previous highs.
The problem for Pacific Drilling remains that the company cannot cold stack its drillship as such a move will mean an effective shut down of the business and will have to pay for warm stack expenses for months and maybe even years to come.
The other news is that Pacific Scirocco is back to business after receiving 80% of its $489,000 dayrate during the standby period.
The rig's dayrate will be reduced to $455,000 from October 15 up until the end of the contract on January 19, 2017. Just like in Pacific Bora case, it's hard to expect that Pacific Scirocco will get an additional job from Total (NYSE: TOT).
Contract dayrates for Pacific Santa Ana and Pacific Sharav have been raised per cost escalation provisions of the contracts from October 1. The new dayrates are $555,000 and $605,000 for Santa Ana and Sharav respectively, up from $481,000 and $551,000. Pacific Sharav remains the strongest Pacific Drilling's contract with work secured up until September 2019.
Transocean's (NYSE: RIG) recent financing for Deepwater Thalassa highlighted that the debt market is effectively closed for companies like Pacific Drilling. Transocean got a 7.75% interest rate for bonds secured by an ultra-long-term contract on a new rig. Other companies won't be able to repeat the trick, even at horrible rates.
In my view, the time is running out for Pacific Drilling to announce its restructuring measures. The last deus ex machina - style hope is gone - Pacific Bora did not get the extension from Chevron. The company now has the consent solicitation from its bondholders and I expect it to draw the remaining amount of the credit facility and officially start restructuring negotiations.
Most likely, restructuring negotiations will be announced when the company reports its quarterly results in the beginning of November. Current shareholders will most likely be left with nothing given the company's debt burden and backlog situation. I also believe that it is dangerous to play on the speculative long side during oil upside days as Pacific Drilling shares ceased to react on rapid moves of the oil market. The reason is simple - there is no hope left and there is no catalyst that traders can use to excuse speculative long bets.
Disclosure: I/we have no positions in any stocks mentioned, and no plans to initiate any positions within the next 72 hours.
I wrote this article myself, and it expresses my own opinions. I am not receiving compensation for it (other than from Seeking Alpha). I have no business relationship with any company whose stock is mentioned in this article.
Editor's Note: This article covers one or more stocks trading at less than $1 per share and/or with less than a $100 million market cap. Please be aware of the risks associated with these stocks.