As a follower of Robert P. Balan and vector autoregression (VAR) models, I have learned to trust both Balan and his models. While not perfect, my investments have been better timed and scaled in the risk asset space.
I entered gold and silver miners late last year after a 5-year bear market in precious metals as just about anything in the commodity space or even outside North America space was cheap. We've had a good run with the S&P being the single best performing market. It wasn't really until a Canadian gold miners got so cheap in 2015 that I entered back into the mining space. I had been an aggressive oil investor up until 2015 and did very well, but things got challenging in 2014 and I exited the oil trade in November of that year.
Overall, 2015 was a very difficult year as Canada and it's main stock exchange the TSX became as unloved as oil. But with few alternatives, I stayed the course and recovered my losses in 2016 with an oil and commodity recovery. That worked out well until the summer of 2016 when the writing was on the wall for declines and I reduced my exposure once again. I entered back into oil in August (too early) and miners in September and October and the risk asset rout continued. I wrote an article about PM here.
My ability to time entry and exit points was assisted by VAR Models and Balan's work. You can read his latest blog here.
We are now again at a time where VAR Models are signaling downside risk. You can see the projections here: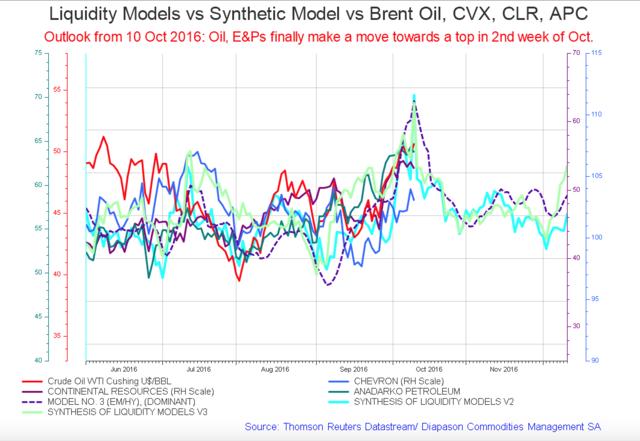 Click to enlarge
Click here for a live link. There's also a longer-term view here and a full-year view here.
While the PM model showed how USD strength invalidates what happens in the PM space, the oil model is working perfectly. I have found VAR Models to work best in the commodity space where production volumes can be measured like oil, copper, steel, etc. Understanding VAR Models and how they work is key in understanding how to invest in risk assets.
Commodities and oil are considered risk assets. It requires specialized knowledge to understand what affects risk asset valuations as conventional valuation methods rarely work in this space.
Here's what Investopedia says about risk assets:
A risk asset is any asset that carries a degree of risk. Risk asset generally refers to assets that have a significant degree of price volatility, such as equities, commodities, high-yield bonds, real estate and currencies.
So technically all stocks are risk assets, but for our purposes as self directed investors risk assets define the more volatile spaces in the market such as emerging markets, mining, metals, high yield bonds and oil.
While I did well riding the shale boom up, investing in oil without the help of Balan and VAR Models would have been much more difficult. I have learned a lot along the way.
An Update On The Macro View Of Oil
Since February lows, oil prices have almost doubled. E&P however has had a hard time making money even with $50 oil. Only with hedging is producing even possible.
We have now entered a new phase where oil bearishness is at a peak and many believe that oil will visit February lows again. The crux of being an oil investor is in the optimism that prices will eventually recover. I do not agree that we will see new lows, but a dip is very likely.
So what do I know?
Global oil production topped out in January 2016 and is still declining. Here's a look back at what I read in early 2016 (I used the name "TimmiesRegular" at the time).
Oil use will continue to grow until 2040 if they stay near $70 a barrel.
Citi calls the low in oil Feb 2, 2016. The actually continued down until Feb 11, 2016 and I wrote this on Feb 21, 2016.
I pulled this chart from Balan's blog on Global Capex (click here for a live link):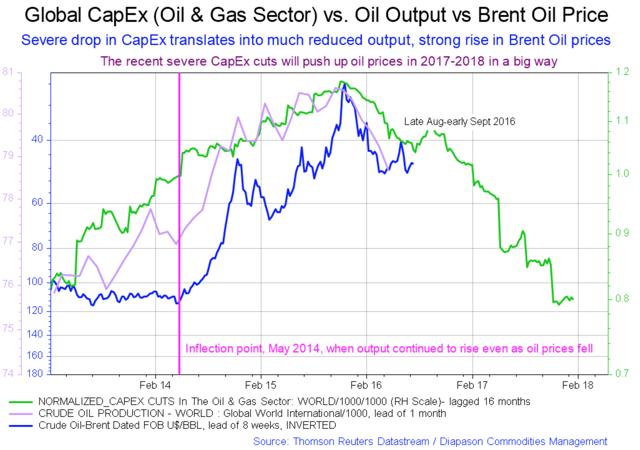 Click to enlarge
Oil is a limited resource. It does not rain oil, we have to spend money to get it. The costs may be lower today, but not permanently lower unless the cost reductions are from productivity. Many suppliers have discounted prices and this is not a permanent state.
The nearly doubling of oil prices this year has Schlumberger shifting its focus to renegotiate contracts with explorers and trying to recover some of the discounts it was forced to give during the downturn, Kibsgaard said." (From here)
Oil growth in shale in the US will stop in 2020. EIA says this, "Fewer new discoveries and extensions of existing fields, combined with the anticipated net downward revisions, are also expected to negatively affect both crude oil and natural gas proved reserves in 2015." From here.
There is a possibility that other countries will be able to use shale technology in their reservoirs, such as Columbia, but that is the exception today. In any event, the wealthiest county with landowner mineral rights is the US. It's unlikely any other country could put the trillions the US has put into shale development.
So Why Is Oil Dropping Now?
VAR Models allow us to estimate the timing and direction of the change in oil prices and related E&P firms by combining fundamental data and liquidity data. They are not meant to be a map, they are not a direct instructions of how the future of oil and E&P will perform. But I find them very helpful for immediate trends of up to 2 months in both timing and direction of the price of oil. It's important to understand the price of the commodity is one thing and the price of producers in the market are another. Oil was the same price just in July, but market sentiment has declined and with it the prices of most oil producers. To be successful in this space you definitely need a map, but a map that you can understand correctly.
I find the models work better when both model lines are going the same way. When the models diverge, what happens in the market is a bit of a guessing game. I find the models are helpful with my own knowledge of the industry and if I don't agree with the models, then I don't invest. I am wrong more often than the models, but they are not exact enough to forget about investor skill. Luck counts in investing and following models can create some luck but they work better when you understand the macro issues and even trading terms like oversold and overbought are also very helpful.
I was new to trading having just started option writing in December 2015 and had some early success because I felt oil was low and could only go up. My first article talks about my improved returns by following the models. You can read about that here.
VAR Models 2.0 - Synthesis Improvements
Robert Balan released a new version of his models right here on SA recently. You can read his blog here.
You can see here that the Liquidity models are now named differently and colored differently to make them easier to understand.
This improvement came about through the development of divergences which made the models hard to follow. It was clear that sometimes one liquidity model was dominant and then it would switch to a different one. This behavior confused readers (including me) but using them for a while, I was able to average or weight their effect on the assets I was following.
When models diverge, they look like this.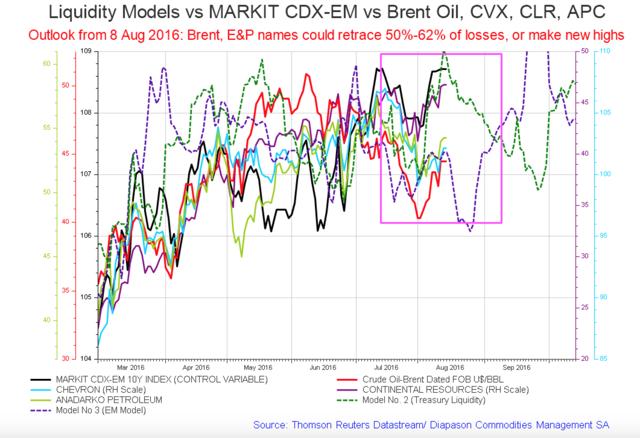 Click to enlarge
This image is from my first article, which explained that oil was following the HY model.
Here is the new model with synthetics; click here for a live link.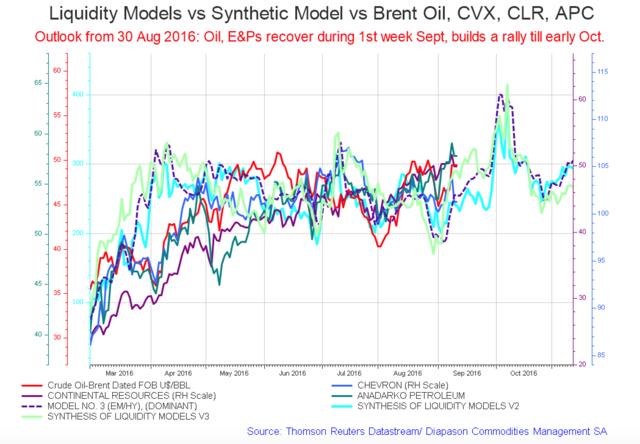 Click to enlarge
The first important change is the new Synthetic Model which is a combination or weighted average of the original Fed Liquidity Model and Treasury Liquidity Model which are now combined with the dominant model (in this case EM for oil) the original HY model. This synthetic applies a weighting to the effect of one model on the other. Readers had commented that with 3 model lines it was hard to follow which asset follows which liquidity model.
It was this process of asking questions that inspired Robert to try a little harder and make it easier for readers. These synthetic models create an adjusted potential path of asset prices allowing for the impact of all the liquidity models.
A Synthesis Of Ideas
Learning something new in any endeavor is the basis of all progress. Good ideas are required to make changes. In my professional life I called this process Learn and Adjust. There is no such thing as a bad idea but maybe better ones exist.
The same is true for VAR Models. I've taken the liberty of calling them VAR 2.0 so you know that they are different. But through this process of learning how to be a better investor, I've created my own synthesis. I am working with a small group of investors with similar goals and we are constructing investing and trading strategies together based on our shared investing yet varied professional backgrounds. This informal group includes a former business owner (me), an engineer and a financial advisor. Many of the topics in these articles are the results of stock selection, trade strategy and timing and overall portfolio design created by the group. Ideas are our currency.
Key Learnings With Models
Robert introduced an adjustment to his models in September after launching VAR Models 2.0. For those of following the models closely we noticed that the USD did not move as modeled. After carefully studying what was going on Robert was able to adjust all of the models. These adjustments did not change the amounts in the model, but did change the timing of the model.
I have been following these models all year. I have noticed what I call leads and lags in them before. I noticed them because I was trying to trade with the models to the exact day and it didn't work. Stocks or commodities would move before the model or move after the model. For most of the year, leads and lags have been plus or minus three days.
In September the model's leads and lags became longer. We noticed this and so did Robert. His adjusted timeline models were published September 17.
VAR Models are like business plans. The future is not predictable so much as we can plan for an expected future as modeled. Plans can change and so can models. The future has many events that cannot be modeled. The news has to support the model as unexpected news events can affect equities, such as Brexit.
Because time is one variable in VAR Models, you need to understand that one week is not significant depending on the math. For instance, if you are off by one second per minute, your calculations will be wrong by 1/60 of each minute or one hour every 60 hours and finally one day every two months. A small error early in the model can significantly change the timeline and that's just one second.
As time passes, these variances can be adjusted (fixed) and that's exactly what Robert did and he updated us on his blog.
What this means is that time and news are always a factor in investing and they remain important factors when using VAR Models to guide investing and trading decisions. Your strategies need to include additional time buffers, especially for trades. I have often added 1 month or at least two weeks to my trades, so Robert's adjustments did not affect my positioning.
Managing Risk
Investors talk a lot about risk which to me means risk/reward ratio. Everyone here on Seeking Alpha is here to seek alpha in their own investments. Alpha is the excess return on your investment benchmark because of your own investing strategy. DGI is a popular investing strategy here on Seeking Alpha. There are many other strategies which in my experience are highly specialized and not necessarily acceptable for the average investor. In the end, Alpha is hard to find. Picking individual stocks is one way, but you have to be really good at picking the winners and overweighting in them. ETFs have become the benchmark for investing, so you have to be able to outperform an ETF to have any alpha in your portfolio.
VAR Models are one method to outperform the market and using ETFs, like XLE are suitable safer methods to overweight in a sector like oil and other commodities. There are many low cost ETFs that can help you invest like a pro. GDX, GDXJ, SLV, etc. are just a few. When you see a sector modeled to do well in the near future, overweight in that sector can improve your returns. It requires a bit of work to invest this way but superior returns are always a bit more work.
Track Record
I am part of an experiment right here on Seeking Alpha. You are experiencing my investing results in real time with me.
The end goal of any investor is to make money and realize alpha. I have found VAR Models to assist me in that goal. But anecdotes aside, let's look at the stock picks featured in this series of articles and my blog from the date I wrote about them to today.
Date of Article

Stock or ETF

Price on date purchased

Price at time of writing

Recommendation or Action

Results

Feb 21, 2016

Suncor (NYSE:SU)

CAD$32.70

$37.40

Hold

+ 14%

Vermillion Energy (NYSE:VET)

CAD$37.77

$53.41

Buy

+ 29%

Enbridge (NYSE:ENB)

CAD$41.50

$57.30

Buy

+ 38%

Aug 23, 2016

Cardinal Energy (OTCPK:CJREF)

CAD$9.21

$9.34

Buy

+ 2%

Crescent Point Energy (NYSE:CPG)

CAD$19.66

$17.91

Buy

- 9%

Chesapeake Energy (NYSE:CHK)

US$6.79

$6.30

Buy

-7 %

Sep 22, 2016

First Majestic Silver (NYSE:AG)

CAD$16.00 Short

$11.61

Long

Hold/Sell

TBA

Sep 26, 2012

Holly Frontier (NYSE:HFC)

US$23.38

$24.72

Buy

+ 6%

Sep 1, 2016

Energy Select ETF (NYSEARCA:XLE)

US$67.87

$70.90

Buy

+ 4%
These are my real results based on equity selection alone. My results may be better or worse because of my reliance on the synthesis of VAR Models and the synthesis of investor skill. I will let you decide if you feel that my trading skill alone was responsible for these results.
Conclusion:
There is no magic formula here. Risk and reward still apply. Many events cannot be modeled like Friday, September 9 th when the entire market dropped 2% and oil dropped 4%. How I trade and invest does affect my results and my win loss ratio.
This is part of a long journey here on SA and I'm a full time investor. Models have specific meaning for me because of my experience, risk appetite and investment goals. I am heavily invested in oil because I'm comfortable with the risk/reward of being overweight in oil through a combination of long and short holdings, puts and calls. Many events cannot be modeled such as the 10% decline in CPG due to an ill-timed equity raise.
No one can accurately predict the daily movements in the market, but with sufficient time and resources, VAR Models can improve your investing results. The models are clear to me, let me know what you think.
Disclosure: I am/we are long AG, CHK, CPG.
I wrote this article myself, and it expresses my own opinions. I am not receiving compensation for it (other than from Seeking Alpha). I have no business relationship with any company whose stock is mentioned in this article.
Editor's Note: This article discusses one or more securities that do not trade on a major U.S. exchange. Please be aware of the risks associated with these stocks.