The Galaxy Note 7 was to be Samsung's (OTC:SSNLF) anti-iPhone missile. Samsung had rushed it into production in order to pre-position it to shoot down Apple's (NASDAQ:AAPL) iPhone 7 at launch. Instead of seeking and destroying the iPhone 7, Note 7 whipped around and homed in on its creators. The resulting debacle is a cautionary tale for the entire consumer electronics industry.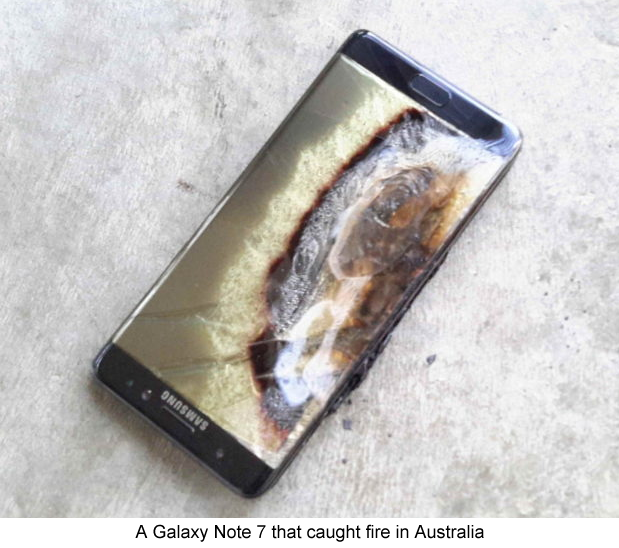 Source: Android Authority
When Technology Becomes Uncontrollable
If I were really the Apple cheerleader that I've been called in so many comments, particularly comments on my AMD (NYSE:AMD) articles, I would be gloating uncontrollably over Samsung's misfortunes. The Note 7 is now officially discontinued as a product, following numerous, as yet unexplained, fires in the devices.
However, I'm not convinced that Apple will be the chief beneficiary of the Note 7 recall, since it has no product that is exactly equivalent. There is some anecdotal evidence, in the form of an informal survey by Apple Insider, that the majority of customers returning Note 7s to AT&T (NYSE:T) stores were switching to iPhone.
Wells Fargo (NYSE:WFC) analyst Maynard Um, while acknowledging that Apple will benefit to some degree, points out that there are other Android phones for Note 7 users to turn to. There is the LG Stylus 2 with a 5.7-inch screen that also features stylus input. And the recently introduced Google (NASDAQ:GOOG) (NASDAQ:GOOGL) Pixel XL is in many ways a better phone than the Note 7, featuring a slightly faster Qualcomm (NASDAQ:QCOM) Snapdragon 821 processor and Android 7.1. The Pixel also has the highest rated camera DxOMark has ever tested.
Still, the estimates for iPhone sales in the December quarter keep ratcheting higher. Um's forecast of 77 million would be an all-time record for Apple, and some estimates have gone higher following the Note 7 recall. Credit Suisse (NYSE:CS) has estimated that the recall could cost Samsung 22 million in unit sales and $19 billion dollars in lost revenue and recall expenses.
The recall is likely to be complicated by the phone's explosion hazard. According to Ars Technica, Samsung is issuing special shipping boxes for the phones, along with special packing instructions, shown below: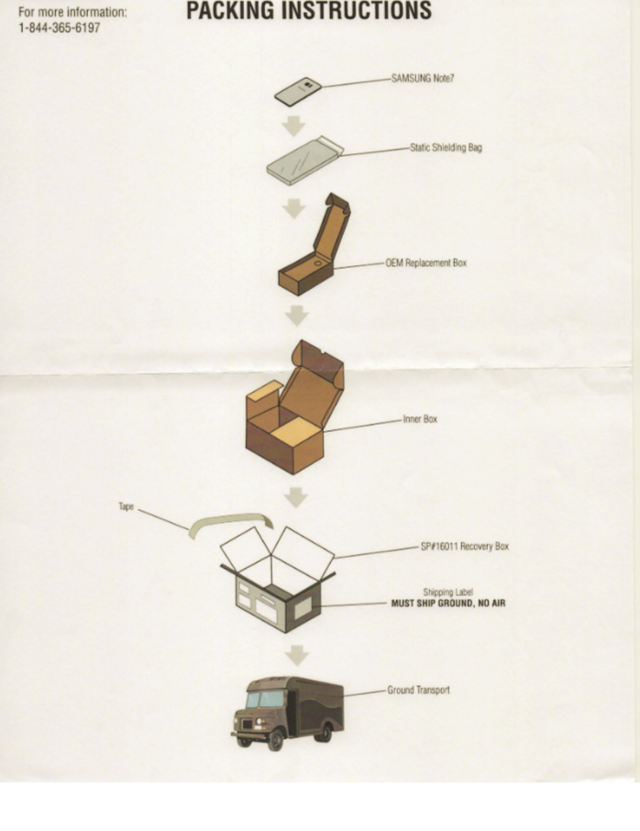 Click to enlarge
Culture Clash
If Apple benefits from this in the long run, it will be in the flattering contrast of its own approach to its business compared to Samsung. Although we may never know all the details concerning how Samsung bungled the recall, the NY Times published a very insightful article on the subject:
When several Samsung Galaxy Note 7 smartphones spontaneously exploded in August, the South Korean company went into overdrive. It urged hundreds of employees to quickly diagnose the problem.

None were able to get a phone to explode. Samsung's engineers, on a tight deadline, initially concluded the defect was caused by faulty batteries from one of the company's suppliers. Samsung, which announced a recall of the Note 7 devices in September, decided to continue shipping new Galaxy Note 7s containing batteries from a different supplier.
So Samsung's decision to replace Note 7s with supposedly safe ones with different batteries was not based on understanding the nature of the problem. It was based on not understanding the problem. I don't doubt that Samsung's engineers would have preferred to investigate the problem until they had a high confidence solution.
Instead, they were forced to guess and come up with a solution that could be implemented quickly and cheaply. Only, they guessed wrong. Substituting batteries from a different manufacturer didn't solve the problem, and customers began reporting overheating and fires with the new supposedly safe Note 7 replacements.
I've personally witnessed this kind of flawed decision-making more times than I care to recall. It happens consistently when concern for profit trumps concern for product. It seems a rare occurrence at Apple. Apple's profit motive consistently takes a back seat to its focus on "making great products."
I've sometimes complained about Apple's focus on its singular vision of what constitutes the "best" product to the exclusion of other considerations. An example would be Apple's attachment to small screens for the iPhone. Apple doesn't always get what's best.
But I don't take issue with Apple's priorities, and this is the stark contrast between the cultures of the two corporations. The Note 7 was not designed to be a great product. It was designed to be a weapon of mercantile warfare.
The Times interviewed Park Chul-wan, former director of the Center for Advanced Batteries at the Korea Electronics Technology Institute for its article:
Mr. Park said he has talked with some Samsung engineers but none seemed to know what happened, nor were they able to replicate the problem. Replication would have been quick and easy if the problem was with the chip board and designs, he said.

"The problem seems to be far more complex," Mr. Park said in a phone interview. "The Note 7 had more features and was more complex than any other phone manufactured. In a race to surpass iPhone, Samsung seems to have packed it with so much innovation it became uncontrollable."
Well, something became uncontrollable, but I'm not convinced it was innovation.
Investor Takeaway
A final thought regarding the opportunity represented by the Note 7: if the lost unit sales estimate for the Note 7 is accurate, then this class of device represents a significant growth opportunity for Apple.
Now that Apple has overcome its loathing for stylus input in the iPad Pro, I see no reason that the iPhone should not be offered in a Pro, stylus-enabled, version. This iPhone Pro would have a roughly 6-inch diagonal screen, and be capable of split screen multitasking. As I pointed out in my last Apple article ("iPhone Buyers Shifting to Plus"), there's a market for smartphones even larger than the iPhone 7 Plus which Apple can address.
In the meantime, RBC analyst Amit Daryanani's prediction of 79 million iPhone unit sales in the December quarter is starting to look very achievable. I remain long Apple and recommend it as a buy.
Disclosure: I am/we are long AAPL, QCOM.
I wrote this article myself, and it expresses my own opinions. I am not receiving compensation for it (other than from Seeking Alpha). I have no business relationship with any company whose stock is mentioned in this article.
Editor's Note: This article discusses one or more securities that do not trade on a major U.S. exchange. Please be aware of the risks associated with these stocks.