Check Point Software Technologies Ltd (NASDAQ:CHKP) develops and markets software and hardware solutions for IT security. CHKP is the largest pure-play security vendor globally.
CHKP operates at scale in a highly technical field, which should allow the company to maintain a strong competitive advantage. Additionally, CHKP provides mission-critical solutions to businesses so it's reasonable to believe they should be able to charge a premium for their services, further compounding their competitive position.
However, while the narrative for CHKP is compelling, the cyber security field also is rapidly changing and highly competitive. So I'd like to dig into the data in order to better and more objectively understand how well CHKP is competing and serving customers in the growing cyber security market. Intriguingly, while shares of CHKP have done well historically, they've been treading water for almost two years. I'm curious to try and determine if this is a temporary anomaly or a serious deterioration of the business.
Click to enlarge
CHKP Business Overview:
The company's current CEO founded CHKP in 1993. Since then, the company has focused on the ever-evolving task of helping corporations operate in a secure Internet environment. CHKP has developed a number of security standards over the years related to firewalls, threat detection and threat extraction. And given the current market capitalization of over $13B, the company is clearly a big player in the information security space.
The company reports their operating activities within one single segment. However, CHKP does break out the different ways they make revenue. The largest contributor to sales is software updates and maintenance, which makes up over 46% of the top line. One thing I like about this is it implies a large percentage of the revenue is sticky. Qualitatively, this makes sense: once CHKP has a customer, they aren't likely to suddenly stop worrying about cyber security. And the costs and inconveniences of going to another vendor can certainly be high.
Next, products and licenses contribute 34% of revenue, while subscriptions make up the remainder, coming in at just under 20%. So as long as internet usage continues to increase, CHKP should be able to continue capturing growth. The proliferation of internet-enabled devices, particularly mobile devices, I think is more likely than not to continue. Looking ahead, analyst estimates also forecast growth over the next five years that's consistent with the company's past operating results (source).
And remember, CHKP is providing a premium and essential solution for corporate customers from large enterprises to small-and-medium sized businesses. The reason this appeals to me is because they should be able to charge a premium for these mission-critical solutions. As a potential shareholder, I'm hoping this will result in more profits. The fact that the company has maintained a return-on-equity of just under 20% for the last five years is particularly impressive and should underscore this fact. However, to confirm these assertions are true, I'd like to look at the longer-term financial trends of CHKP.
CHKP Financial History:
To try and get a handle on the strength of CHKPs competitive position and economic moat, I like to look at long term operating trends. By examining the results over a 10-year period I can get better context on the most recent headline numbers.
Plus, if I can find consistent trends, it makes forecasting and projecting analysis into the future a little more reliable. So using free data from Morningstar (source), I've created a few charts to highlight the key trends in CHKP. The first one shows the revenue results.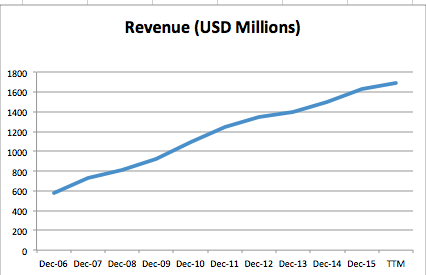 I always like to start this part of my analysis with revenue because it gives the best indication of how companies are able to meet client demand in the market place. In the case of CHKP, you can see the results are pretty good. I'm particularly impressed because of the incredibly fast-changing industry in which CHKP operates. I think these revenue numbers go to show that the company has done a good job adapting and continuing to grow sales and re-bill existing customers.
However, one concern I have is that constantly developing and marketing new products and services is expensive. If this is required to drive sales, I'd expect to see margin contractions and pressure on EPS. As a shareholder, this isn't something I'd be eager to see. Luckily, with CHKP this doesn't seem to be the case.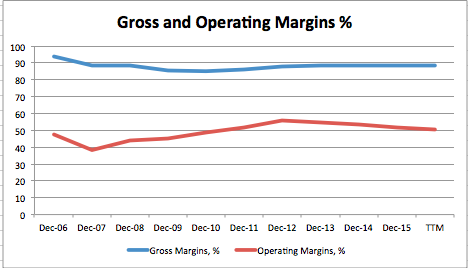 To my pleasant surprise, the trend above was far more consistent than I had expected. It seems CHKP has well-developed methods and processes for consistently and profitably developing new solutions to cope with the ever-evolving online threats.
I expected to see high gross margins due to the nature of the software business - there are few physical costs associated with selling the product - but the operating margins above 50% really undermine this point. Perhaps this shouldn't come as a surprise given the long history of this company, but it's reassuring to see. And as you'd expect, these healthy margins also benefit earnings.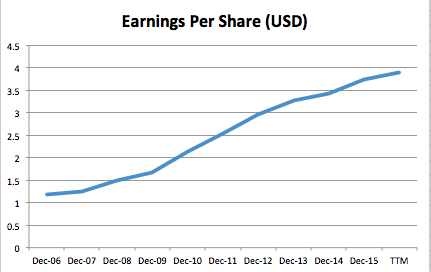 As you can see, shareholders have continued to benefit given the steady margins and ongoing revenue growth. Additionally, CHKP has reduced their share count from 238 million to 178 million shares outstanding over the last 10 years, which has helped to inflate EPS.
Another place these results show up to the benefit of shareholders is in the book value per share number. As a longer-term oriented shareholder, this is a trend that I always like to keep an eye on. I'm eager to own companies that can grow their equity value on a per share basis because it's another way I'm getting value.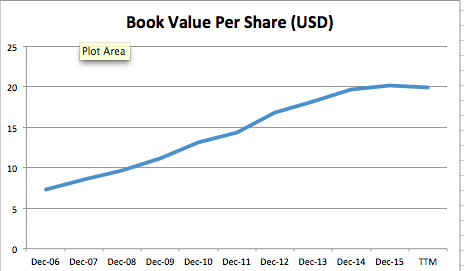 While I think this trend looks pretty good, it is worth noting that compounded retained earnings are the main growth driver for CHKP shares. So I'd like to see this growth resume sooner than later. The company does not currently issue a dividend, and given the growth-oriented nature and high internal returns, management is unlikely to initiate one soon. That means shares of CHKP wouldn't be appropriate for income investors. But that's not the only possible downside to buying shares of CHKP.
Potential Risks to Investing in CHKP:
While CHKP does have some of the appealing attributes of an investment opportunity thus far, there are always risks to consider. In this case, there are a number of unique concerns that may be difficult to quantify.
First of all, like most large cap global companies, CHKP is vulnerable in the case of a sustained global economic slowdown. While I don't think this is likely right now, it's always something to be aware of. But in addition to that, CHKP does face ongoing execution risks too. Not only is growth challenging and competitive, but if products aren't perfectly created and updated CHKP could face serious liabilities. And again CHKP needs to do all of this while maintaining consistent margins, not an easy task.
Now although these risks are a concern, I think valuation does mitigate them to some degree. As you can see in the graph below (source) for the first time in years shares of CHKP are no longer trading at a premium to the broader market.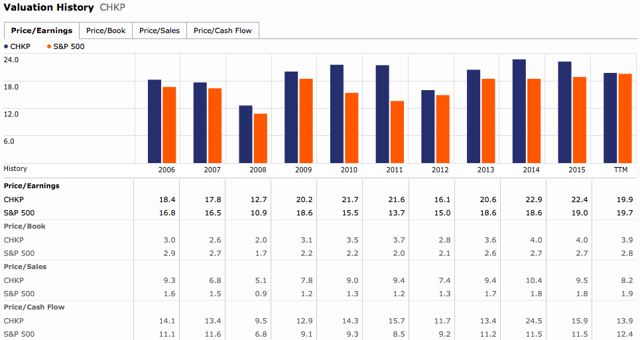 Conclusion: Planning to Buy CHKP
Given the strong and consistent trends present in the CHKP operating results, plus the fair valuation, I think shares present an interesting opportunity. I'll be curious to watch results come in over the next few quarters and see how the share price reacts. Currently, I don't have a position because my portfolio is fully invested. But CHKP is certainly on my watch list and as soon as I have more cash to put to work I'll plan to pick up a piece of this company. But what do you think? Does CHKP deserve to be a part of your portfolio?
Disclosure: I/we have no positions in any stocks mentioned, and no plans to initiate any positions within the next 72 hours.
I wrote this article myself, and it expresses my own opinions. I am not receiving compensation for it (other than from Seeking Alpha). I have no business relationship with any company whose stock is mentioned in this article.