The last time I wrote about Senior Housing Property Trust (NYSE:SNH) I thought it was undervalued, and was being managed better than investors' sentiment. You can find the original analysis here. An investment made at the time would have returned 20% excluding dividends, and with a $1.56 payout, investors would have an 8.8% yield at cost. That's pretty good appreciation with owning an asset that almost pays 9% yield. With that said, this is an updated analysis as what has happened since, and if there is any value for an additional investment.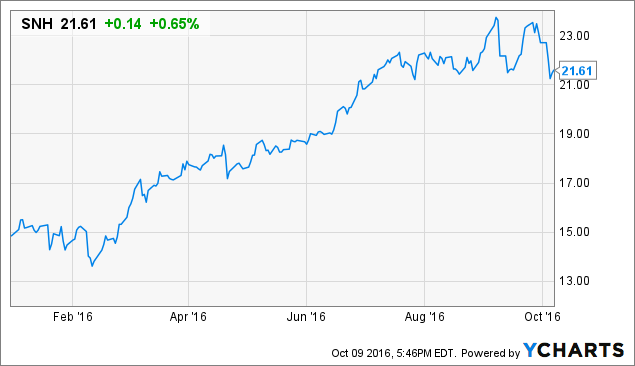 Execution
Senior Housing continues to execute across the board with its assets. The triple net lease portfolio has now 236 properties that generated $66 million in NOI (Net Operating Income) the last quarter. This was a 7.6% increase year over year and same-store NOI saw a nice 1.4% increase. Occupancy rates came in at 85.4%, which is strong, but we would like to see a little more uptick in this area.
The managed senior living portfolio produced $26 million in NOI last quarter. This segment only represents a small portion (16%) of the total NOI. The portfolio showed strong margin increases of 2% and it now stands at 25.7%. There is room to see some growth from this segment.
MOB portfolio has 123 properties, which generated $68 million in NOI last quarter. A nice 2.7% increase year over year. Occupancy rates remain strong at 95.9% and we feel it should stay in that range in the future. MOBs provide diversification and less exposure to the senior living industry. Some investors believe MOB portfolio might be worth more separately and management doesn't have the experience managing these type of properties, but this diversification protects downside risk and occupancy rates still remain strong.
Is there value today?
| | | | |
| --- | --- | --- | --- |
| Company | EV/EBIT | Yield | P/B |
| Senior Housing Properties Trust | 33 | 7.14% | 1.57 |
| Welltower Inc. (NYSE:HCN) | 32 | 4.3% | 1.86 |
| Ventas Inc. (NYSE:VTR) | 43 | 4.89% | 2.36 |
Source: Gurufocus.com
Senior Housing looks fairly valued on an EBIT to enterprise value basis. On a yield and price to book value basis, there appears to be a little value left for an increase. Funds from operations should come in around $1.90 for 2016, which would give a 12x P/FFO. The last analysis had P/FFO under 10 and we knew it sold for too cheap, along with P/B at 1.25. There was a major margin of safety at the time of the initial analysis, and this has contracted.
The higher yield against peers still offers more protection to downside risk since we feel NOI will continue to be consistent and the payout ratio is only 82%. There are no signs the dividend will be cut and the company is improving to where there could be a possible increase the future.
The largest transaction to note is a sale leaseback on seven properties entered into with Five Star Quality Care (NYSE:FVE) for $112 million. The agreement provides SNH with pay rental rates of 7.5% and expiration dates of 2028 with renewal options. This agreement does strengthen the financial position of FVE and in return SNH gets a nice return. It's worth noting, FVE is its largest tenant, but SNH has been working hard to decrease its reliance on Five Star.
Takeaway
Dividends will keep on coming in the near term, and with a 7% yield, it's not bad to be an owner. On a valuation basis, there's still room for a little uptick but not a major margin of safety. A catalyst could be if management does raise the dividend and show confidence in the business. SNH will always sell a little lower on a valuation basis since its externally managed. Many investors stay away from externally managed REITs which provides investors with an opportunity to own an asset that should have a lower yield. These investments just require more attention and what management is doing strategically. For investors looking for yield, this could be an option, but shouldn't be added as a large position within a portfolio at these levels. We are looking to add when shares trade closer to 10x P/FFO or book value.
To read more research on stock spin-offs, fund holdings, micro to large cap companies, and special situations please consider following me (by clicking the "Follow" button at the top of this article next to my name) to receive notification when I publish research next.
Disclosure: I am/we are long SNH.
I wrote this article myself, and it expresses my own opinions. I am not receiving compensation for it (other than from Seeking Alpha). I have no business relationship with any company whose stock is mentioned in this article.
Additional disclosure: This article is intended to provide information to interested parties. As I have no knowledge of individual investor circumstances, goals and/or portfolio concentration or diversification, readers are expected to complete their own due diligence before purchasing any stocks mentioned or recommended.