My last article on Valeant (NYSE:VRX) proved to be half right and half wrong. However, the only thing that matters in trading is making money, and I didn't make a bean. This time I am taking a position early.
For those interested, my last article pointed out 'The Valeant Downtrend Is Still In Place, Next Time Will Be Different'. The main thesis can be explained by this chart from August.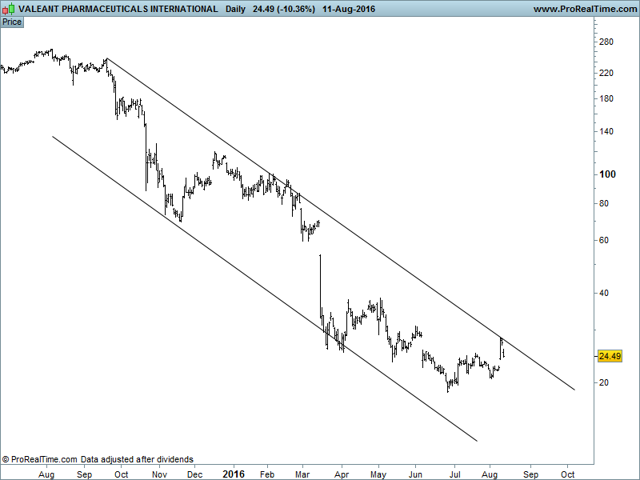 Click to enlarge
I expected a pause and an eventual break of the downtrend. This proved correct; 'the next time' was indeed 'different'. I just didn't expect it to happen four days later....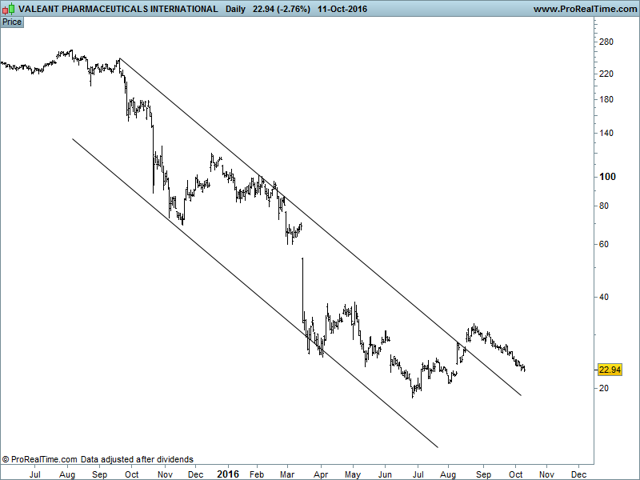 Click to enlarge
This was a genuine break for sure. It gapped over the channel and closed +12.78% on the day. Volume was over 81m, which, outside earnings days, is the highest daily volume all year.
The catalyst was a Morgan Stanley upgrade, which I personally have no interest in. This kind of release is often timed to suit insiders. Smart money certainly took advantage and sold into strength.
Since then Valeant has been slowly grinding lower and volume has dropped right off; yesterday's session was only 10.6m. This is normal, even healthy. As I said in my last article,
When VRX breaks the downtrend it will signal a new chapter. VRX will have left 'survival' mode and entered the 'turnaround' phase. This should take prices much higher, but progress could be slow.
Fundamentals
The fundamentals, especially debt, is an issue for Valeant. I saw a few articles pop up again questioning if Valeant can go bankrupt. For me, this is not a current concern, as I concluded in my June article. Ask the question again in four to five years if Valeant is still trading in the $20s.
Valeant's 5.375% bonds maturing in 2020 are trading at $94.5. This is what Investopedia says about debt in a distressed stock,
the anticipated rate of return on a distressed security is more than 1,000 basis points above the rate of return of a so-called risk-free asset, such as a U.S. Treasury bill or bond. For example, if the yield on a five-year Treasury bond is 1%, a distressed corporate bond has a rate of return of 11% or higher, based on the fact that one basis point equates to 0.01%.
If Valeant was distressed, the bonds should be trading nearer $50.
Bond markets can get it wrong, but this should give you confidence next time you see 'Valeant Can Go Bankrupt' articles. It is very unlikely.
Now we have bankruptcy out of the way, I don't usually spend too much time looking at balance sheets and other fundamentals. Every company goes through stages and the share price and behavior of the stock reflects this. For bubble stocks the usual cycle is:
Stage 1) Growth and acquisitions leading to a bubble in valuation.
Stage 2) Bubble pops and share price crashes.
Stage 3) Survival mode. Re-structuring, sales and new CEO. Share price eventually stabilizes.
Stage 4) Initial recovery/short squeeze. Broker upgrades and break of downtrend.
Stage 5) Share price drifts on profit-taking. Questions remain and there is doubt if bottom is really in.
Stage 6) Strong rally. This may or may not come on good news, but now there is no doubt of the turnaround. Bulls arrive at the wrong time and smart money sells into strength.
Stage 7) The stock trades in the doldrums as problems and debt weigh. Sell offs are bought and rallies sold.
There may be slight differences between stocks, but have a look at all the boom to bust companies you know, and they will all tell a similar story. Even Valeant's earnings slide shows a summary of some of the latter stages: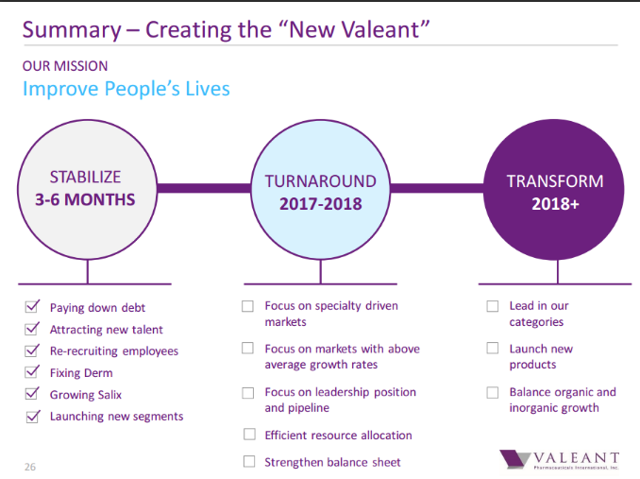 Click to enlarge
I would say we are in stage 5. We have seen the strong initial recovery and price is drifting. Bring on stage 6.
When To Buy
In my last article, I made the comparison with Chesapeake Energy (NYSE:CHK). Not because the two stocks have anything fundamentally in common, but because they both experienced a boom to bust. This means the stages they both went through are similar.
What is helpful for us is Chesapeake's cycle is slightly in advance of Valeant's and it has already experienced the drift-down. Its price action is proving to be a very decent guide.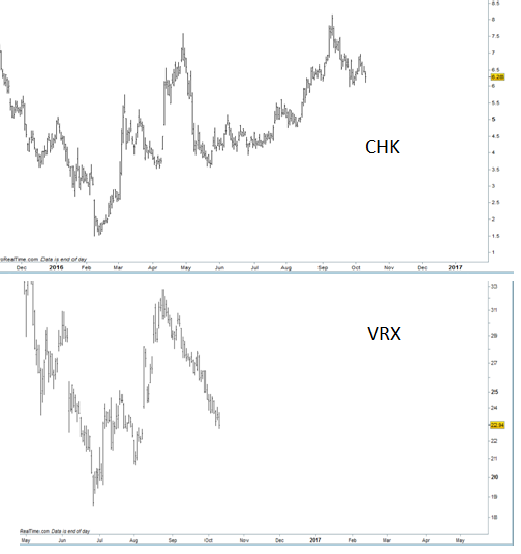 Notice how CHK had a very similar initial recovery, then came down to support levels where the second part of the rally originated. This is where Valeant is approaching now.
Even without the above guide, from a technical perspective, the earnings gap fill from 8th August at $22.45 is a decent place to buy Valeant. Price may continue to be as low as the $20.7 August low, but are unlikely to go much lower.
I will average in from $20.7 to $22.5 with a stop below $20. The next move up should eventually test the April and May highs at $38. This means I'm risking around $2 to make around $16.
Catalysts for this rally can only be guessed at for now. Earnings are expected on November 8th; the same date as the U.S. election. There's certainly potential for large moves. I can only do my homework, follow my plan and rely on my edge playing out over time. Not all events are within our control.
Conclusions
Valeant has broken out of its downtrend. It may be drifting down now, but I think the bottom is in. I am therefore buying support. In terms of risk v reward, it is one of the best opportunities in this stock for a long, long time.
Click "follow" by my name at the top of the article to receive updates and other trade ideas.
Follow me on Twitter - @elroytrader - for shorter term ideas and trade entries etc...
Disclosure: I/we have no positions in any stocks mentioned, but may initiate a long position in VRX over the next 72 hours.
I wrote this article myself, and it expresses my own opinions. I am not receiving compensation for it (other than from Seeking Alpha). I have no business relationship with any company whose stock is mentioned in this article.