The market has spent more than three months now in an extremely tight trading range. Whenever the bull tries to rage, something or the other dampens the mood and the stocks skid lower. On Sunday, October 9, Bank of America (NYSE: BAC) - Merrill Lynch's head of U.S. equity and quantitative strategy Savita Subramanian warned on CNBC:
"We looked at all of these indicators that have been pretty good at forecasting recessions and we extrapolated that if they follow the current trends they're on, we're going to hit a recession sometime in the second half of next year."
Investors are getting jittery as the bull seems to have lost the momentum barely a month before the U.S. presidential elections. I believe that the outcome of this event will have a fairly short-term impact on the stocks. The impact could be +/- 3-5 percent in either direction. That impact of U.S. elections on a company's earnings will be limited is also confirmed by the companies citing a strong dollar as the primary risk, followed by higher wages, lower oil and gas prices, and then the election (in order).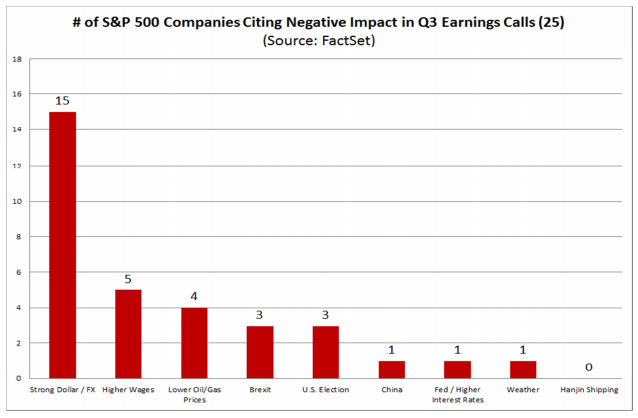 Source: FactSet
In my previous analysis titled S&P 500: The Violent Rise Is Coming, I had said that S&P 500 (NYSEARCA: SPY) will resume its upmove in the coming sessions. Though the S&P 500 remains flat, but there are some technical indications emerging which are bearish in nature.
While discussing the price action in S&P 500, I will also be using the Dow Jones (NYSEARCA: DIA) price chart to present some similarities.
First, let us consider the daily S&P 500 price chart below. As one can see, the index has been strongly treading higher since its February-2016 low of 1810. On a shorter-time frame, since hitting its all-time high of 2193.81 in August, the upside has been capped by consistent selling pressure. Both buying and selling pressure have forced the index into a contracting range, marked by the trendlines. After yesterday's 1.25 percent decline, S&P 500 has reached the support level. The 14-day RSI reading is somewhat weak at 43.3176.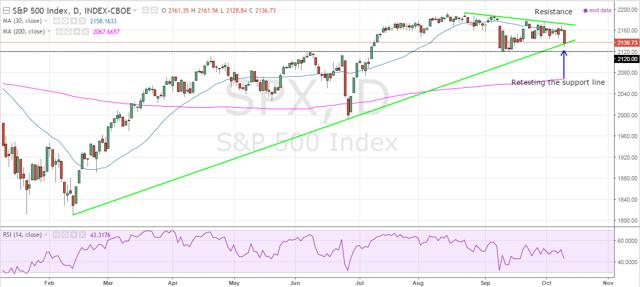 Click to enlarge
Source: TradingView
Will S&P break this support? I can't say for sure, but I have another index which has violated this trendline.
Yes, I am talking about Dow Jones. The price action in this index bears a strong resemblance to that of S&P, and can provide us some clues regarding the future movement of stocks.
From the daily Dow Jones Industrial Average (NYSEARCA: DIA) price chart below, one can see that the index had retested the upward sloping support line in September itself; almost a month before S&P 500. The index had been flirting with the crucial trendline since then, but ultimately breached it decisively yesterday after losing 200 points. Interestingly, though the index has broken down but it still has a marginally better RSI value of 44.8014. The upsides, in this case too, were bogged down in a manner similar to the S&P.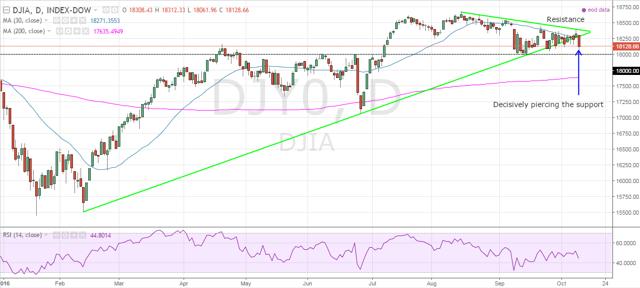 Click to enlarge
Source: TradingView
Therefore, there could be downside risks to S&P going forward.
But, this is not even the important point. What's important is: Are the risks too grave? And, should you sell?
Well, to answer these questions, let us check out how the action is developing in the weekly price charts. First, let us discuss Dow Jones. Dow has spent a lot of time near the 18000-mark (+/- 2%) since 2015. The first time the index deviated significantly was when it broke out in July this year. After spending some time near the higher levels, the index is back to square one. So, 18000 has part-technical and part-psychological value attached to it. Unless, we see a significant breakdown below this level, I do not think that we will see a major correction. The 14-week RSI value is 51.8793.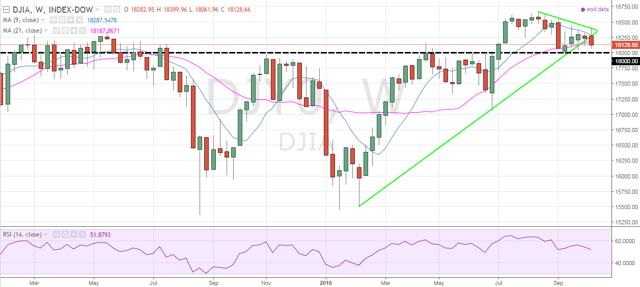 Click to enlarge
Source: TradingView
For S&P 500, the upward sloping trendline still holds on a weekly basis. The additional protection for S&P comes near 2120. The 14-week RSI value is slightly better at 52.7132.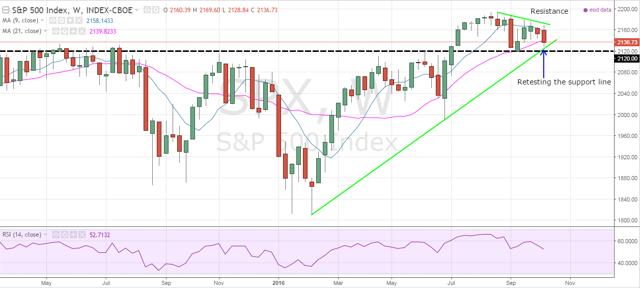 Click to enlarge
Source: TradingView
Technical analysis confirms that the current phase can be regarded as noise. Unless we see some critical levels getting violated, such as 2120 for S&P and 18000 for Dow, I do not see a major correction.
This market will also need support from the earnings season. On September 30, the estimated Q3 earnings decline stood at -2.0 percent. However, we may be in for a positive surprise. Since Q4, 2013, due to several upside earnings surprises, the actual earnings reported for Q3 have bettered the estimates by an average of 2.9 percentage points.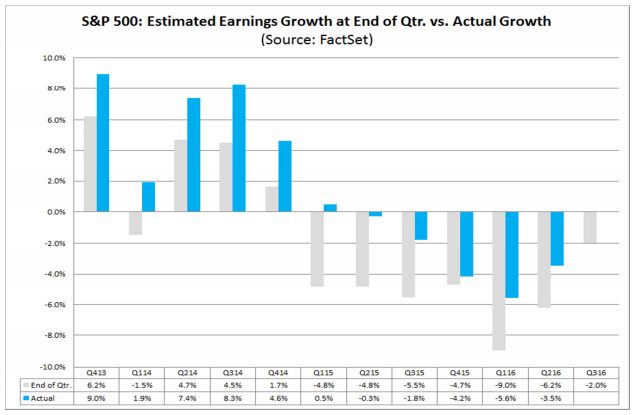 By a conservative measure, if we add the average outperformance of 2.9% to the estimate of -2%, then the actual earnings for Q3 should be close to 0.9%. If this happens, then this will be the first time since Q1'15 that the earnings have grown.
Energy sector, which has depressed the market for over two years now, is likely to make a comeback as crude oil (NYSEARCA: USO) prepares to jump to $80.
Conclusion
I do not think that we need to worry too much now and sell. However, I would not also advise you to create fresh long positions, unless the opportunities are really attractive. Use the coming rally to book your profits.
Disclosure: I/we have no positions in any stocks mentioned, and no plans to initiate any positions within the next 72 hours.
I wrote this article myself, and it expresses my own opinions. I am not receiving compensation for it (other than from Seeking Alpha). I have no business relationship with any company whose stock is mentioned in this article.