While the S&P-500 (NYSEARCA:SPY) climbed its wall of worry this year rising nearly 20% off the February lows, no one wanted anything to do with the bank stocks. With fears of too much oil debt exposure as oil plunged towards the $30 level, the banks were a forgotten sector. The financial sector ETF (NYSEARCA:XLF) registered its lowest weekly close since 2013 in February, and it would be an understatement to say things were looking grim. My investment strategy is built on finding the strongest stocks and strongest sectors, and going long them despite what the market is doing. Due to this strategy, I also wanted no part of the financials earlier on this year. They were one of the most hated sectors, and rightfully so as they were one of the leaders to the downside.
Since the February, several things have changed and the financials are looking very constructive. The XLF is up over 23% from its February lows, and is now back above its 200-day moving average. The sector has continued to make higher highs and higher lows, and I believe it has moved back into a new bull market. The XLF's downtrend it was locked in from the top last August was broken to the upside in August, which was yet another positive development. Digging into the U.S. big banks, there are very few of them challenging last year's highs. Citigroup (NYSE:C) is back above its 200-day moving average, but remains more than 13% off last year's highs. Bank of America (NYSE:BAC) has come a long way from its February lows at $11.00, but also remains 10% off its 2015 highs. Wells Fargo (NYSE:WFC) is in a class of its own, and has diverged from the sector making new 2-year lows recently. Finally, Morgan Stanley (NYSE:MS) and Goldman Sachs (NYSE:GS) have made significant progress, but are more than 15% off their 2015 highs. The one bank leading the pack, that made new 52-week highs this week without the rest of the sector, is JPMorgan Chase (NYSE:JPM).
Due to the fact that my strategy looks for sector leaders, JPMorgan has come onto my radar and I've decided to take a deeper look under the hood of the company. My investment strategy for long positions is a marriage between William O'Neil's CANSLIM strategy, and Richard Dennis' Turtle Trading strategy. While I am primarily a momentum investor focused on technical analysis, I also like to ensure that the companies I'm selecting are fundamentally strong. My application of William O'Neil's CANSLIM strategy includes looking at the "CAN" in his strategy and determining if it fits O'Neil's criteria. In terms of Richard Dennis' Turtle Trading strategy, I am looking for stocks making new 3-month highs while above their 50-day and 200-day moving averages. This means that I am not looking for breakouts in bear markets (under a declining 200-day moving average) but instead breakouts within long term uptrends. By finding stocks making new 3-month highs in long term uptrends, the breakout signals to me that a continuation of the uptrend is likely in the future. I believe new highs to be very bullish and purchase all of my positions once they have made new 3-month highs. This strategy is also known as trend-following and was made famous by traders like Ed Seykota, Richard Dennis and Bill Dunn.
The "CAN" Test - Is JPMorgan Fundamentally Strong?
The "CAN" in William O'Neil's CANSLIM method stands for the following:
C - Current Earnings: William pointed out the importance of choosing stocks whose earnings per share (EPS) in their most recent quarter had grown from the previous year.
A - Annual Earnings: William also believed annual earnings growth to be very important. Companies being selected for investments according to William should have good annual earnings growth over the past 5 years. As William stated "Who wants to own part of an establishment showing no growth?". Due to this, William recommended buying stocks with annual earnings growth of at least 25%.
N - New: The N in Williams CANSLIM stock selection approach stood for new, which meant the company recently underwent a change of some type. Whether it be a new product, entering a new market, or a new high in price. In my application of this method, I place the most emphasis on a new high in price as this confirms my primary trading strategy.
Taking a look at JPMorgan using the "CAN" approach, we can see that it meets all criteria.
C - Current Earnings

Click to enlarge
JPMorgan reported strong earnings for its 2nd quarter, with trading revenues up over 23% year over year. The company's diluted EPS was $1.55 per share, which just beat out its Q2 diluted EPS in 2015 of $1.54 per share. The company's 4th quarter earnings of 2015 saw a significant beat from the prior year's earnings with a 2015 Q4 diluted EPS of $1.32, compared to $1.20 in the prior year's period. In summary, JPMorgan passes the test for current earnings growth, as it has seen year over year increases in diluted EPS.
A - Annual Earnings

Click to enlarge
Taking a look at the company's annual earnings, the year over year growth is much more significant. JPMorgan has gone from annual diluted EPS of $4.48 in 2011, to $6.00 in 2015. While this growth is not at 20% or more a year like O'Neil looks for, that is not realistic to expect from a bank. The important fact is that JPMorgan has seen increasing diluted EPS over the past 5 years, with the exception of 2013 with the London Whale hiccup. Thus far the company has reported $2.90 in diluted EPS for 2016, and is on track to meet last year's numbers. This is despite what many thought would be a disastrous year for the bank, after the oil loan contagion fears earlier this year.
N - New
As stated earlier in the article, what I am looking for in the "new" category is new 3-month highs, or new 52-week highs. JPMorgan has given investors both of these as it makes new 3-month highs at the same time as new 52-week highs. This is a very positive development as it tells us that price is confirming the strong fundamentals.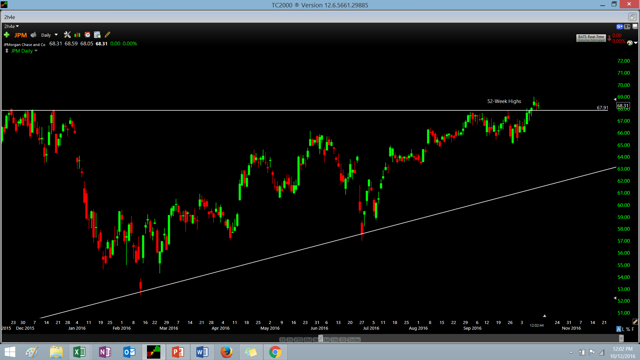 Click to enlarge
Looking at the above chart, we can see that JPMorgan has made new 52-week highs. The stock is in a clear uptrend evidenced by its higher highs and higher lows. The resistance from Q4 of last year has finally been smashed through, and the stock looks to be in the process of building a base above it. I expect that what was once resistance at $68, should now become support going forward.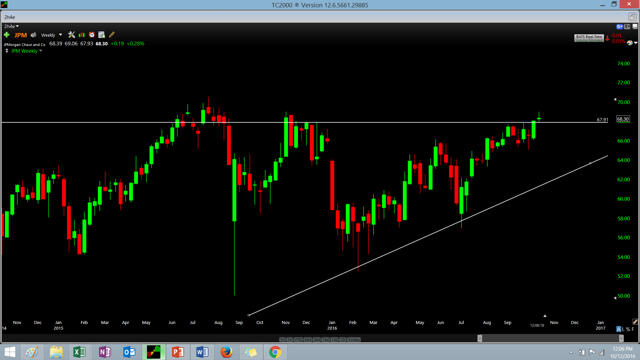 Click to enlarge
Looking at the weekly chart we can see that while most banks are 15% off their highs, JPMorgan is less than 5% off its highs. This shows that JPMorgan is outperforming the other banks, and is a sign this should continue in the future. I do not expect the stock's resistance at $72 to be there for much longer, and would not be surprised to see new all-time highs by next year.
So what if I'm wrong and JPM corrects? It is very possible that I am wrong on JPMorgan, and I could be buying into the highs for the stock. I have gone long JPMorgan at $67.90, and have a current stop on the trade at $61.17 on a closing basis. This level marks the gap fill from the July 8th gap up, as well as a clear break of the uptrend line. In addition to this, this level also would mean the stock has broken its 200-day moving average with conviction. The 200-day moving average is my line in the sand for bull and bear markets, and I do not like holding stocks that make new lows below their 200-day moving average. I much prefer to buy stocks on strength, than hope and pray while they make new lows under their 200-day moving average.
The below chart shows my stop level on my trade, and the risk from my entry at $67.90. Based on my stop of $61.17, the trade represents a risk of $6.73. This is roughly 10% risk on the trade, and therefore I am using 10% of my portfolio to enter the stock. Due to using 10% of my portfolio buying JPM and a 10% trade risk, this total trade represents a 1% total risk on my portfolio. I never risk more than 1.25% of my portfolio on any one trade, as it is damaging both financially and emotionally. My trend following strategy has an edge as it captures large winners, and cuts losers quick. The one way to destroy this edge is by trading too large and not giving the edge enough time to exploit itself.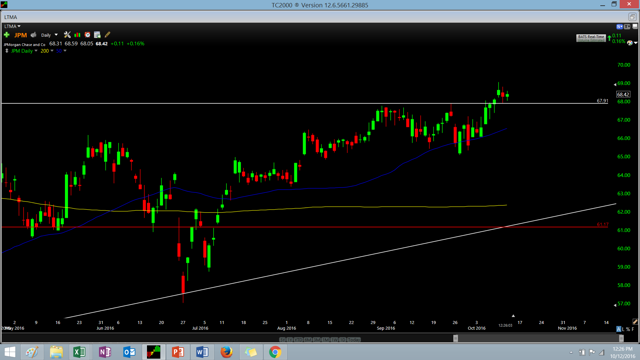 Click to enlarge
The below image shows the stocks I have featured in 2016 on this site, and their performance since. As you can see I have several large winners, and some small losers. My performance and high win ratio can be attributed to buying new highs in the mining sector in Q1 of this year. Despite many critics telling me I was too late and that it was not smart to buy stocks that had already doubled like McEwen Mining (NYSE:MUX) and Fortuna Silver (NYSE:FSM), I ignored their warnings. The stocks have since been very large winners for me, as have my other junior miners.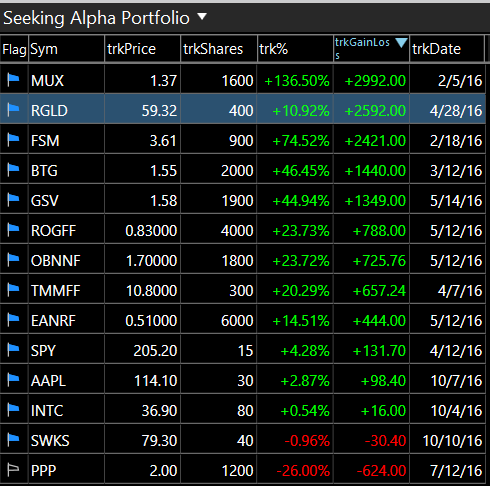 I believe JPMorgan to be an excellent long candidate for those looking to add to their portfolios. The company's dividend 2.69% is an added bonus to a stock that is breaking out in a very big way. I remain long JPM as of yesterday and have no reason to doubt the stock, unless it closes below $61.17. Earnings surprises are usually to the upside for stocks that remain in uptrends, and I would not be surprised to see JPM beat estimates and break to new all-time highs before the end of the year.
Disclosure: I am/we are long JPM, MUX, FSM, SPY.
I wrote this article myself, and it expresses my own opinions. I am not receiving compensation for it (other than from Seeking Alpha). I have no business relationship with any company whose stock is mentioned in this article.
Additional disclosure: If you liked this article and found it useful, please feel free to follow me by clicking on my name next to my avatar at the top of this article. I also invite you to check my performance at TipRanks.com where I am ranked in the Top 100 Contributors for performance with an average return this year of 60% on new long positions.