In September, Codelco - the world's largest copper miner (JJC, CPER) - was starting to show severe signs of strain amid low prices. The Chilean miner was facing an upset workforce and a severe shortage of cash with few signs of relief as debt skyrocketed. That was only a month ago. And, while the immediate concern of union run walkouts has been resolved, the call for capital cutbacks was met this month to the tune of billions.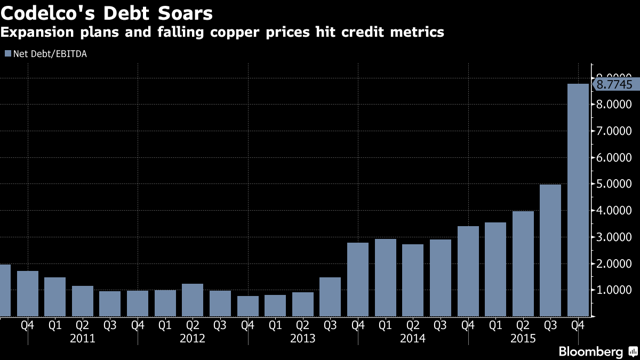 Click to enlarge
Capital Cut
Codelco announced its plan to cut $2.25 bn earmarked for maintaining production levels at the beginning of this month. Rather than concurrently running many projects to support production, Codelco will stagger the projects for 'better management.' To be sure, a staggering of projects allows for more focused management, but the prime purpose here is to save capital. This was an obvious move after a near-$100 million loss on the first half year of production (just under 900,000 tons).
Is The Company Really Investment Grade?
Ratings agency Fitch recently affirmed an A+ rating for the company. While this can be seen as a sign of strength, this author views it as irrelevant. A downgrade of debt amongst increasing contention for indebted miners could create big problems for Codelco and an increasingly cash-strapped government.
The primary basis for an A+ rating is the government's ownership and previous investments in the company. As the company makes increasing losses and piles on debt, the government may be unwilling to flow capital towards it. Furthermore, the Chilean government has made plans to cut back spending growth in 2017 amid financial pressure.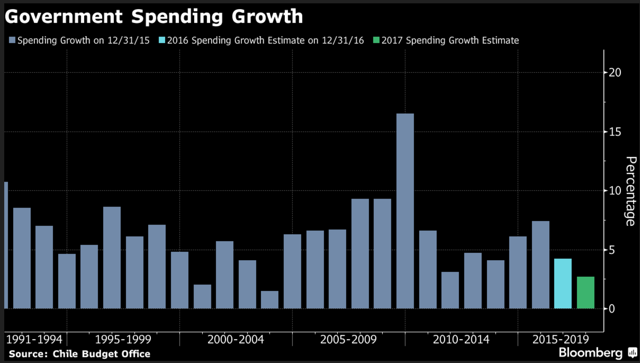 Click to enlarge
A portion of the announced cutbacks will come from reduced investment. Public investment will fall approximately 5% next year; a sure sign that the government will continue to struggle with funding social and governmental programs such as Codelco.
Within that same announcement, the government made clear its support for Codelco. However, with Codelco showing mixed signals, signs of strain, and a public that is losing support for outsized spending, the copper market is gaining confidence in a bull run. Management at Codelco seems pinched between a stretched operational arm and a political bureaucracy. Funding will surely not disappear, but a reduction in available capital will do wonders for the copper surplus.
Copper Grades
With large capital programs still planned in the copper space. Investors might be wondering how much effect is this going to have. More than you would think.
Copper head grades have been declining for decades. These have only been offset by ramping up mining rates. As the low hanging fruit has already been taken, the remaining upgrades are bearing less fruit. To add insult to injury, new mines are being found with increasingly lower head grades as well. Companies across the world are struggling to keep production levels constant.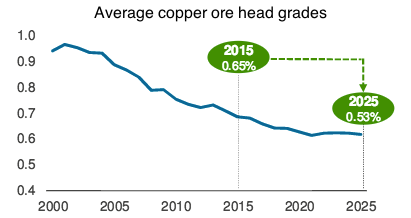 Source: Energy And Capital
Wrap-up
Copper is a vital and important driver of the global economy. Unlike oil, the quality of new deposits is plummeting. Furthermore, the large number of mega-projects making up a majority of worldwide production face continuously declining head grades. Without the capital to balance out falling grades, the copper equation could quickly move into a deficit. I continue to be long copper and will be taking advantage of any weakness in the red metal.
Disclosure: I am/we are long TGS.AX.
I wrote this article myself, and it expresses my own opinions. I am not receiving compensation for it (other than from Seeking Alpha). I have no business relationship with any company whose stock is mentioned in this article.