For years, Middleby (MIDD) has successfully delivered a performance that was not just worthy of more than 300% stock increase over the past five years, but also one that deserved a significant valuation premium over other peers, whether in the foodservice equipment space or the broader industrial complex. But some of the recent industry and company-specific developments do urge caution and stepping aside might be a better course, especially after the kind of run that the stock has seen over the past few years.
There is no denying that the business enjoys an unparalleled industry position in the foodservice equipment space, especially the cooking and warming category, largely due to the company's focus on offering a few 'best-in-class' products that have been able to successfully command a premium over peers. Investors respect the management, especially CEO Selim Bassoul, who has overseen more than three dozen acquisitions over the past fifteen years, while delivering a consistent topline growth. Indeed, it was management's credibility that helped investors overlook some major mishaps like the recent Viking acquisition.
For the last few years, the long thesis is mostly about penetrating into residential markets and expanding cold category offerings to drive the next leg of growth, both of which are failing to show any meaningful progress on an organic basis. Since the company is not a big believer in dividends or stock buybacks, the stock needs high earnings growth, preferably organic, and a high trading multiple to support the stock, which is trading near 21 times forward earnings and more than 15 times EV/trailing EBITDA.
The challenge to keep the investor base excited
One of the biggest challenges faced by the company is how to keep delivering high growth in an end-market that is barely growing around low-single digits, while enjoying the trading multiples at par with organically growing high-margin business models. Some of those challenges are getting evident in the fundamentals.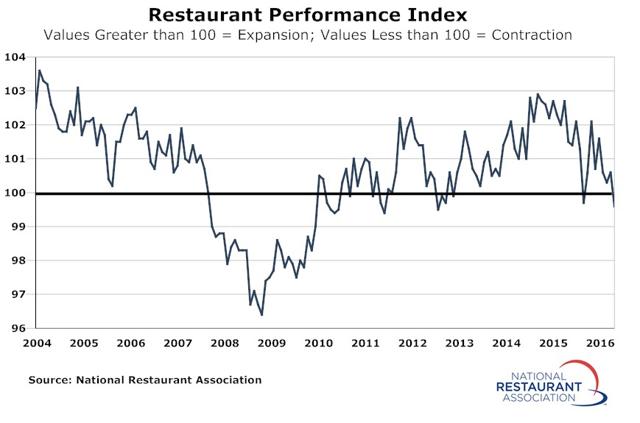 Click to enlarge
Looking at the broader industry landscape, headwinds gaining strength are getting ever more evident. The restaurant industry is under stress, whether one looks at the contracting Restaurant Performance Index, as above, or the decline of almost 1% in the U.S. restaurant count, which includes almost 3% decline in the number of independent restaurants during the spring. Interestingly, almost 53% of the restaurants reported a decline in sales during August, but 56% of the restaurants reported a capital expenditure for equipment, expansion or remodeling over the last three months. All in all, the slowdown has yet to hit the equipment industry and early signs of the same should be evident in the upcoming results.

Click to enlarge
Image Source: SEC filings
Even though revenues for the company seem to be growing around a decent double-digit rate at a consolidated level and the contribution from the Commercial Foodservice segment that derives revenue from restaurants is shrinking, organic growth was barely 5% during last quarter and Commercial Foodservice at more 50% of the total revenues continues to be in the driver's seat. Going forward, there is not much to suggest a quick turnaround in the Residential segment that declined over 12%, on an organic basis, during last quarter and continues to strive after the Viking product recall, while the Commercial Foodservice segment is expected to come against strong comps.
Besides poor organic growth and high investor expectations, consolidating more than half a dozen acquisitions completed since the start of 2015 may keep the management busy. In the meantime, competitors, including Manitowoc Foodservice (NYSE:MFS) that was covered in my previous note and Standex (NYSE:SXI), are stepping up efforts to garner market share, the impact of which is evident in the pricing pressures felt by most players. If all this was not enough, the availability of used equipment may act as another challenge, as is usually the case during any slowdown. A casual search on eBay (NASDAQ:EBAY) or with other used restaurant equipment specialists like Burkett can highlight the emerging problem.
Financial safety
Financially, consistent growth in earnings and cash flows, while maintaining a decent balance sheet has been a big draw for investors, but there are signs that urge a close watch, if not panic, especially given the uncertainty in the macroeconomic environment and increasingly volatile credit markets.
Cash flows for the first half have declined by more than 12%, debt has increased by almost 20%, reaching close to a billion dollars, and net debt/EBITDA ratio reached 1.9 times at the end of last quarter. The choice between growth and financial strength seems to be getting difficult to make for the management and looking at the increase in revolving credit facility to almost $2.5 billion, management's intention going forward is amply clear.
Even though it is almost blasphemous and probably one of the easiest ways to lose friends on the long-only side to call Middleby a short, the name does looks more vulnerable for this 'down cycle' than it has been in years.
Disclosure: I/we have no positions in any stocks mentioned, and no plans to initiate any positions within the next 72 hours.
I wrote this article myself, and it expresses my own opinions. I am not receiving compensation for it (other than from Seeking Alpha). I have no business relationship with any company whose stock is mentioned in this article.