Reuters reported Pierre Andurand saying in his latest investor letter that:
"Market participants are getting lost in monitoring how much each individual country is going to cut," and followed up by saying, "They are missing the point, which is that the Saudis want higher oil prices now and ... will accommodate to make that happen."
This is something we wrote in detail in our Oct 2nd weekly oil markets outlook to premium subscribers.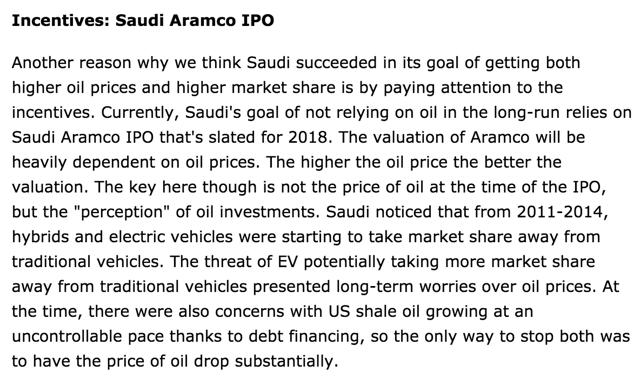 Click to enlarge
Source: HFI Research Premium
At HFI Research, we stand out from our energy calls because we have very defined variant perceptions from the consensus. Our belief is that Saudi played the recent downturn perfectly. To give you an idea why we think Saudi played it perfectly, we want to point to supply growth potentials in 2018 to 2020. Even in the case oil is $70, US shale producers will only be able to grow 1.4 million b/d from 2018-2020. If you rival that up with the 3 million plus demand growth over that time period, the 1.4 million b/d all of a sudden looks terrible.
Mega projects have been canceled, and with no major projects sanctioned between 2014-2016, the supply hit will mostly come in 2018-2020. This time period also coincides with Saudi Aramco's IPO.
This is where one of our variant perceptions vastly differ from the market once again. Energy company valuations are dependent on oil prices, but what's more important than energy prices are the perception of energy prices in the years ahead. If we have a market that is tightly supplied in the years ahead, that impacts sentiment much more, but part of that sentiment will also be reflected in the oil price.
Looking ahead, Saudi needs to prep the change in sentiment in 2017. Notice how every Wall Street firm remains bearish on oil prices and doubt the current announced OPEC deal? Sentiment remains bearish and this is also reflected in investor fund flows to the energy space. In order for Aramco to attain a value of $2 trillion, there needs to be a sharp reversal in sentiment and investor perception.
If you question Saudi's incentives here, we think it's best to do a simple mathematical illustration.
Assume that Saudi's "all-in cash cost" is around $10/bbl. If Saudi cuts production by 1.5 million b/d in 2017, the resulting effect on oil price would probably be a jump to $70.
At $70, Saudi could've made an additional $60 on the extra 1.5 million b/d or $32.850 billion. That's a lot of money, but the issue here is Saudi Aramco's valuation.
Let's now hypothetically say that Saudi takes that stance and loses out on $32.850 billion of additional revenue. But because oil (NYSEARCA:USO) prices are at $70, investor perception of Saudi wanting higher oil prices lead to a jump in energy valuation. Our team estimate that in order for Saudi Aramco to attain the $2 trillion in valuation, it would need to be priced at 15x P/E multiple. But the 15x multiple would have to be based on earnings of oil at $70.
So now let's assume Saudi doesn't cut oil production at all. If oil is at $50 at the time of the IPO, Saudi would be able to sell the additional 1.5 million b/d, but its overall earnings actually declines by 20%. If the IPO is priced at 15x P/E multiple, Saudi would only get $1.6 trillion valuation.
For the sake of $32.85 billion, would Saudi give up nearly $400 billion in valuation difference?
We certainly don't think so, and if you pay close attention to the incentives, you will find that cutting production and higher oil prices to be heavily beneficial for Saudi Arabia.
If you are interested in reading our weekly oil markets outlook piece, please consider signing up here. Thank you for reading Oil Markets Daily.
Disclosure: I/we have no positions in any stocks mentioned, and no plans to initiate any positions within the next 72 hours.
I wrote this article myself, and it expresses my own opinions. I am not receiving compensation for it (other than from Seeking Alpha). I have no business relationship with any company whose stock is mentioned in this article.