Before I begin I want to explain what I believe is the relevance and potential benefit of this article. Although it was not my intention when I posted my earliest articles of the series, I later realized the chart I had intended to utilize as a way to inform my followers of the impending order of funds to be reviewed, became it itself a comparative price history of how all the funds listed performed in relation to each other. And for the most diligent, who wanted to spend the time, they could search back to guage the economic, geopolitical, and FOMC sentiment at specific times, and how they affected these funds individually or as a group.
After completing my series that reported on the past five* year performance of a group of Exchange Traded Funds (ETF), the majority of which were Closed-End Funds (NYSEMKT:CEF), I have challenged myself to figure out the best way to compare and contrast the performance of each individual fund in relation to all of the others I have reviewed. Toward this effort I have, on occasion, requested my followers to submit suggestions of fund characteristics that I might add to the spreadsheet I intended to design for this purpose.
After careful thought, I realized that this review would have to be accomplished as a group of articles rather than cramming all the information into just one. Serendipitously, after reviewing several of my past articles, I realized I inadvertently recorded an ongoing log of the price performance of these funds in relation to one another, which began after I was several articles into the process, and I decided to utilize my IB platform as a notification of the order of the funds I would be reviewing. Pictured below is a screenshot of this early dedicated fund page I added to my June 24, 2016 report.
Notice, only a few funds are listed. However, according to my followers' suggestions, I continually added to this list until I terminated the study when I could no longer contain all the funds within a single screenshot. Consequently, those funds I added to my list earliest will benefit most simply because you will be able to chart their price performance during the longest period of time. However, because this review went on for several months most of the funds will be covered sufficiently to benefit those particularly interested in those included toward the end of the study.
Furthermore, as I reviewed each fund, I improved my reports and the following IB snapshots, in which I provided additional useful information.
Pictured below is one of the earliest fund screenshots: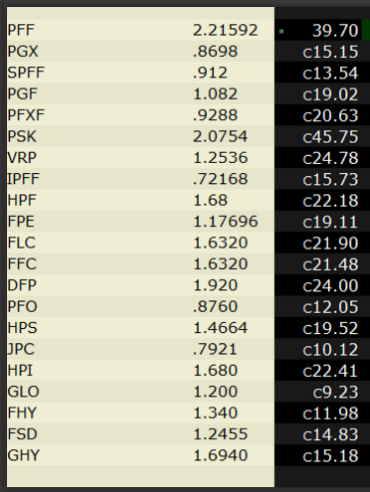 At the time, to explain the above chart I added the following information:
Below is a screenshot taken from my IB platform to keep you apprised of the order of my reviews, and as a bonus, I included the total amount of each of their 2015 disbursed dividends.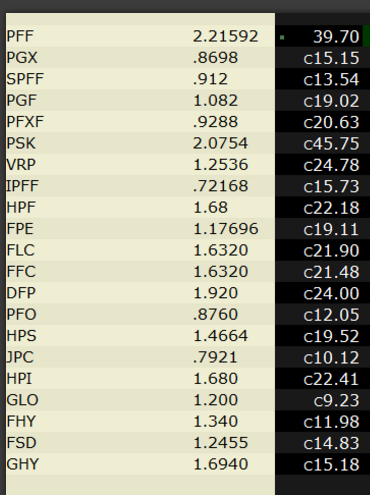 Notice, the 2015 dividends are placed just to the right of the fund symbols. To the right of that are the last trade prices as of the close of trading on 6/23/16. Of further interest, at the far right of the screen are the prices of the 13-week highs and lows of each fund.
Notice too, that I selected 2015 for the dividend disbursement figures; however, should you desire to do this for the trailing twelve months (NYSE:TTM), all you need do is visit DividendInvestor.com where these figures are readily available.
The following charts will be added on an approximate biweekly basis, and with each addition the number of funds will grow, allowing you to pick out the particular funds you are interested in and compare them with any and all of the others. Additionally, by referring to the order of the funds it might make it easier for you to locate those articles I wrote concerning particular funds that peak your interest.
Also notice that on the 7/13 chart and thereafter, I included all the header information pertinent to the columns of information each chart contained. As I mentioned, my reports improved as I went along.
As far as I'm concerned, the true value of these charts is to be able to compare the price movement of each particular fund or funds of interest with all the others on the list. For those industrious enough, you might want to review the news on particular dates to discern why certain funds performed better than others during that time.
I'm certain others of you can find a number of other reasons why and how these charts might be put to good use, uses you might want to share with others in the comments section.
And finally, at the very end, I have included the complete list of all the reviewed funds and the exchanges on which each is traded.
The following chart was dated 7/1/16: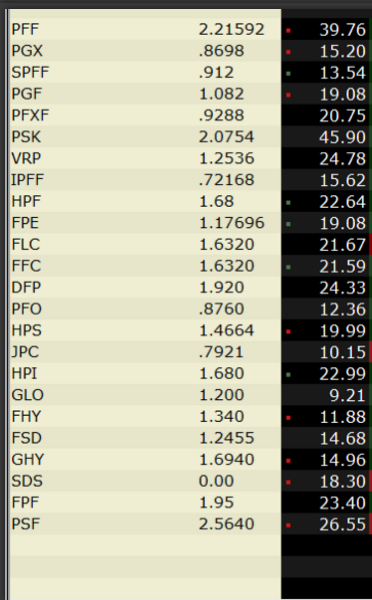 The following chart was dated 7/13/16: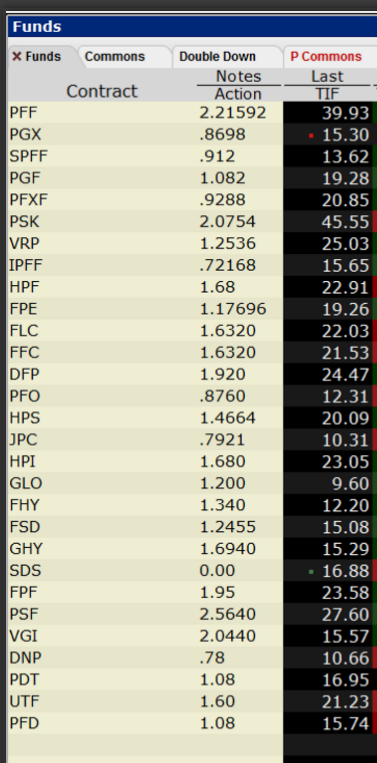 The following chart was dated 7/28/16: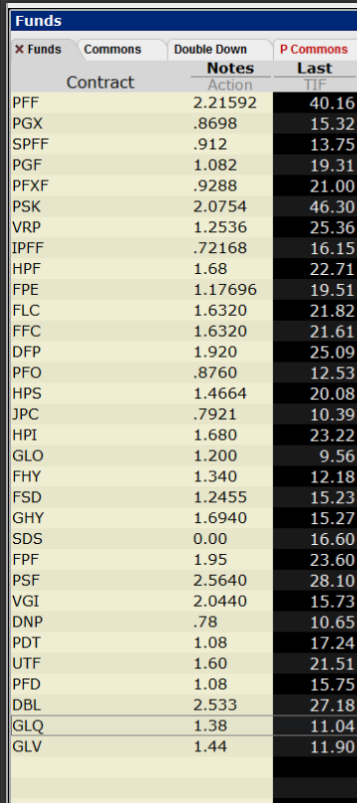 The following chart was dated 8/11/16: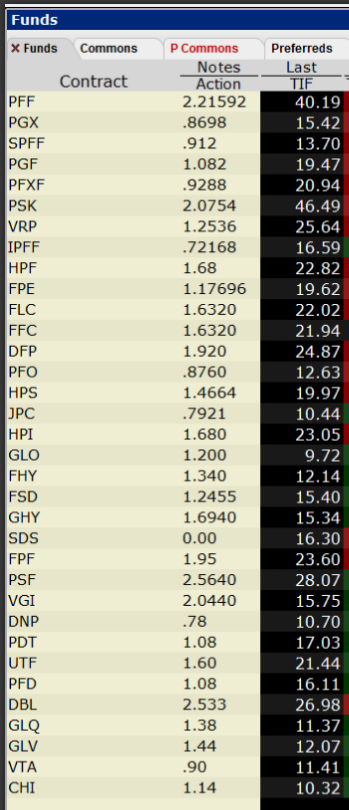 The following chart was dated 8/25/16: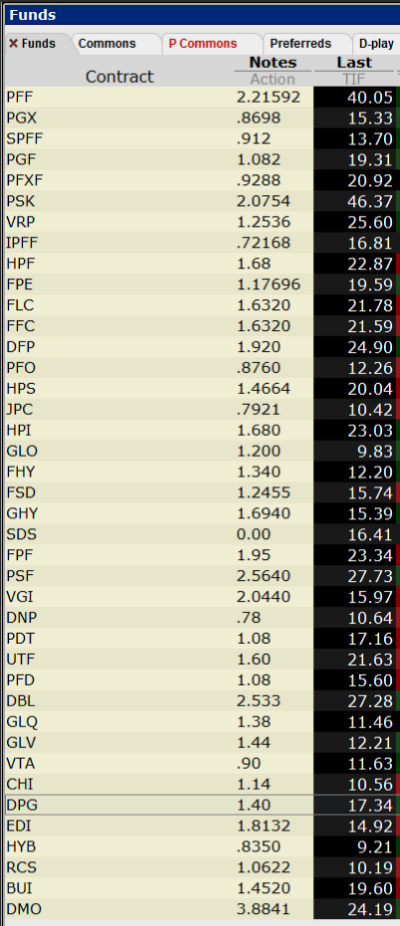 The following chart was dated 9/14/16:

The following chart was dated 9/29/16:

iShares U.S. Preferred Stock (NYSEARCA:PFF), PowerShares Preferred Portfolio ETF (NYSEARCA:PGX), Global X SuperIncome Preferred ETF (NYSEARCA:SPFF), PowerShares Financial Preferred Portfolio (NYSEARCA:PGF), VanEck Vectors Preferred Securities ex Financials (NYSEARCA:PFXF), SPDR Wells Fargo Preferred Stock ETF (NYSEARCA:PSK), PowerShares Variable Rate Preferred Portfolio (NYSEARCA:VRP), iShares International Preferred Stock ETF (NYSEARCA:IPFF), John Hancock Preferred Income Fund II (NYSE:HPF), First Trust Preferred Securities and Income ETF (NYSEARCA:FPE), Flaherty & Crumrine/Claymore Total Return Fund (NYSE:FLC), Flaherty & Crumrine/Claymore Preferred Securities Income Fund (NYSE:FFC), Flaherty & Crumrine Dynamic Preferred and Income Fund, Inc. (NYSE:DFP), Flaherty & Crumrine Preferred Income Opportunity Fund (NYSE:PFO), John Hancock Preferred Income Fund III (NYSE:HPS), Nuveen Preferred Income Opportunities Fund (NYSE:JPC), John Hancock Preferred Income Fund (NYSE:HPI), Clough Global Opportunities Fund (NYSEMKT:GLO), First Trust Strategic High Income Fund II (NYSE:FHY), First Trust High Income Long/Short Fund (FSD), Prudential Global Short Duration High Yield Fund (NYSE:GHY), ProShares UltraShort S&P 500 (NYSEARCA:SDS), First Trust Intermediate Duration Preferred & Income Fund (NYSE:FPF), Cohen & Steers Select Preferred and Income Fund, Inc. (NYSE:PSF), Virtus Global Multi-Sector Income Fund (NYSE:VGI), DNP Select Income Fund (NYSE:DNP), John Hancock Premium Dividend Fund (NYSE:PDT), Cohen & Steers Infrastructure Fund (NYSE:UTF), Flaherty & Crumrine Preferred Income Fund (NYSE:PFD), Clough Global Equity Fund (NYSEMKT:GLQ), Clough Global Allocation Fund (NYSEMKT:GLV), Duff & Phelps Global Utility Income Fund (NYSE:DPG), Stone Harbor Emerging Markets Total Income Fund (NYSE:EDI), New America High Income Fund (NYSE:HYB), Invesco Credit Opportunities Fund (NYSE:VTA), Calamos Convertible Opportunities & Income Fund (CHI), Pimco Strategic Income Fund, BlackRock Utility & Infrastructure Trust (NYSE:BUI), Western Asset Mortgage Defined Opportunity Fund (NYSE:DMO), PIMCO Dynamic Credit Income Fund (NYSE:PCI), Boulder Growth & Income Fund (NYSE:BIF), PIMCO Income Strategy Fund (NYSE:PFL), and NexPoint Credit Strategies Fund (NYSE:NHF).
Just thought I'd add something to the knowledge base. The following might be the effect on the funds when investors get the jitters about a potential Fed rate hike.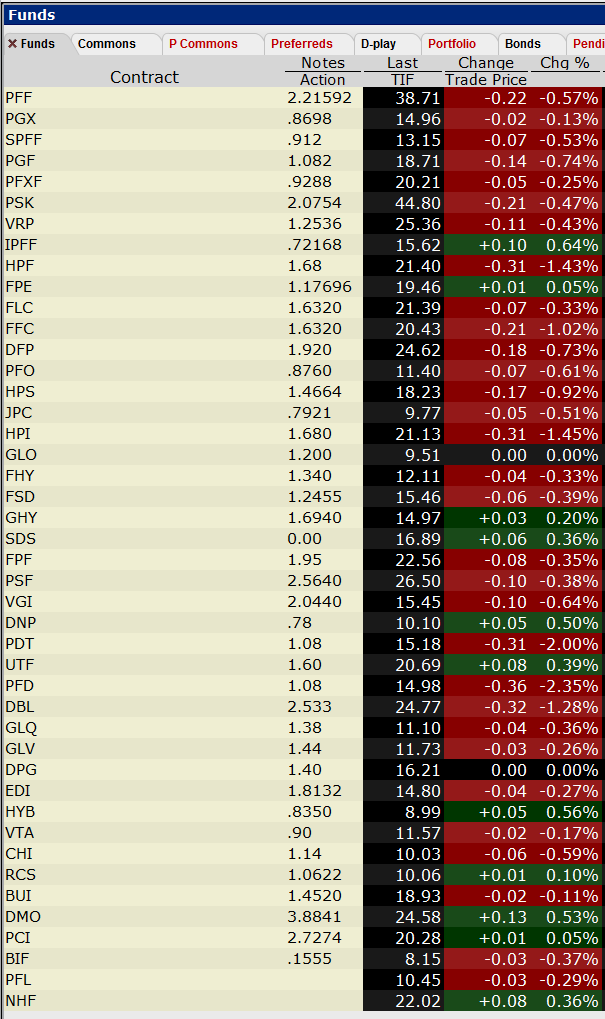 Disclosure: I/we have no positions in any stocks mentioned, and no plans to initiate any positions within the next 72 hours.
I wrote this article myself, and it expresses my own opinions. I am not receiving compensation for it (other than from Seeking Alpha). I have no business relationship with any company whose stock is mentioned in this article.
Additional disclosure: A number of my followers do not have monitors (Cell phones and smaller laptops) large enough to clearly make out the charts as provided in the original article. To solve this problem a took a smaller sample screenshot that I have tested, which will solve that problem; however at the expense of the view of the complete chart. Consequently, I have submitted two articles, each tailored to meet all my follower's requirements.