Several bolt-on deals since early September make a big difference in my perception of the risk that comes with General Electric (NYSE:GE) nowadays.
For the record, its equity value might not rise to $60 a share within a year.
Also, I am not prepared to turn bullish at $28.8 a share, where its shares currently change hands.
Yet the bulls could argue that it is time to give management the benefit of the doubt as we enter one of the most fragile stock markets of the past few years.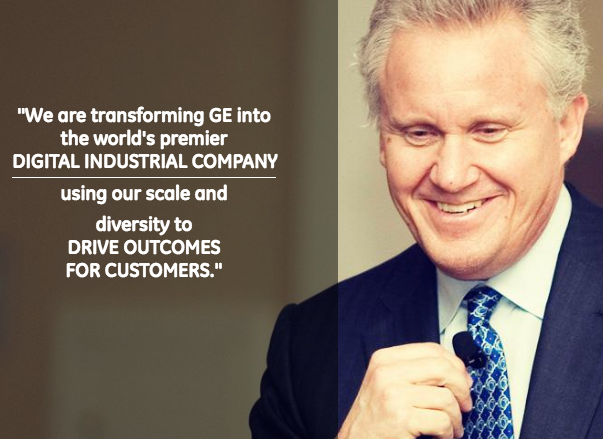 (Source: ge.com)
Shelling Out $1.4bn To Consolidate $142m Of Revenues
On 6 September, GE said it planned to invest $1.4bn to acquire Sweden's Arcam AB and Germany's SLM Solutions Group AG, two additive manufacturing companies with combined revenues of $142m which were almost evenly split between the two targets in 2015.
That price tag implies a trailing sales multiple of 9.8x, which is a whopping take-out valuation in mergers and acquisitions.
Assuming underlying operating margins in line with its aviation division, where the two companies will be consolidated, my 'guesstimate' is that Arcam and SLM generated about $50m of combined EBITDA last year, which implies a pre-synergy Enterprise Value/EBITDA multiple of 28x on an aggregate basis.
As a reference, Salesforce (NYSE:CRM) trades on the public market at 29x EV/EBITDA on a forward basis -- in this context, it should be easy to see what GE is getting at in terms of deal-making and financial engineering. It is looking at options to re-rate its own valuation based on the assets it acquires, in my view.
These are very rich trading multiples, but the good news is that the management teams of both companies, as GE noted when these deals were announced, will report to "David Joyce, president and chief executive of GE Aviation."
GE Aviation is its most profitable unit at operating level.
Focus
Undoubtedly, GE is paying up to grow, but it is bulking up where much focus is necessary to boost shareholder value. Equally important, it is investing shareholders' funds at the right time in the right places, at least if certain mid-term projections from PricewaterhouseCoopers are accurate.
In short, its corporate action, notwithstanding the large premium being paid in these deals, could end up being accretive to its trading multiples if managers deliver on their promises.
(If you want to know more about GE's projections, which arguably might seem a tad rich given the amount of information available, I invite you to check the excellent coverage of SA fellow writer Albert Alfonso, who extensively wrote about these two 3-D printing deals.)
Nigeria, Wind & Others
Earlier this month, GE stated its interest to invest over $2bn in Nigeria, in a deal that would help it shore up its transportation unit, where, notably, returns are higher than those associated to most of the reminder of its assets portfolio, excluding aviation.
According to Reuters, Nigerian President Muhammadu Buhari said that GE "would be investing $2.2 billion in a concession to revamp, provide rolling stock, and manage some of the country's railways."
Additionally, earlier this week it announced the purchase of Denmark's LM Wind Power for $1.65bn.
The strategic and financial merits of this deal were highlighted by SA fellow writer WG Investment Research -- "this type of small tuck-in acquisition is exactly what the conglomerate needs to help fuel the transition to becoming a more industrial-focused company," WG Investment Research recently wrote in a note published on this platform.
Unfortunately, this a less compelling deal than the others, in my view, given the volatility associated to profits and cash flows of manufacturers operating in the wind industry, which were badly hurt when the credit crunch hit eight years ago.
Ultimately, its M&A-led strategy will add currency risk to the investment case, but given the total size of these deals, the impact will likely be minimal. As a side note, it also emerged this week that GE had teamed up with Citigroup (NYSE:C) to provide tax equity financing to the first offshore wind farm in the U.S.
Finally, let me flag another minor, yet relevant, highlight: the group said last month that GE Transportation had launched "its first-ever European digital pilot with DB Cargo, Europe's largest rail operator," in a deal that, to paraphrase Jamie Miller, chief executive of GE Transportation, could be a benchmark in the industry.
"What's clear is that our vision for self-aware trains in a connected ecosystem is becoming a reality through our technology and digital solutions."
Disclosure: I/we have no positions in any stocks mentioned, and no plans to initiate any positions within the next 72 hours.
I wrote this article myself, and it expresses my own opinions. I am not receiving compensation for it (other than from Seeking Alpha). I have no business relationship with any company whose stock is mentioned in this article.