Beaten down by the weakness in uranium prices this year, Cameco (NYSE:CCJ) shares have taken a big beating on the market this year. In fact, Cameco now trades at its 52-week lows, having lost over 35% of its market capitalization in 2016. However, I think that now might be a good time to buy Cameco at current levels since the stock could gradually gain momentum in the long run. Let's see why.
Why uranium pricing could get better
Uranium prices have plunged more than 30% this year and are trading at 11-year lows on account of oversupply in the end market. However, of late, there have been certain developments that indicate that the weakness in uranium pricing will not last long.
For instance, last month, British Prime Minister Theresa May approved a $24 billion nuclear project, which will be the first nuclear project in the U.K. after years. In fact, this will be the biggest nuclear project in the U.K., indicating the changing stance of global governments toward nuclear energy.
This new nuclear project by the U.K. does not come across as a surprise since governments are looking at cleaner options to generate electricity, and nuclear power is one of them. This is the reason why there are around 60 nuclear reactors in construction across the globe, with 65% of them expected to go online in the next three years.
In fact, driven by the new nuclear reactors, the total number of nuclear reactors in operation by 2025 will increase as shown below: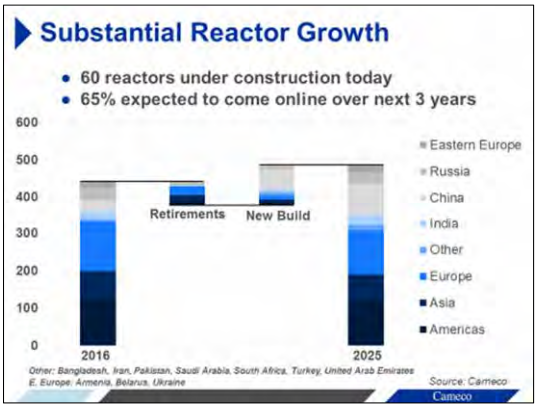 Source: Cameco
As shown above, the total number of nuclear reactors in operation is set to increase going forward. This will lead to an increase in the consumption of uranium as it is the primary raw material used to generate nuclear energy.
For instance, current uranium consumption on an annual basis is at 174 million pounds, and it is being forecast that a 20% increase in demand will be seen going forward as more reactors are built. This increase in uranium consumption will be driven by countries such as China and India, where demand is expected to rise 485% and 773%, respectively, in the coming few years. The following chart shows the expected increase in uranium requirements going forward:

Click to enlarge
Source: Mining.com
Thus, as global electricity demand increases from 20,144 TWh in 2013 to 31,772 TWh in 2035, and the share of nuclear energy generation stands at 12% of global electricity requirements, the demand for uranium will continue to increase.
Why Cameco will benefit from higher pricing
Cameco is one of the best-placed companies to benefit from a potential rise in uranium prices since it has kept its current cost structure below the spot price and the average realized price of uranium. This is shown in the chart given below: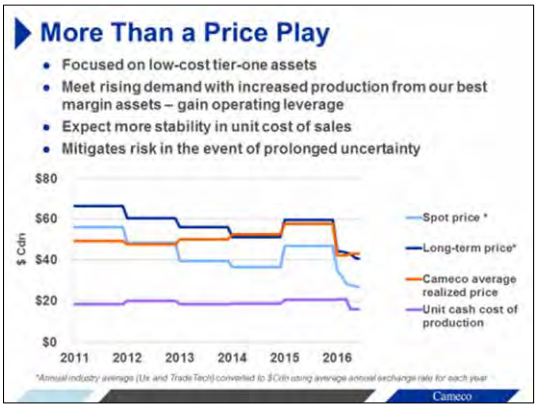 Source: Cameco
As seen above, Cameco has managed to keep its costs below pricing and this has allowed the company to mitigate the weakness in the end market to some extent as its operating margin is still in the double digits despite the steep price decline.
Cameco's robust cost structure is a result of the company's high-grade asset base. For instance, Cameco's McArthur River asset has an average grade of 10.94% and carries around 235 million pounds of uranium reserves, while at Cigar Lake, Cameco has proven and probable reserves to the tune of 111 million pounds, with average uranium grades of 16.7%. The striking point to note here is that these Cameco mines carry very high grades as against the average grade of 0.10% of global uranium mines.
Hence, as a result of these superior mine grades, Cameco is able to generate higher production at lower costs. In fact, in the last reported quarter, the company was able to enhance its production by 30%, while its production costs fell 34% at the same time to $21/pound. As a result of this massive cost decline, Cameco was able to outpace the 8% decline in the realized price of uranium last quarter.
Conclusion
Thus, it is evident that as a result of a robust asset base, Cameco has been able to mitigate the weakness in uranium prices. This places the company in an outstanding position to benefit from higher uranium prices in the long run, which should gradually increase due to reasons discussed above.
So, according to me, it will be a good idea to buy Cameco shares at these levels since the stock could gradually gain pace going forward as the end market improves and the company takes advantage of the same using its strong asset base.
Disclosure: I/we have no positions in any stocks mentioned, and no plans to initiate any positions within the next 72 hours.
I wrote this article myself, and it expresses my own opinions. I am not receiving compensation for it (other than from Seeking Alpha). I have no business relationship with any company whose stock is mentioned in this article.