Chesapeake Energy (NYSE:CHK) shares have rallied tremendously in the past three months, increasing more than 50% as the prices of oil and gas have increased. In fact, the price of natural gas has picked up impressive pace, rising from less than $2.00/MMBtu at the end of May to more than $3.20/MMBtu at present. This outstanding increase in natural gas prices is a result of robust demand.
Looking ahead, the rise in natural gas prices should continue as the demand of the commodity is set to rise further, creating a tailwind for Chesapeake Energy. Let's take a look at the reasons why investors can expect a rise in natural gas pricing in the future.
Higher demand will be key to price growth
The price of natural gas has improved as the oversupply in the industry has gone down. In fact, due to robust demand, the increase in natural gas inventories has been slower than expected for the last 21 weeks. This is shown in the chart given below: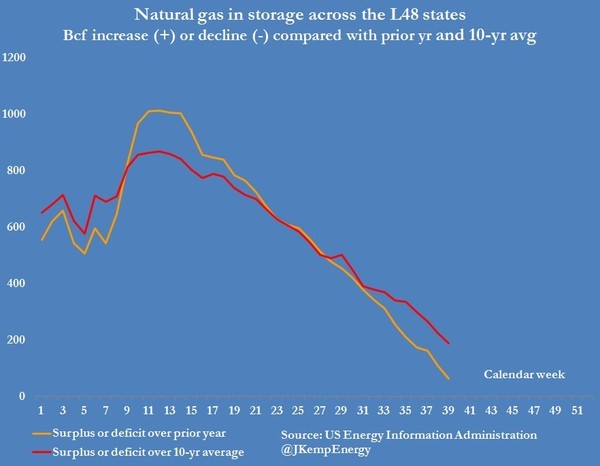 This decline in inventories should continue going forward as industry experts estimate that the demand for natural gas will continue to remain strong on account of an increase in the usage of the commodity for generating electricity. For instance, this year, natural gas demand has remained strong as the commodity is set to overtake coal in electricity generation, accounting for 33% of the U.S. power generation.
The trend of using more natural gas to generate electricity will continue in the long run on the back of retiring coal plants. In fact, there will be a total of 46,000 MW of coal plant retirements in the U.S. by the end of 2022 as utilities move to cleaner sources of generating electricity. The replacement of coal by natural gas in generation of electricity will provide a massive boost to the consumption of the latter, as shown in the chart below: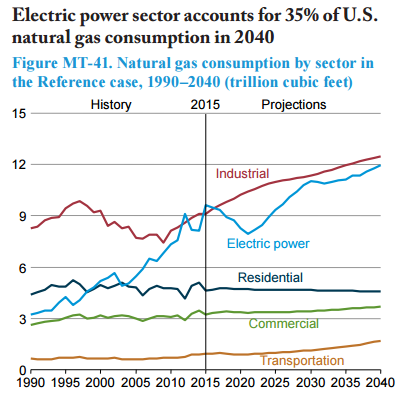 Source: EIA
More specifically, there will be a 25% rise in natural gas consumption in the next 25 years, according to the EIA. As demand for natural gas rises, the price of the commodity will also continue to increase. In fact, it is estimated that by the end of the decade, the price of natural gas will trade close to $4.00/MMBtu, representing more upside from current levels.
This potential improvement in the price of natural gas is great news for Chesapeake Energy as the company's focus on lowering costs in a difficult end-market environment will enable it to enhance margins as prices rise.
Chesapeake's focus on drilling efficiency will lead to strong results
Chesapeake Energy is on track to profit from the rise in natural gas prices as it has taken a number of steps to reduce its cost structure and increase output concurrently. More specifically, Chesapeake is looking to place those assets on production where it can generate an internal rate of return of 25%-65% at natural gas pricing of $3.00/MMBtu.
As a part of this strategy, Chesapeake has been focused on enhancing the lateral lengths at its wells since the deployment of longer laterals allows the company to tap the high-pressure zone of the wells in a more efficient manner. This is the reason why the company intends to increase the lateral lengths in the Eagle Ford to 10,500 feet by the end of 2016 as compared to just 6,500 feet at the end of last year, representing a rise of over 60%.
As a result of the use of longer laterals, Chesapeake has managed to build up a strong inventory of wells in the Eagle Ford. In fact, one-third of its 5,260 locations in the Eagle Ford have rates of returns of more than 40%, while almost 46% have rates of returns ranging between 20% and 40%. This is evident from the chart given below: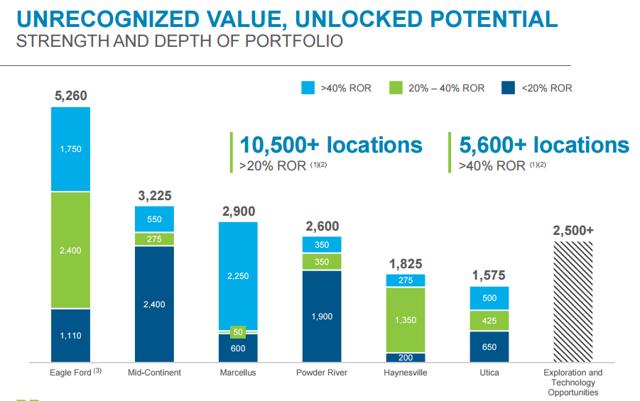 Click to enlarge
Source: Chesapeake Energy
In fact, as the chart given above shows, Chesapeake has more than 10,500 locations with a return profile of more than 20%, while there are 5,600 such locations with a return profile in excess of 40%. Thus, in light of such a robust asset position, it is likely that Chesapeake will benefit from an improvement in natural gas prices going forward.
Conclusion
Given the points discussed above, it is not surprising to see why Chesapeake Energy shares have rallied such remarkably on the back of a rise in natural gas prices. Going forward, the share price of Chesapeake Energy will continue to get better since the company has a strong enough asset base to take advantage of an improvement in gas prices. So, in my opinion, it will be a good idea to stay long Chesapeake, as the company is capable of going higher.
Disclosure: I/we have no positions in any stocks mentioned, and no plans to initiate any positions within the next 72 hours.
I wrote this article myself, and it expresses my own opinions. I am not receiving compensation for it (other than from Seeking Alpha). I have no business relationship with any company whose stock is mentioned in this article.