First Solar (NASDAQ:FSLR) has had a bad time on the market this year as it has lost more than 40% of its market capitalization so far. What really surprises me is the fact that First Solar is in such a woeful position on the market this year, despite delivering huge earnings beats over the past five quarters. Even in the last reported quarter, First Solar's revenue and earnings were way ahead of expectations, encouraged by which the company was able to raise its annual forecast.
In my opinion, the decline in shares of First Solar is an opportunity that investors should not ignore. Looking ahead, the company is all set to benefit from the growing adoption of solar energy as it is highly-focused on improving its module efficiency, which will lead to growth in its customer base. In this article, we will take a look at the reasons why the massive decline in First Solar shares this year is an opportunity to buy.
Solar demand will remain robust
The weakness in oil and gas prices over the past couple of years has had a perceptibly negative impact on the adoption of solar energy. This is because lower oil and gas prices reduce electricity generation costs from fossil fuels, which tilts the balance away from solar since lower electricity costs from oil and gas lead to higher purchasing power.
However, despite the weakness in oil and gas prices, there is not a huge difference between the cost of generating electricity from fossil fuels and solar. This is shown in the chart given below: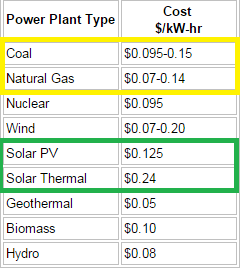 But, even though electricity generation from solar energy carries a higher cost than generating electricity from fossil fuels, the adoption of solar energy has continued to improve. As The Guardian points out, 2015 saw a record in terms of renewable energy installations at 147 GW, which was the largest increase in history.
As a result of this massive improvement in renewable energy installations, investments in this sector jumped to $286 billion globally. More importantly, 56% of this investment in renewable energy was directed toward solar energy as emerging nations put more money in this sector. In fact, there was a 12% increase in solar energy investments last year even though the cost of generating electricity from solar energy was higher. This is shown below: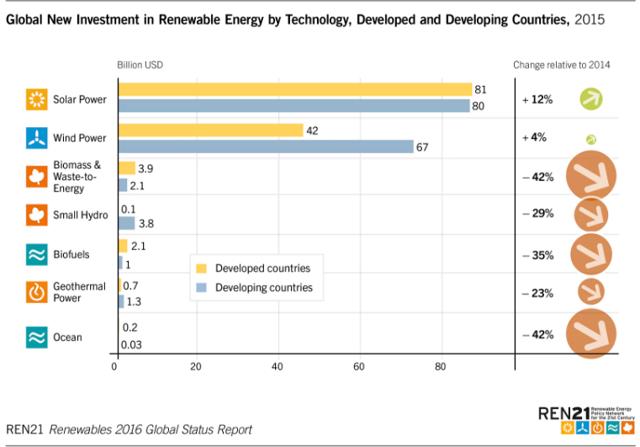 Click to enlargeSource
One of the important reasons why the adoption of solar energy has increased is because the cost of the technology has dropped over time. The average solar cell cost has declined to $0.30 per watt, while the PV module price has declined to $0.72 per watt at the end of last year. This is illustrated in the chart given below:
Click to enlarge
Hence, the consistent decline in the cost of electricity generation using solar energy will prove to be a tailwind for First Solar going forward as this will increase its addressable market. In my opinion, further decline in costs will provide a greater boost to the solar industry since it is already witnessing growth in installations, despite a higher cost structure as compared to oil and gas.
More importantly, First Solar is one of the better-placed companies to take advantage of an increase in solar installations due to its focus on enhancing efficiency. Let's take a look.
First Solar is doing the right thing by focusing on module efficiency
First Solar is looking to tap the improvement in the solar market by increasing the efficiency of its products. The company is continuously focused on transitioning its manufacturing platform to a newer generation known as Series 5 using its CadTel technology. In fact, driven by this new technology, First Solar saw an efficiency gain of more than 100 basis points as compared to the previous generation.
Due to First Solar's shift to a newer generation module platform, the average module conversion efficiency of its fleet was up by 80 basis points year-over-year last quarter to 16.2%. More importantly, the lead line efficiency is higher at 16.4%, reflecting a jump of 20 basis points as compared to last year. The following chart shows the improvement in First Solar's efficiency of late:

Click to enlarge Source: First Solar
What's more, by the end of the year, First Solar anticipates that its lead line efficiency will jump to 17% by the end of 2016. As First Solar's efficiency increases, the company will be able to lower its costs and enhance productivity at the same time, enabling customers to convert more of the solar energy into electricity.
Conclusion
First Solar is making the right moves to capitalize on the end-market growth. As such, I think that it will be a good idea for investors to buy the stock as it has been badly beaten down of late, but can make a comeback in the long run due to reasons discussed above.
Disclosure: I/we have no positions in any stocks mentioned, and no plans to initiate any positions within the next 72 hours.
I wrote this article myself, and it expresses my own opinions. I am not receiving compensation for it (other than from Seeking Alpha). I have no business relationship with any company whose stock is mentioned in this article.