Apptio (Pending:APTI) - Recommendation - $21.75 PT
The quiet period for the Apptio IPO will expire on October 18, 2016. On October 19, 2016, the company's underwriters will be able to make recommendations and release their detailed reports. It is likely that the share price of the company's stock will get a healthy gain upon the release of the reports.
The lead underwriters for the IPO are Bank of America Merrill Lynch, J.P. Morgan Securities and powerhouse Goldman Sachs (NYSE:GS). The underwriters are Barclays Capital, Pacific Crest Securities, Jefferies LLC and RBC Capital Markets.
Business summary: Cloud-based technology business management provider
Apptio is a cloud-based technology business management provider that developed its own management system for CIOs so that IT leaders could have a system comparable to those available to the finance, human resources and sales functions of enterprises. This allows chief information officers to create efficiencies and to run their IT departments like businesses, helping the enterprises to remain competitive.
The company counts 40 percent of the Fortune 100 among its customer base. Its customers come from a broad variety of industries, including finance, manufacturing, professional services, retail, healthcare, media, consumer goods, transportation, energy, media and government agencies.
Executive management
Sunny Gupta is a co-founder of Apptio and serves as its chief executive officer, president and as a member of its board of directors. He has served in his respective roles since Oct. 2007. Prior to that, he served in roles at Opsware Inc., iConclude Co., IBM and Rational Software. Gupta holds a Bachelor of Science in computer science from the University of South Carolina - Coastal Carolina.
Lawrence Blasko has served as the chief revenue officer for Apptio since July 2016. Prior to that, he was a senior vice president of worldwide sales from May 2013 to June 2016 and a vice president from Sept. 2009 to April 2013. Blasko previously worked in various roles at Opsware Inc., Veritas and Computer Associates. He holds a Master of Business Administration from the George Washington University and a Bachelor of Science in criminal justice from Scranton University.
Financial highlights and risks
Apptio priced its shares above its expected price range at $16 per share, raising $96 million in its IPO. At its trading debut, it surged by 40 percent, closing at $22.55. The share price has since cooled, but it is still trading well above its marketed price range of $13 to $15. On Oct. 11, the stock closed at $20.08 per share.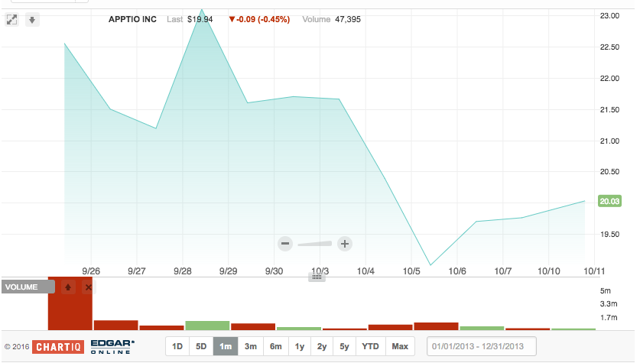 Click to enlarge
The company reports that it had total revenues of $73.8 million in 2013 and $106.8 million in 2014 for a year-over-year increase of 45 percent. In 2015, its total revenues were $129.3 million for a year-over-year increase of 21 percent. Its net losses increased each year. It reported losses of $23.7 million, $32.9 million and $41.0 million for 2013, 2014 and 2015, respectively.
Apptio has a history of losses and indicates that its revenues may decline. It had a debt of $183.7 million as of June 30, 2016. The company reports that it may not be able to become profitable or to sustain profitability.
Comparison with competitors
Apptio notes that its direct competitors include VMWare (NYSE:VMW) and ServiceNow (NYSE:NOW). Apptio has a market cap of $752.2 million and a price-to-sales ratio of 4.3. VMWare has a market cap of $31.1 billion and a price to sales ratio of 4.6. ServiceNow has a market cap of $13.1 billion and a price to sales ratio of 10.6. While VMW and NOW are significantly larger in size, APTI is priced competitively.
Conclusion: Buying Opportunity
While we did note our concerns at the time of Apptio's IPO regarding net losses and substantial debt; growth of its revenues of 21 percent from 2014 to 2015 is promising, and the company's strong roster of customers highlights the demand for its products.
Apptio has performed well since its IPO and boasts an impressive list of underwriters. It is likely that their reports will result in a boost in the share price, particularly as the public seems excited by new tech offerings. This strongly suggests investors may take advantage of APTI's quiet period expiration; buying shares a few days prior to the event could produce significant returns.
Disclosure: I am/we are long APTI.
I wrote this article myself, and it expresses my own opinions. I am not receiving compensation for it. I have no business relationship with any company whose stock is mentioned in this article.