I've been monitoring the dividends of the major integrated oil and gas companies to determine how safe their dividends are in the current environment. Chevron (NYSE:CVX) is next on my list. The company has a current yield of 4.13% and on one of its first slides in a recent investor update, management has stated that its priority is to "maintain and grow the dividend." A dividend cut is a last resort option, as it would push the price of the stock down substantially; however, I really don't think this company has the cash flow to keep sustaining it as there are too many short-term obligations that will pressure the company's liquidity profile.

Click to enlarge
Source: Trade 12
Performance And Crude Oil Analysis
It behooves me to be highly critical of Chevron so that investors can determine the situation of the dividend. First, we'll take a look at performance. CVX has rebounded above the $100/level; however, despite much fluctuation around this level, the stock has failed to post material gains since April. If you're a current income investor, this is really of no concern as you're focused on the sizable dividend doing the heavy lifting over the long term. For those more keen on capturing short-term trades, this is a poor allocation of capital. As a note, the stock is now up 15.05% YTD.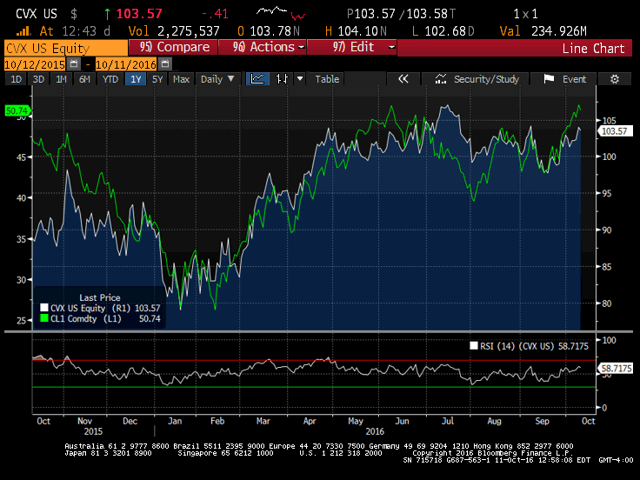 Click to enlarge
Source: Bloomberg
I've taken a look at several of Chevron's competitors, other O&G integrated majors. Right now, there's a mixed basket of results. Exxon Mobil's (NYSE:XOM) yield is undoubtedly safe, in my opinion, because of its positive free cash flow and strong cost management. With a lesser degree of confidence, I can also say Royal Dutch Shell's (RDS.A, RDS.B) dividend is safe as its divestment program is substantial. However, I made the definitive conclusion that BP (NYSE:BP) is looking at a dividend cut in the near term should crude oil prices stay where they currently are. This is the perspective investors should keep in mind while reading the next section.
Yield Analysis
Chevron's current yield of 4.13% is above the broader stock market's average of 2.08%. The dividend is sporting a 5Y growth rate of 7.37%, which while not double-digits is still quality. However, I'll say that there's a caveat with this growth rate in that the company hasn't increased its dividend once since 2014. This makes sense given the operating environment, but directly conflicts with the confidence of Exxon Mobil, which increased its dividend by 2.7% earlier this year. This makes me think that after a credit analysis the company is in a less desirable position.
I believe dividend cuts are justified if a company needs to conserve its cash for interest payment obligations and principal payment obligations. If it can't do that with the current levels of operating cash flow, as a first test, and free cash flow, as a second test, then the company has two options. It can reduce capex to the point where it covers the dividend, but that comes at the expense of growth. On the other hand, the dividend outflow can be reduced or cut altogether to keep growth online at the expense of capital gains.
To kick things off, below is Chevron's debt distribution.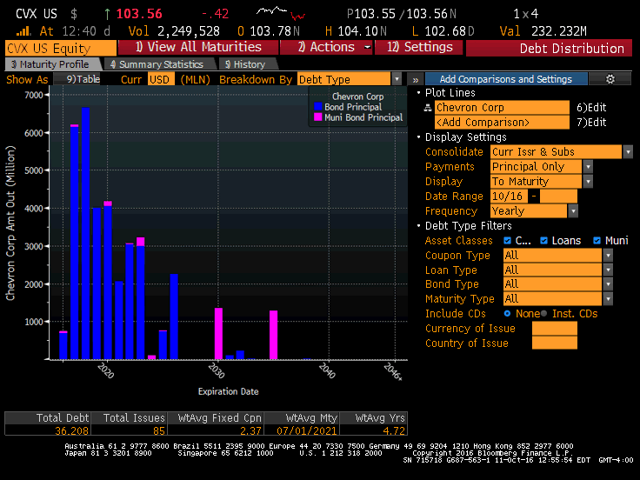 Click to enlarge
Source: Bloomberg
As investors can see, the debt wall that Chevron must face over the next eight years is substantial. Now, eight years is certainly enough time for the pricing environment to recover, but even the next two years of repayments bear a large burden on the company. Of the $36.2 billion in long-term debt that the company has, nearly 90% of it comes within the next eight years. This wall means nothing in isolation, so I'm going to try and break it down a bit further. Over the next fourteen months, Chevron has the following due:
$700 million 0.89% senior unsecured notes due November 2017
$900 million 0.911% senior unsecured notes due February 2017
$1 billion 1.344% senior unsecured notes due November 2017
$500 million 1.15% senior unsecured notes due November 2017
$1.1 billion 1.345% senior unsecured notes due November 2017
$650 million 0.987% senior unsecured notes due November 2017
$2 billion 1.104% senior unsecured notes due December 2017
Summed up, over the next fourteen months, Chevron effectively has $6.85 billion due in debt. Now this debt lineup wouldn't be so bad if the company had been making progress on the principal repayments, rather than waiting to pay the entire lump sum at the end of the bond's life. This is a tall debt burden to pay, especially considering that the company is paying out $2 billion in dividends each quarter (Note: the company in its investor updates uses half-year figures, if anyone was curious about a potential discrepancy).
The following slide shows the impact of what its cash flow picture looks in the operating environment around $52/barrel, a carry-forward of the average realized price per barrel in 2015.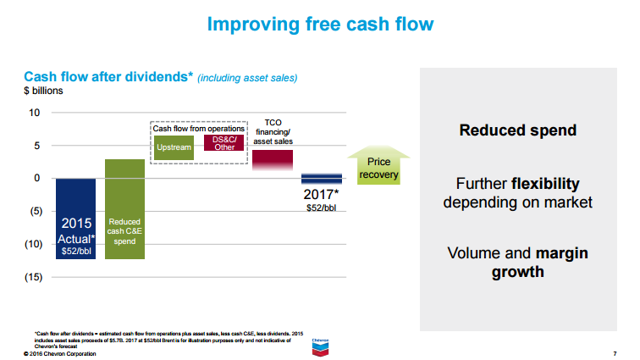 Click to enlarge
Source: Investor Update
This slide doesn't do justice in showing how negative this company is in terms of free cash flow. Naturally, slides like this are presented to induce confidence, but they rarely tell the whole picture. Right now, TTM FCF is at -$10.71 billion, seen below.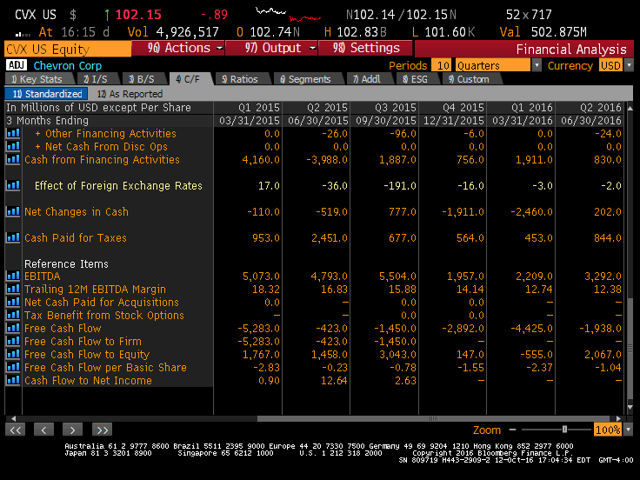 Click to enlarge
Source: Bloomberg
What that free cash flow figure means is that it is so heavily negative that even if a full year's worth of dividend payments were removed, the company would still be about $2.7 billion in the red. Investors should note that nearly every last issuance the company has is trading at par and that the interest rates associated with the notes are incredibly low. This makes sense given the company's high credit rating, but really doesn't explain the level of risk investors have by buying into this company.
Naturally, once we obtain Q3 results, we'll have a bit better idea of what the forward looking coverage for the dividend looks like. However, as a word of caution, averaged realized prices per barrel in Q3 were only a few dollars higher than they were in Q2, so the improvements may not be all that substantial.
Moving forward, the company did $2.53 billion in operating cash flow in Q2 2016, so I'd expect the Q3 amount to come in slightly higher, given that the average price of crude in the spot market was incrementally better this past quarter. Annualized, the company does about $10.12 billion in operating cash flow based upon this level.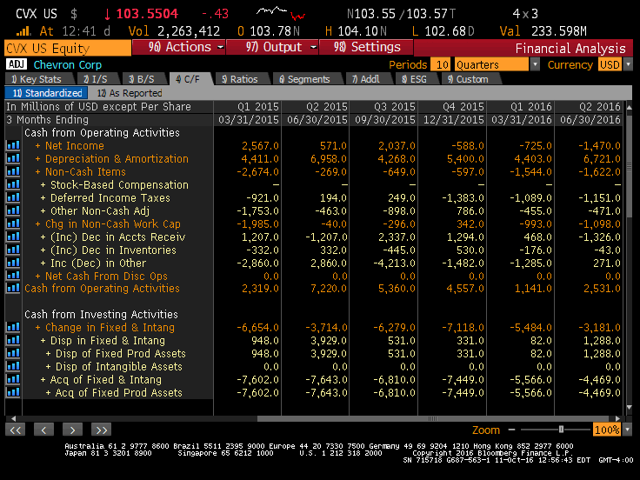 Click to enlarge
Source: Bloomberg
To summarize, how do the core financials stack up?
OCF at $10.1 billion, likely will improve a few hundred million
FCF highly negative at -$10.7 billion, could improve if OCF improves or capex spend comes down further
Capex is currently at $20 billion per year, based upon Q1 and Q2 2016 totals
Dividends paid out per year are roughly $8 billion
The next fourteen months of debt repayments plus interest amount to $6.92 billion- annualized down, this is $5.93 billion
With all of this in mind, the company currently is struggling to pay its dividend. OCF directly covers the dividend, but the size of capex is a primary headwind to dividend sustainability, not to mention the principal repayments coming into view. $10.1 billion of inflows versus roughly $33.9 billion of outflows puts the company at heavy risk of cutting its dividend to try and break positive.
However, there's one more factor investors should consider. Divestments can really help a company out and Chevron was obviously clued in on this strategy many months ago. The 2016-2017 target is about $5 billion to $10 billion in divestment. Unfortunately, even if it got its asking prices for these assets, a dividend cut still looks likely. Sure, capex could be reduced further, but the fact remains that it is going to continue to generate negative free cash flow and that is an issue.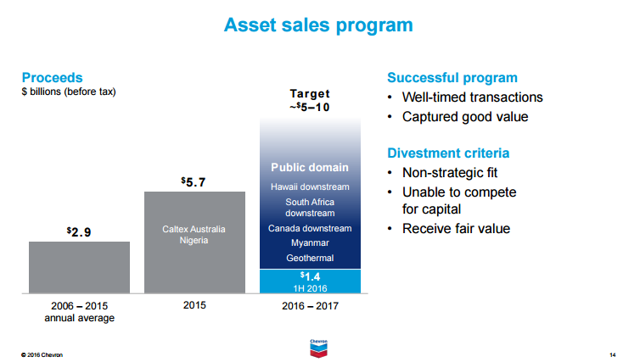 Click to enlarge
Source: Investor Presentation
Conclusion
The inflows that Chevron currently has versus its outflows don't add up to sustainability. The company is producing negative free cash flow in the current environment and has a large amount of debt that needs to be repaid in the next fourteen months. Unless the crude oil market improves materially, ramps up its divestment program, or slashes capex further, this company may be looking to cut its dividend to preserve liquidity. Just not something I expected to find looking at an AA- rated company.
Disclosure: I/we have no positions in any stocks mentioned, and no plans to initiate any positions within the next 72 hours.
I wrote this article myself, and it expresses my own opinions. I am not receiving compensation for it (other than from Seeking Alpha). I have no business relationship with any company whose stock is mentioned in this article.