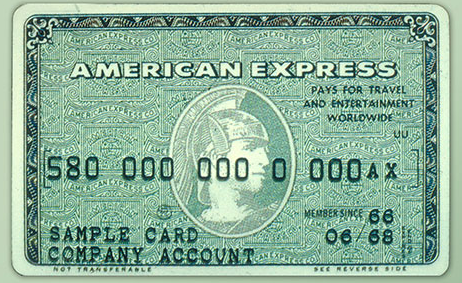 I've been bearish on American Express (NYSE:AXP) for some time now as I've viewed the stock as massively overvalued. AXP used to be the cream of the crop in terms of financial stocks and while its ROE is still far higher than its competitors, AXP's lead in other areas has dwindled or evaporated entirely. The stock's ugly, long term downtrend is proof enough of this and yet, a debate rages on between bulls and bears. But heading into Q3 earnings next week, is AXP finally a buy at $60 or is there further yet to go with this downtrend?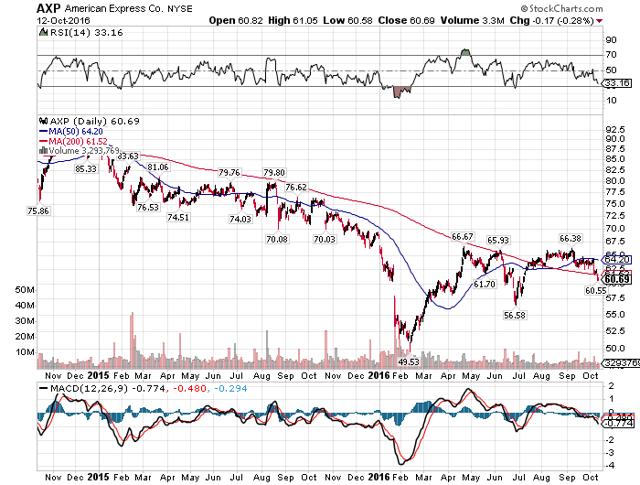 Click to enlarge
Analysts are looking for a 6% reduction in the top line for AXP this quarter as its revenue woes continue. This has been a big reason why I've been bearish on AXP; it is losing share. This has been occurring for years at this point and although the loss of the Costco business certainly didn't help, AXP has other, larger problems too. It is losing to the other players in the industry and its top line is suffering for it. AXP's model is old-fashioned and the behemoth has failed to adapt with the changing times. Its ability to enforce anti-steering rules is technically a win but highlights that AXP's model isn't competitive if it has to resort to enforcing anything; that's not a the foundation of long term success.
AXP is certainly not alone in the financial world with respect to its struggle to generate revenue. Indeed, that is far more common these days than companies that are actually producing meaningful growth. But remember that AXP trades at a massive premium to its counterparts - including Discover - and therefore, should be better than the others on a fundamental basis. But the simple fact is that it just isn't. Soft spending has continued to plague AXP and the Q3 read may very well come in below the -6% analysts are looking for. Given AXP's recent history, it is my view that risk is to the downside on revenue.
On the expense side, AXP also has lots of work to do. It hasn't been reducing expenses to the same extent that other large financials have and it is to the company's detriment. Adjusted expenses were flat in Q2 (after removing the Costco deal) and I expect to see a flat-to-up number for Q3 in terms of percentage of revenue. A weak top line is the last thing AXP needs but that's what it has and I'd be shocked if it managed to reduce spending by 6% or more. Thus, margins are almost certainly going to suffer; the extent to which that happens is the only variable in my view.
Another area I'll be watching during the report is provisions for losses. This is an item that can forecast growth for a financial because when a new loan is booked, the bank has to take provisions against that loan for future losses. That means that when significant loan or card growth is seen, provisions will be high. AXP hasn't had this issue in the past because its growth has been terrible but Q3 is yet another chance for AXP to prove it isn't a slowing dying business. I'm still skeptical because AXP has shown zero ability to grow its book in a meaningful way and it is certainly being outpaced by Discover in this area; provisions will give us another clue during the Q3 report.
I'm certainly bearish on AXP's business going into the Q3 report but what about the valuation? After all, it continues to get cheaper as time goes on and the downtrend continues. In addition, it isn't all bad for AXP; it has a massive repurchase program that was just renewed/increased and that will help drive some meaningful EPS growth despite its lackluster fundamentals. I love a good buyback but at the same time, AXP's has been terrible simply because the stock keeps falling. That's not a great way to build long term shareholder value and it just hasn't worked out for AXP.
The good news for bulls is that AXP is now going for just 11 times this year's earnings. That's a far cry from where we are used to seeing the stock historically, which was generally closer to 14 than 11, and that means the downside risk should be smaller than it has been. While I certainly agree with that, I also don't think the valuation alone means the stock is a buy going into earnings. The stock is right at a declining 200DMA and it has failed to break out of the range that has existed for the better part of this year. And given what should be continued fundamental weakness, I don't see a catalyst for it to move higher.
I think the easy money shorting AXP has been made and thus, I'm not willing to put money at risk here betting against it. That would change if AXP breaks down below $56, the low from this past summer. If that happens it could easily retest the $50 level and if things get bad enough, continue to fall from there. Right now, however, heading into earnings, I think the prudent angle is to just stay on the sidelines. There is too much fundamental weakness to buy and too much risk for not enough of a payout to short.
Disclosure: I/we have no positions in any stocks mentioned, and no plans to initiate any positions within the next 72 hours.
I wrote this article myself, and it expresses my own opinions. I am not receiving compensation for it (other than from Seeking Alpha). I have no business relationship with any company whose stock is mentioned in this article.