Valvoline Inc. (NYSE: VVV) - Recommendation - BUY
The quiet period for the Valvoline Inc. IPO is scheduled to expire on October 18, 2016. The quiet period expiration will allow the underwriters to complete analyses and release their recommendations on October 19, 2016 (as described by the SEC).
This event could result in a boost to the company's share price, presenting a potential buying opportunity for investors. Highly influential underwriters for Valvoline's IPO are Bank of America Merrill Lynch, Morgan Stanley, Citigroup, Goldman Sachs, Deutsche Bank Securities and JPMorgan.
Background on IPO Quiet Period Research
The IPO quiet period extends from after a company issues an IPO through a set period of time, usually 25 days, during which insiders and underwriters involved in the IPO cannot publish research reports or earnings estimates on the company. After the expiration of the quiet period, many brokerages who acted as underwriters will initiate coverage, which can boost the stock price.
The event has been the subject of numerous academic articles and has been revisited by our own firm, using our IPO data for the past ~4 years. We found above-market returns for a statistically significant sample of companies, excluding REITs and banks, for a (-5, +2)-day holding period (Day 0 being event day).
VVV'S Business overview: Lubricant and quick-lube company with broad brand recognition
Valvoline is the second-largest quick-lube shop operator in the U.S. and sells its own lubricants in the U.S., Canada and 140 countries worldwide. The company was founded in 1866 and enjoys a strong reputation for quality. It was spun off into its own publicly traded entity through its IPO by its parent company, Ashland Inc. The company sells its products at more than 30,000 retail stores. It also has 1,050 Valvoline-owned and franchised quick-lube locations, and sells its installer products at more than 12,000 locations. Valvoline is headquartered in Lexington, Kentucky.
Financial highlights and risks
Valvoline priced its shares at $22 per share. It opened up by 10 percent in its market debut at $24.10. Since the IPO, the stock has ranged from $22.60 to $24.5; it was priced at $23.20 after market close on October 11, 2016, poised for another increase.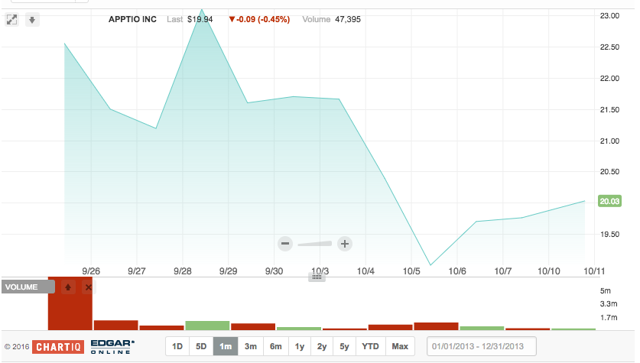 The company had $1.96 billion in sales for the year ending on September 30, 2015. It enjoyed a net income of $196 million during 2015, which was an increase of 13.1 percent over the year that ended on September 30, 2014. During the nine-month period that ended on June 30, 2016, Valvoline reported that it had $1.4 billion in sales and $201 million in net income.
One of Valvoline's primary strengths is its strong reputation and brand recognition. The company plans to grow by acquiring regional quick-lube stores, opening new locations and selling more franchises. Its adjusted EBITDA for 2015 was $422 million.
The risks include economic downturns in the market, losing any of its largest customers, falling prices and damage to its reputation.
Comparison with competitors
Royal Dutch Shell (RDS.A, RDS.B)-owned Jiffy Lube is Valvoline's largest lube-shop competitor. Valvoline also identifies Shell as a major competitor in its lubricant products. Jiffy Lube has 1,900 locations, and Shell makes Pennzoil and Quaker State.
Valvoline has a market cap of $4.55 billion, a price-to-sales ratio of 2.4 and a price to earnings ratio of 19.4. Shell has a market cap of $210.1 billion, a price-to-sales ratio of 0.8 and a forward price-to-earnings ratio of 12.4. Despite VVV's significantly smaller size, it is priced competitively with Shell.
Executive management team
The chief executive officer and director of Valvoline, Samuel J. Mitchell, was appointed as CEO in September 2016 and as a director of the company in May 2016. He previously served as the president of Valvoline from 2002 until 2016 and as a senior vice president of Ashland since 2011.
Mary E. Meixelsperger is the chief financial officer for Valvoline and has served in that role since June 2016. From April 2014 until June 2016, Meixelsperger served as the CFO and as a senior vice president at DSW, Inc. She served as the CFO, treasurer and controller for Shopko Stores from 2006 to 2014. Meixelsperger previously served as the CFO for two non-profit organizations from 1993 until 2004 and for Worldmark Group, a private equity firm, from 1986 until 1991.
Conclusion: Buy
Valvoline's share price has slightly fallen from its market debut of $24.10, but it is still performing well. The slight pullback offers a buying opportunity for a firm with support from a strong group of underwriters, solid top and bottom line results and a very well-known brand.
The release of underwriter reports, which we believe will be largely positive, is likely to cause the share price of Valvoline to go up, as per our firm's research discussed above.
We recommend that investors purchase shares before the quiet period expiration.
Disclosure: I am/we are long VVV.
I wrote this article myself, and it expresses my own opinions. I am not receiving compensation for it. I have no business relationship with any company whose stock is mentioned in this article.