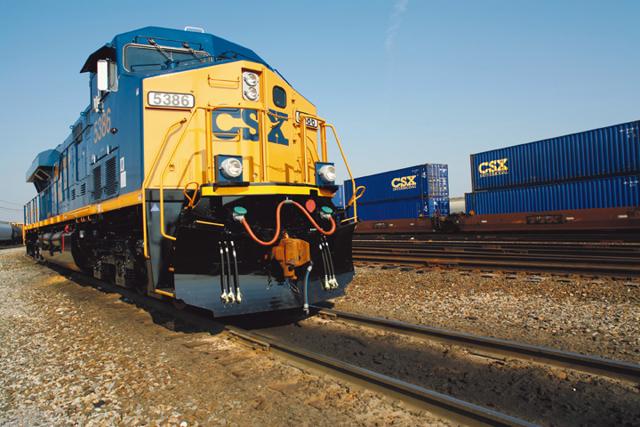 Click to enlarge
Source: Google Images
During the third quarter, CSX (NYSE:CSX) beat both revenue and earnings estimates. Since the announcement, the stock price has been up around 2.6 percent in after-hours to $31 per share. One change that occurred with which investors should note was the fact that CSX consolidated some of their previously reported line items for revenues, volumes and revenue per unit.
The company no longer discloses agricultural products, food and consumer, metals, and waste and equipment line items separately. Instead these line items have been aggregated to the agricultural and food products, chemicals, metals and equipment and minerals line items.
It will take a few quarters to get these new line items up to date for a trailing twelve-month period, but to provide some context with the new information, the following graphics below are provided.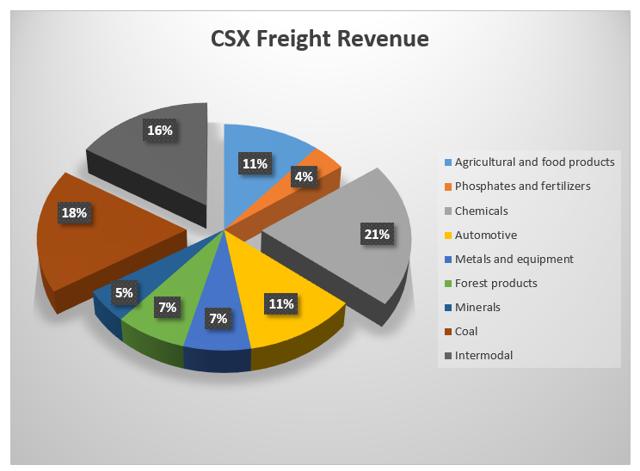 Click to enlarge
Source: Company financials and personal database
The story for CSX's freight revenue has remained the same as chemicals, coal and intermodal services have continued to lead the way reflecting 55 percent of total freight revenues. Both agricultural and food products and automotive services reflected another 22 percent bringing the total to nearly 80 percent.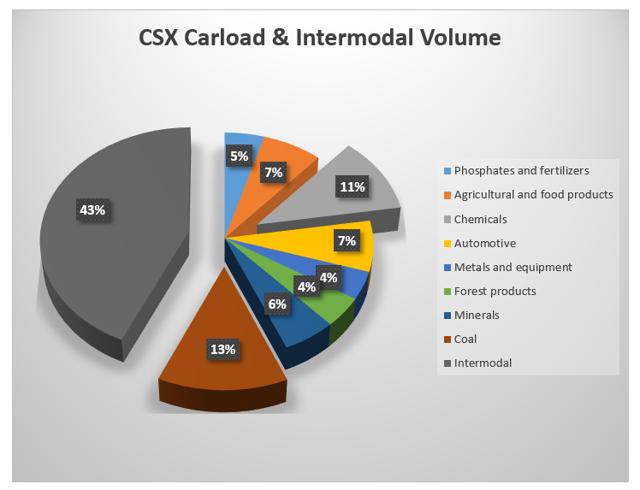 Click to enlarge
Source: Company financials and personal database
As has been the case similar to freight revenues, intermodal, coal and chemicals similarly has led carload and intermodal volumes at 67 percent of the total. Agricultural and food products and automotive also were next in line bringing the total volumes above 80 percent.
From this information, it is clear that average revenue per unit varies between intermodal and coal and chemical products. Even assuming double-stacking, intermodal units reflected the lowest revenue per unit. This is not as extreme for western rail peers who travel a much further distance.
Intermodal volumes were down nearly 7 percent during the third quarter versus last year and nearly 3 percent through the first nine months of 2016. Chemicals were down nearly 8 percent for both the third quarter versus last year and for the first nine months of 2016.
Coal was down 21 percent for the third quarter versus last year and 29 percent through the first nine months of 2016. On a more positive note, coal was up sequentially for domestic tonnage due to summer demand. Domestic tonnage represented nearly 75 percent of total coal tonnage including exports.
Despite these challenges of performance, CSX did beat analyst estimates by $0.03 per share and $20 million in revenue. But revenue and diluted earnings per share, EPS were down 8 and 7 percent respectively versus last year's quarter and were down 11 and 13.5 percent year-to-date, YTD versus last year.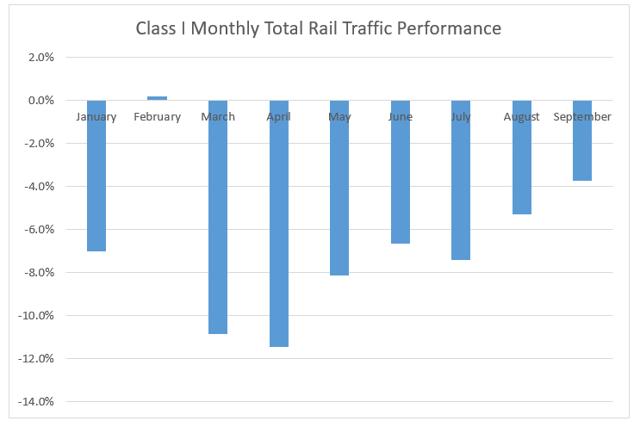 Click to enlarge
Source: Class I weekly traffic and personal database
For me, the big story has been CSX's underperformance for both carload and intermodal traffic versus its Class I peer average. Combined, Class I total rail traffic witnessed a bottom during the month of April. Since this time, traffic has continued to improve with September's performance being the best since February.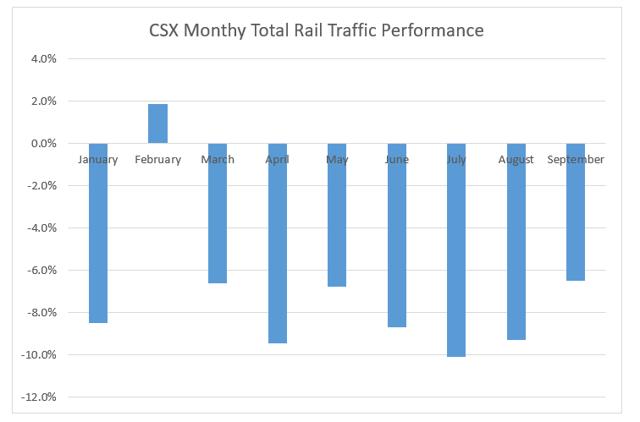 Click to enlarge
Source: CSX weekly traffic and personal database
CSX on the other hand has witnessed a much lumpier display of total rail traffic trends. The company did witness poor performance during April in-line with the overall Class I bottom, but witnessed further declines during July. Carload volumes have been the primary culprit representing 57 percent of the total YTD for 2016.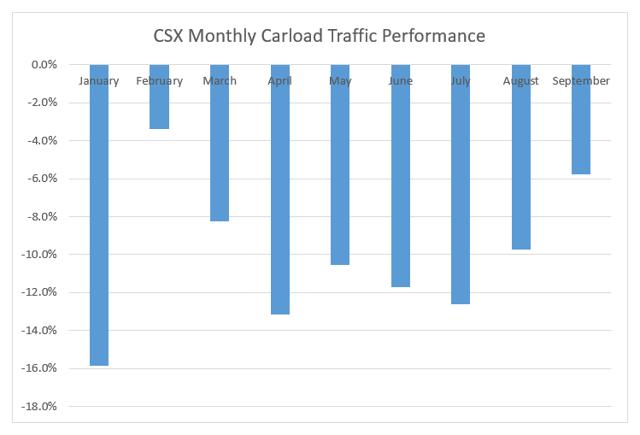 Click to enlarge
Source: CSX weekly traffic and personal database
CSX's performance for carload traffic during 2016 has been ugly. January was the low point, but April through August has represented five consecutive months of simply terrible performance versus last year. Coal has been a major weight as this commodity alone represented 21 percent of carload traffic YTD. Both chemicals and automotive products reflected 15 and 13 percent YTD, but were only at -1.5 and 6 percent respectively through the year.
Other significant commodities have also weighed including phosphate, petroleum products, grain, pulp, paper and allied products and metals and products. Combined these commodities reflected 22 percent of carload traffic and were down as low as 6 percent to as high as 27 percent.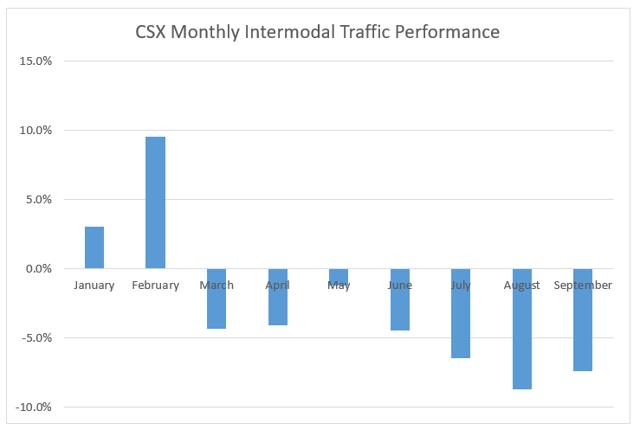 Click to enlarge
Source: CSX weekly traffic and personal database
For intermodal traffic, CSX has witnessed deteriorated performance during the third quarter. Trailer-on-rail performance has weighed as has been the case for all Class Is stemming from the Norfolk Southern (NYSE:NSC) Triple Crown service restructuring. But CSX has also witnessed weakness in international container and domestic intermodal services.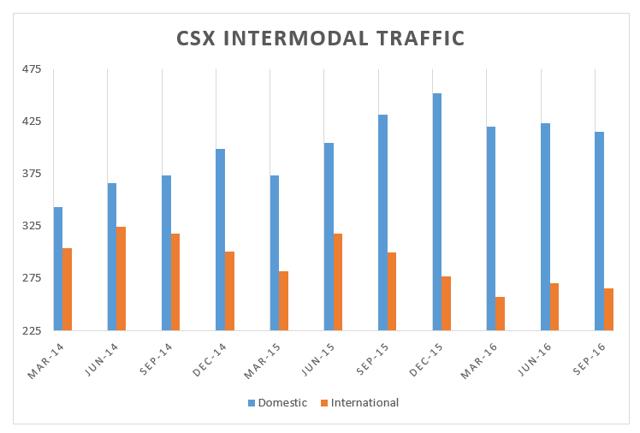 Click to enlarge
Source: Company financials and personal database
Clearly, from CSX's financial reports, domestic intermodal services have flat-lined, while the international business continues to suffer from customer account losses. But for both international and domestic intermodal services, the impacts from greater declines on the East Coast for laden twenty-foot equivalent container units, TEUs has also weighed on business.
During the third quarter, domestic intermodal and international services declined by 4 and 11 percent respectively. For the first nine months of 2016, performance was at 4 and -12 percent respectively. Investors should be closely monitoring Norfolk Southern's quarterly performance as the company has continued to beat out CSX for international and remain close for domestic intermodal. East Coast TEU traffic trends will continue to influence these results.
Despite the poorer performance by CSX during 2016 versus Class I peer averages, the stock price has returned 16 percent to investors who held shares at year-end December 2015. CSX did witness a -28 percent return for all of 2015 versus 2014 year-end. But if Canadian National's (NYSE:CNI) return to positive traffic is any indication, expectations are for all Class Is to return to positive traffic performance sometime between the next quarter and into next year.
As savvy investors know, stocks trade on the future and not the past or present. CSX did witness a much harder fall during 2016 for much of the year on the carload traffic side. I would suspect that the company could have a good chance at improving from this base next year.
For intermodal services, the overcapacity issues plaguing the container shipping industry could weigh on traffic growth next year. Based on CSX's performance during 2016, I would suspect that any improvements could be much more moderate versus carload traffic.
Some are hoping for diversion from the Panama Canal new locks opened this year in June, but it is debatable as to whether diversion has slowed during 2016 and even reverted to a degree back to West Coast seaports.
All-in-all, investors should continue to pay attention to aggregate Class I rail traffic trends and seaport TEU traffic trends to gain perspective as to CSX's performance. From how things are shaping up, the concern is not that CSX or another rail will be left out of the recovery, but rather how each Class I will phase into the point where the previous year's comp will allow for a return to growth. For CSX, this looks like it may occur during the first quarter of 2017.
Disclosure: I am/we are long CNI.
I wrote this article myself, and it expresses my own opinions. I am not receiving compensation for it (other than from Seeking Alpha). I have no business relationship with any company whose stock is mentioned in this article.