One of the street's losers in recent weeks has been Ford Motors (NYSE:F), as seen in the chart below. Investors were a little worried about the company's US sales drop in September, thinking that the auto industry has hit a bit of a speed bump. However, some of the company's recent data wasn't as bad as originally reported, and the fall in the stock now means investors are seeing a very high yield.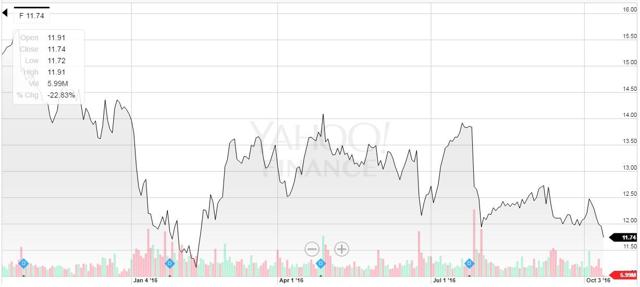 (Source: Yahoo! Finance)
If you look at the company's most recent news, September US sales were down 7.7%, but that was less than the 8.7% that was expected. Also, the average transaction price was up 3.2%. For the year, the company is up almost 1% in the US, but China is up a whopping 11%. Overall, the company is doing fairly well.
But the main reason I'm here today is to discuss the company's dividend. On Thursday, a $0.15 quarterly dividend was announced, and with the drop in the stock price, the current annual yield is now up to 5.13%. As you will see in the chart below, that's a bit more than competitor General Motors (NYSE:GM), and more than double what the 30-Year US Treasury will pay you.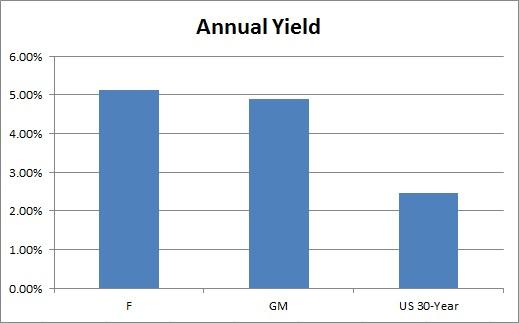 I also don't think these numbers tell the whole story, because I think there's a chance that Ford will raise its dividend for 2017. This year, the company paid out a supplemental dividend of $0.25 per share, which made investors really happy. Next year, I don't think we'll see any special dividends, rather a hike since we've been at $0.15 for a couple of years now. Should the dividend be hiked by even a penny or two per quarter, investors that get in before the late October ex-dividend date could end up yielding almost 7% by the end of 2017 (since you'll get five dividend payments over that time).
Income investors may want to take another look at Ford Motors. The recent fall in the stock has pushed the annual yield back over 5.1%, and the company's September news wasn't that bad. With China sales doing well and US sales and selling prices up year to date, Ford is in decent shape. The stock has a higher yield than competitor GM and offers more than twice as much yearly income than the 30-Year US Treasury Bond. Should the company raise its dividend for 2017, investors could be looking at almost a 7% yield between now and the end of next year. That would be quite nice in this low interest rate environment.
Disclosure: I/we have no positions in any stocks mentioned, and no plans to initiate any positions within the next 72 hours.
I wrote this article myself, and it expresses my own opinions. I am not receiving compensation for it (other than from Seeking Alpha). I have no business relationship with any company whose stock is mentioned in this article.
Additional disclosure: Investors are always reminded that before making any investment, you should do your own proper due diligence on any name directly or indirectly mentioned in this article. Investors should also consider seeking advice from a broker or financial adviser before making any investment decisions. Any material in this article should be considered general information, and not relied on as a formal investment recommendation.