By Parke Shall
Wells Fargo (NYSE:WFC) has been embroiled in controversy over the last few weeks as the details of an immense fraud came to light and the public was informed about cross selling that saw WFC open thousands of unnecessary and fraudulent accounts for its customers.
All of this information was made public over the last few weeks and Wells Fargo shareholders have suffered, as they have watched the price of WFC move in response to the public outrage over the incident. Wells Fargo CEO John Stumpf was even dragged in front of Congress two weeks ago to "face the music" and get berated for his company's actions under his watch.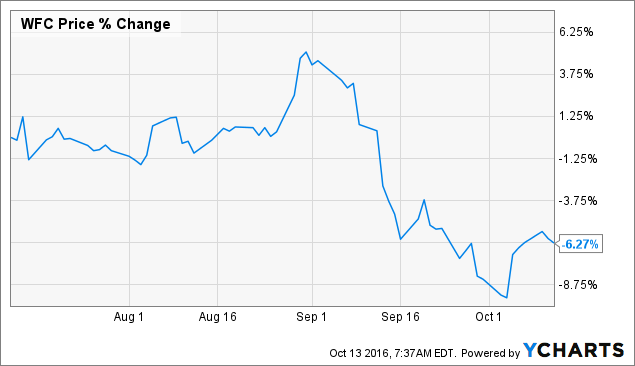 But there has been one looming question since this entire controversy started and that was whether or not Warren Buffett, a large shareholder in Wells Fargo at just under 10%, would respond publicly to these actions or perhaps even lower or sell off his stake in the company. We have watched this case carefully and concluded from the get go that Buffett was probably unlikely to sell his stake over this news. Today, we wanted to share our reasoning as to why we think Mr. Buffett isn't going anywhere.
First, it must be noted that CEO John Stumpf retired yesterday (10/12) amidst calls for him to step down after this scandal was first revealed. CNN Money reported,
Embattled Wells Fargo CEO John Stumpf will retire effective immediately, the company announced Wednesday, marking a stunning downfall for one of the banking industry's most powerful figures.


The Wells Fargo boss is out in the wake of a national uproar that erupted after regulators accused the bank of creating many as two million fake bank and credit card accounts. The company admitted to firing 5,300 workers over several years.

A person familiar with the matter said that Stumpf made the decision to retire, which was welcomed by the board.

Stumpf's resignation comes after Senator Elizabeth Warren publicly condemned him for "gutless" leadership at a Sept. 20 Senate hearing. "You should resign. ... You should be criminally investigated," Warren told Stumpf during a fiery one-sided exchange.
Mr. Buffett made a great public relations move in not commenting on this situation while it was unfolding. While he certainly did not come out and defend the bank and alluded that he was not happy with what had taken place, he did not come out and make a statement about the company or a statement about his position over the first couple of weeks of the controversy. Playing it close to the vest and staying out of the spotlight in situations like this is a fantastic PR strategy for Mr. Buffett.
On the other hand, Wells Fargo stock on several measures is the cheapest it has been in a while thanks to this controversy. Take a look at these three metrics over the last few years for the company: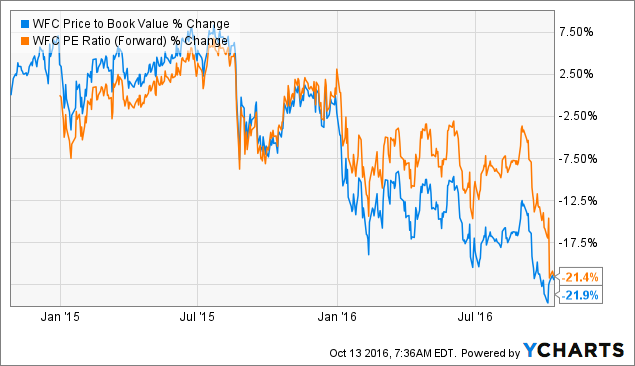 WFC Price to Book Value data by YCharts
Right now, WFC trades at just 10.9x forward earnings and 1.27x book, discounts of about 20% to its previous 5 year highs in each measurement. This is different from other banks that have seen an uptick as we head into a rising rate environment.
Of course one would suggest that if Mr. Buffett was going to sell he would certainly not be making a statement about it up front and driving the price down. While this is one way to look at it, we just don't think that the Warren Buffett School of investing says that his position should be sold here. This is typically the type of fearful situation that Mr. Buffett would usually be in buying shares on. Given that he is already at his maximum threshold for shares that he can own without going over 10%, we do not think that Mr. Buffett will be adding to his position either.
Mr. Buffett is far savvier than a lot of people give him credit for. One only needs to look at his actions during the 2008 housing crisis, where he took a substantial position in Bank of America (NYSE:BAC) while the American economy was at peak fear, to understand when he likes to buy. His timeline is generally many years and he does not have a history of acting in a volatile fashion according to small events that wind up becoming tiny blips on the radar for companies over the course of the long run.
It would be completely out of character and it would make no investing sense for Mr. Buffett to sell his stake in Wells Fargo right now. We are long WFC having bought on the dip that was caused by the public outrage and we expect Mr. Buffett to remain long with us.
Disclosure: I am/we are long WFC.
I wrote this article myself, and it expresses my own opinions. I am not receiving compensation for it (other than from Seeking Alpha). I have no business relationship with any company whose stock is mentioned in this article.