Richardson Electronics (NASDAQ:RELL) had its stock recover a good bit this year but it just dropped hard on a bad quarter: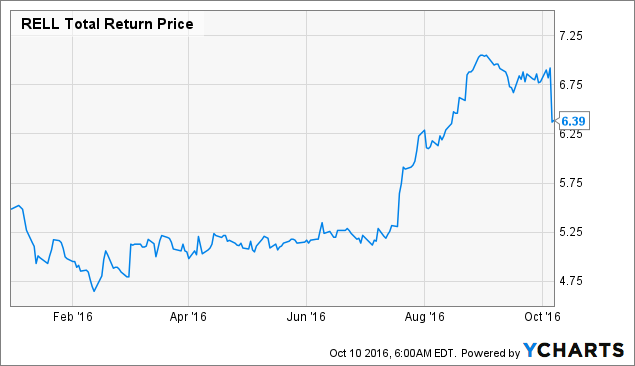 RELL Total Return Price data by YCharts
After following it for several years now, I know it's not a stock to trade on a bad quarter. It's attractive on a net asset basis but don't expect to make a quick buck and its owner and operator Mr. Richardson isn't going to have investors convince him to make the company attain a better RoIC or better RoE.
Instead he's prioritizing a robust organisation that can withstand years of mediocre performance while still retaining a fortress of a balance sheet. He won't even buy back shares when he considers them very undervalued, as he expects them to go down further, and sometimes he's right and sometimes he's wrong.
You have to like this stock for what it is, because we've heard nice suggestions on the earnings call, we've heard him being nudged and some of the rudest demands I've ever seen but it's all to no avail. This quarter, the suggestion was made exceedingly nice:
I am not sure the company has ever been in a situation where your future, at least self-described future, is so bright, yet the sort of perception of your future by the market is so dim. Seems to me to be an ideal opportunity to switch your capital allocation strategy to a little bit more efficient strategy. Just my thoughts.
To which Richardson answered:
We understand it. And at this juncture, we are pretty excited about the strategy and we are just going to put our heads down and make it happen.
Which I'm translating as: not going to happen - we are going to do our thing.
With Richardson Electronics, you own a bunch of non-voting stock and it's really non-voting stock. It deserves a big discount. The table below shows appropriate discount rates. I'd stick with the upper range. I've written more extensively on price differences between voting and non-voting stock here.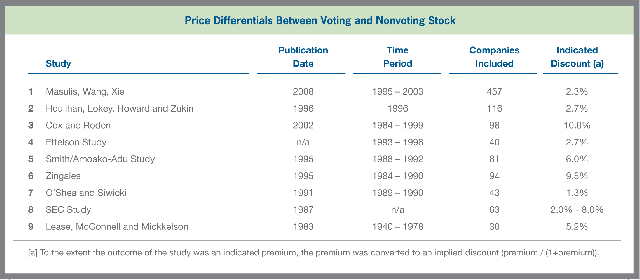 Source: Global Financial Advisory Services.
Having said that, there's a lot to like remaining.
There is $60 million of cash and equivalents. Although the hoard almost declined 41% from the top in 2012, the company paid a dividend and the share count has decreased by 24% as well.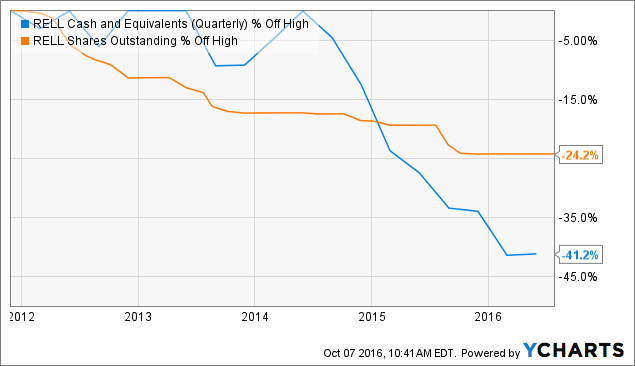 RELL Cash and Equivalents (Quarterly) data by YCharts
Sales have increased from the time of my first article mid-2014 (accessible to SA PRO and The Black Swan Portfolio subscribers):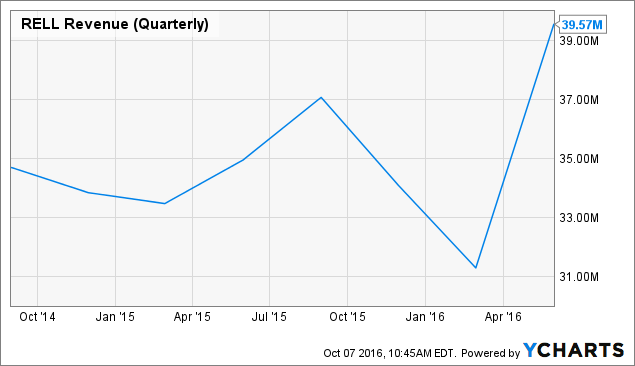 Although the firm remains unprofitable, if there's any chance of making it into a modestly profitable business, it is extremely cheap because of the net cash and no debt.
Although back in positive territory, it trades at an undemanding 0.134 x EV/Revenue.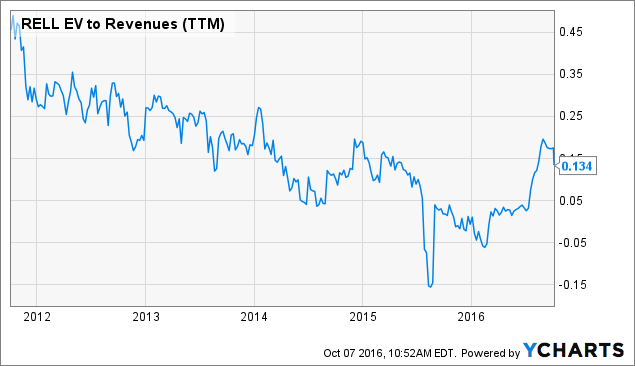 RELL EV to Revenues (TTM) data by YCharts
Meanwhile, management now seems to mean serious business with its quest to return to profitability (emphasis mine):
At the end of September, we implemented a reduction in the workforce which reduced our planned FY 2017 salary and benefits expense by 10%. The executive management team members agreed to substantially reduce their compensation in FY 2017. This will save the company nearly $1 million this year. Every SBU and department then reviewed its resources and workflow and made the tough decision to eliminate 30 positions which will reduce our SG&A by an additional $3 million on an annualized basis. There were many good long-term employees who we have had to terminate and it saddens us to see them go.

We continue to look for savings in other areas of the company. We are renegotiating vendor terms, implementing ways to improve inventory turns, reviewing our travel and entertainment policies and challenging any other expenses where we have an opportunity to reduce costs. These actions along with other cuts we have made already this year including decreasing salaries and changing our incentive structure will help us conserve cash and ensure we have the resources available to continue investing in our growth strategy. We are confident that we will return the company to growth and profitability in the near future.
These cuts and even management compensation reductions (they deserve some credit for that) are a serious departure from the previous "grow the organisation back into its global organisation framework". If we take the $4 million and apply it to EBITDA, the annual run-rate looks like -$1 million (EPS and Operating Cash Flow are worse FYI).
Management seems to be working hard to build something and revenue, although volatile, is slowly, progressing in the right direction. Looking back, we can say the cuts could have been made years ago but that's with the knowledge we have today. The important thing is, Richardson Electronics is getting closer to writing green ink.
If it does, it's a steal at an enterprise value of $16 million.
Disclosure: I am/we are long RELL.
I wrote this article myself, and it expresses my own opinions. I am not receiving compensation for it (other than from Seeking Alpha). I have no business relationship with any company whose stock is mentioned in this article.
Additional disclosure: A slightly different version of this article was released 48 hours earlier to The Black Swan Portfolio subscribers.
Editor's Note: This article covers one or more stocks trading at less than $1 per share and/or with less than a $100 million market cap. Please be aware of the risks associated with these stocks.