As oil producers of OPEC discussed their upcoming production cut with Russia, oil prices increased initially but fell on Thursday with WTI and Brent trading at $49.8 and $51.44, respectively, at the time this was written. Oil prices fell as OPEC produced a record 33.39 million barrels per day in September 2016. On Monday, Oct. 10, Russia's President Vladimir Putin said that this country was ready to support OPEC in its efforts to reduce oil production and support oil prices. "Russia is ready to accede to joint measures to reduce oil production, and is calling on other oil exporters to do. We support the recent OPEC initiative to set production limits," said President Putin.
Although Putin's bullish comments did lift the prices, there were reports which suggested that Igor Sechin (head of Russia's state- owned Rosneft) opposed the proposal to reduce production. Even Russia's Energy Minister Alexander Novak had earlier said that his country will aim to produce oil at record level in near future. While markets still remain uncertain on Russia's participation in the upcoming OPEC production cut, Russia's two largest producers have confirmed that they will abide by any government directives to limit oil production. Another positive development took place on Wednesday when Russia's Energy Minister confirmed his country's participation in the upcoming technical meeting on Oct. 29 in Vienna.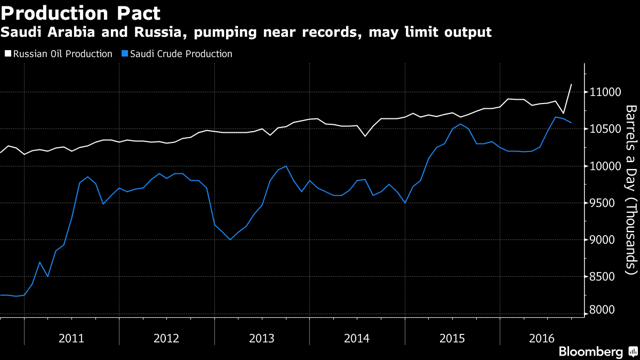 Click to enlarge
IEA lowers its oil demand growth (again)
In its latest Oil Market Report, the IEA again lowered its oil demand growth forecast for 2016 from 1.3 million barrels per day (in September) to 1.2 million barrels per day. The agency expects this demand growth to remain same for 2017 as well and attributes this drop to a marked deceleration in China and diminishing OECD growth. It says that markets may remain oversupplied till first half of 2017, and if OPEC reduces its production levels, the supply/demand rebalancing could gain momentum. In my opinion, the IEA is wrong when it talks about the global oil demand.
Looking at China, its crude oil imports increased to highest levels this September. The Asian giant imported 33.03 million metric tons of crude oil in September 2016, a year on year increase of 18%. This increase was attributed to the country's falling domestic oil production and its teapot refineries. Even India's crude oil imports touched record levels this September as it imported around 4.7 million barrels per day with a year on year growth rate of 17.7 percent. I had explained in my previous article that China's oil demand will definitely support oil prices in the near future. With the latest import figures, it can be clearly seen that China and India's oil demand growth will continue to push oil prices in the near future.
Takeaway for Investors
I am really surprised by the amount of media coverage given to the current OPEC-Russia talks. I agree that a joint production cut made by OPEC and Russia may reduce the global crude oil output by around 1.2-1.5 million barrels per day. But, the question here is: How long will OPEC and Russia keep reducing their output? In an interview given to Bloomberg, UAE's Energy Minister Suhail Mohammed Al Mazrouei said, "it takes more than OPEC to stabilize the market, there is a realization that other big players need to do their jobs. If we all collectively agree that there is an oversupply, then we need to collectively participate in fixing this. We are sending an open invitation to everyone."
From this statement, the UAE Energy Minister is not only pointing out at Russia but also at the U.S shale players. It must be noted that OPEC and Russia will only reduce their output for a "certain period" as crude oil at $60 a barrel may trigger a strong increase in U.S shale output (a situation which OPEC and Russia do not want). In short, a possible joint production cut by OPEC and Russia will only have a limited impact on oil prices. Investors must take note of this.
Disclosure: I/we have no positions in any stocks mentioned, and no plans to initiate any positions within the next 72 hours.
I wrote this article myself, and it expresses my own opinions. I am not receiving compensation for it (other than from Seeking Alpha). I have no business relationship with any company whose stock is mentioned in this article.