Highlight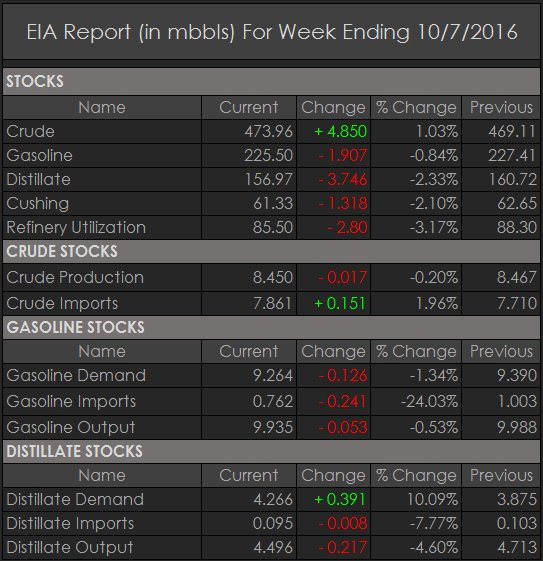 Source: EnergyBasis
This week's EIA weekly oil (NYSEARCA:USO) inventory report is more like the normal seasonal report. Refineries are finally slowing down as refinery maintenance season starts. Distillate storage draws as distillate demand increased by 391k b/d. Gasoline demand slows as we pass the peak driving season. Finished products saw large draws while crude build. Overall storage was down again this week.
The volatile response immediately following the inventory report hints to us that the market doesn't know exactly how to respond to this. On one hand, oil prices are above $50, yet we are still seeing lower 48 production decline by 36k b/d this week while Alaska increased by 19k b/d. The overall decline was -17k b/d leaving US production at 8.45 million b/d. This is going against the consensus belief that US production will resume growth soon. Rystad, an energy consultant firm whom we highly regard, forecasts that US production should have bottomed and will grow again next year. We see that certainly being the case as Permian producers are going full throttle. We think however that Rystad's estimates might be a bit high as servicing cost inflation will eat into production growth.
Click to enlarge
Source: Rystad
Looking at imports, we expect to see imports move broadly lower toward year end and potentially finishing the year around 7.1 million b/d. Looking at global floating storage, we had another massive draw reported in Singapore. It is now evident to us that the theory of floating storage coming onto onshore was very true, and once floating storage normalizes, we should see imports decline steadily. This will have significant impact on crude storage, and we see storage rebalancing by the end of Q2 2017 if OPEC sticks with its production cut announcement. Even if they don't agree to the deal, we expect storage to fully normalize by Q4 2017.
Going forward, we should see further weakness in refinery utilization and finished product to draw. Level of imports will determine the level of crude storage build, and we think it will be lower than what the consensus currently believes. US oil production should start to bottom out around here. In our recent weekly oil markets update to premium subscribers, we wrote that, "near-term could see consolidation around the $50 area as the market continues to wrestle with the possibility of an OPEC deal happening." Oil prices are now just stabilizing around the $50 level, and we plan to post an update this weekend on our outlook.
If you are interested in reading our weekly oil markets outlook, please consider signing up here. Thank you for reading Weekly Oil Inventory Report.
Disclosure: I/we have no positions in any stocks mentioned, and no plans to initiate any positions within the next 72 hours.
I wrote this article myself, and it expresses my own opinions. I am not receiving compensation for it (other than from Seeking Alpha). I have no business relationship with any company whose stock is mentioned in this article.