What's going on with Novo Nordisk?
During the last few months, Novo Nordisk (NYSE:NVO) has had quite a turbulent performance. Partially due to this reason, Lars Rebien Sorensen left the company, and the new CEO hopes to return the giant on the right track.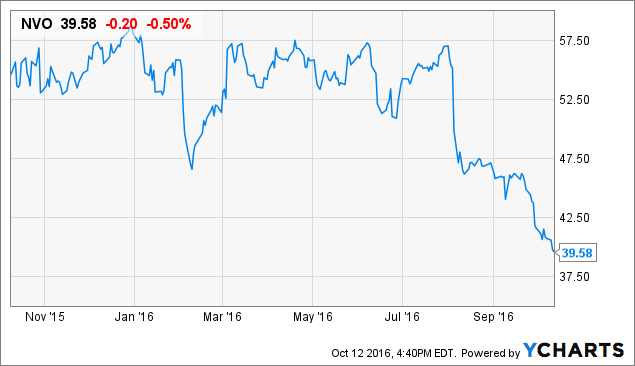 Back to fundamentals
Novo Nordisk's business case is simple in comparison with the other pharmaceutical companies. The other pharma giants are strong in several therapeutic areas, but Novo is mostly focused on diabetes (80% of revenues). Diabetes is categorized into two main groups as type-1 and type-2. A person with type-1 diabetes has a deficient insulin production and needs to be injected with insulin. With type-2 diabetes, situation is a bit different. Namely, not all patients with type-2 diabetes need insulin. At the beginning they can regulate the level of sugar by dieting and exercising. Since it is a progressive disease, the patient needs to use tablets, and as the disease further progresses, the tablets could be used in combination with GLP-1 drug. If these treatments are insufficient, the patient needs insulin treatment, either in combination with other drugs or as a standalone drug like type-1 patient.
Novo's diabetes products and pipeline can be separated into several main categories: human insulin, modern insulin, GLP-1 analogue and the new-generation insulin. During the last 16 years, sales have compounded organically at an average rate of 11% and a net profit of 17%. The worldwide population diagnosed with diabetes is growing by 4-5% percent as a result of a modern lifestyle (obesity, lack of activity, stress etc.). The growth rate in Europe is slowing down, while North America has a stable growth rate at mid-single digits. The growth in Japan and Korea is stagnating. On the other hand, China and international operations have a double-digit growth rate.
The logical conclusion is quite simple. According to the demand side of the story, there is no problem because aging population plus lifestyle changes in emerging markets are going to create plenty more patients diagnosed with diabetes. Of course, on the other side of the coin is the supply. Patients and their insurers are expecting their treatment to become cheaper. The pressure is coming from many different directions. For instance, in the US, the company's biggest market, pricing is coming under the pressure and Novo Nordisk has warned that revenue growth over the next two years will probably slacken. In the long run, emerging markets such as China and India may prefer cheaper versions of generics to Novo's products. In addition, the competition is creating an enormous pressure. Sanofi (NYSE:SNY) and Eli Lilly (NYSE:LLY) are launching cheaper versions of their drugs in, spite of lower/negative profitability, with the aim of increasing their market share.
To summarize, this is a current environment, which is weighing down Novo Nordisk's performance. The company of such quality is providing us with another perspective on the ongoing issue. The global scale (entering the insulin market requires significant up-front costs) and switching costs (patients don't want to change therapy - it takes time to establish a stable regime) are providing the company with a wide moat that protects the profitability in years to come. Having the sales force with over 15,000 employees specialized in diabetes, compared to the sales force of competitors, which have many different products, is ensuring returns above all levels.
Outlook - So what can we expect of Novo
With "jaw-dropping" returns, Novo stands as the best in its class of companies. It will take many years to see Novo's returns close to its competitors. Why? The answer is very simple - considering the above-mentioned reasons and the fact that Novo is greatly focused on R&D, it is miles away from its competitors. Moreover, it will take many years for them to reach Novo's level.
For instance, Novo got approval in the US for its new long-lasting insulin Tresiba at the beginning of the year. That put Novo on higher level in the most important insulin category. Also, it has filed for approval for Xultophy (it lowers blood sugar with a significantly lower risk of hypos) in the US. In addition, Novo filed for regulatory approval of faster-acting insulin in the US and the EU for the treatment of type-1 and 2 diabetes in December last year. In the longer run, a once-daily oral formulation of semaglutide (a GLP-1) showed very encouraging results and entered phase III development. Those recent milestones formed a bright future for Novo. Operationally, Novo has an excellent track record in executing full potential from its pipeline so I'm not concerned over its pipeline of innovative new drugs despite current headwinds.
Many great companies face challenges from time to time and then seek advice from their consultants (usually investment bankers). So if you have a hammer (wallet), every problem looks like a nail (acquisitions). With Novo, we have a different case. The company has achieved the spectacular growth almost exclusively organically, and according to its current pipeline, it should stay more or less at the same course. Management has excelled at capital allocation in spite of the fact that its allocation looks extremely simple (dividends, share buyback and investing in organic growth).
Without any doubt, Novo is completely aware of its challenges. Everything said so far makes more sense if we know that Novo announced the cost-cutting program. Namely, the company plans to reduce the headcount by 1,000 (on a net basis). This measure should be looked at very carefully given this is Novo's first structured headcount-reduction program in Denmark (50% of headcount reduction is expected to be in Denmark).
Valuation
Many headlines highlight the pressure on gross margins going forward as pricing of the US insulin is expected to go down. Gross margins are so high today and they will remain high even with price deterioration. Taking into account marginal costs of insulin, which is a fractional part of the price, it doesn't really impact relative profitability. If it takes 5c to make a product which sells for one dollar, even if it sells for 50c, the gross margin will still stay relatively high. So to speak, Novo has plenty on its plate right now and material deterioration of its margins is not its primary concern. Of course, if the company was not able to compensate absolute decrease of the operating profit, I would be concerned. However, because Novo has a strong pipeline and a diligent management team, I look upon its future with full confidence.
Looking at the standard measures like relative multiples, Novo is not cheap, but on a free cash flow basis, the purchase makes sense. So, if we know that Novo produces FCF of something around USD 5-6bn (based on Bloomberg's estimation for 2016 and 2017) and market cap is around USD 100bn, it is not highly attractive on an absolute basis. However, when we compare Novo with other high-quality companies on a relative basis, it seems more attractive. In addition, market cap over FCF stood around 24x during the last 10 years. So level of 20x is below the long-term average. In this interest-rate environment, considering the quality of the company, the cash yield of around 5% plus operating profit growth between 5% and 8% is not so bad. All things considered, if I needed to deploy my capital in this environment, Novo would be on my list.
Conclusion
To sum up the information given, what are some of the short-term risks associated with investing in Novo? (i) Earlier and more rapid erosion of the insulin portfolio by biosimilars, (ii) the ex-US landscape could get tougher than I expect, (iii) lower margins on oral insulin given higher level of API needed; (iv)key pipeline compounds fail in development.
Given my long-term approach, I can only say it may not be a straight line up, but I think the long-term secular trend is relatively favorable for the company with the ample of reinvestment opportunities.
Disclosure: I/we have no positions in any stocks mentioned, and no plans to initiate any positions within the next 72 hours.
I wrote this article myself, and it expresses my own opinions. I am not receiving compensation for it (other than from Seeking Alpha). I have no business relationship with any company whose stock is mentioned in this article.