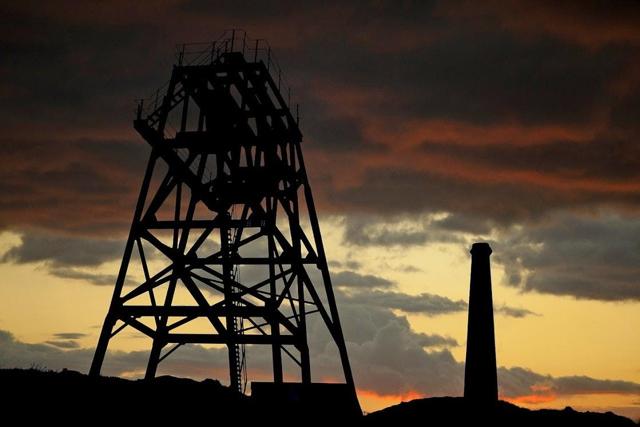 Click to enlarge
source: Stock Photo
It's good to see something in the news about oil besides the alleged OPEC production cuts supposedly coming at the end of November, along with the outreach from the cartel to Russia in particular, to also agree to cut output in order to support the price of oil, as oil stockpiles once again take center stage.
Now crude inventory levels are back in the news, and it's not good news for oil prices, as an API report revealed stockpiles had added a surprising 2.7 million barrels last week. That's the biggest build over the last six months. Expectations was there would be a more modest 2 million build.
Also pressuring crude is the news OPEC has ramped up production again to record levels, generating more questions as to the motives behind the increase and what it means for the ongoing negotiations and planning on how to allocate the output cuts among OPEC members. The actions appear to confirm the member states are going to continue to defend market share, making it unclear how that will lead to an agreement. OPEC said September production jumped by 220,000 barrels per day to 33.39 million barrels per day.
There are already several OPEC members given a free pass to continue producing, which implies to me Saudi Arabia will have to be willing to endure the bulk of any production cut agreement. That was always going to be the case if there was to be a deal signed, but it looks like the Saudis may have to cut even more if there is a deal that the market believes has real teeth to it.
The announcement of the inventory increase brings investors back to actual market conditions that have a real impact on the price of oil. That's the only thing we can count on at this time.
Crude inventory build
Before the alleged production cut announced by OPEC took over the news cycle, crude inventory build had become the key metric investors were watching for clues for the direction the price of oil would take. After the numbers released by API, we're now waiting for the next set of numbers from the by the U.S. Energy Information Administration on Thursday.
If there has been a strong build, it'll be the first time in six weeks and the highest increase in about six months. This points to the supply/demand equation, and reinforces the fact oil supply may continue to exceed the growth pace of demand.
The combination of an increase in stockpiles and record OPEC output, it's hard to see how this is going to suddenly turn direction in an meaningful way.
Oil supply continues to exceed demand by about 500,000 barrels per day.
According to Vitol's Ian Taylor, futures prices aren't indicative of the amount of physical crude that is available. At this time Brent futures LCOc1 stand at about a $2 per barrel premium to physical cargoes that are supposed to be the foundation of the contracts.
Other signs of ongoing oversupply
In September Qatar and the United Arab Emirates sold their crude at 25 cents per barrel on the spot market, a discount confirming a lot of crude being available. Saudi Arabia has also recently discounted some of its crude in specific markets.
Probably the most important metric to watch on the production side is the U.S. shale industry consistently adding to the rig count as they complete wells that have been waiting to be brought to market. Since shale producers have never been in this place before, we have no idea how much more oil this will add to the market when considering the majority of, if not all the new wells are what is considered premium wells. They will significantly outperform past wells.
It would be easy to conclude that's the reason why OPEC is cutting production. But the point is supply continues to grow, and it appears that will be the case for a long period of time as shale production comes roaring back. In other words, OPEC would have to be willing to cut more than it is able or willing to in order to have any impact on the price of oil over a significant period of time.
That's always been the problem associated with U.S. shale production, and there still isn't an answer to that, as the market will discover in the months ahead.
Investors need to understand OPEC no longer is the swing producer, and its production freezes or cuts were the way of managing the market in an era that no longer exists.
The Russian factor
If there is an actual verifiable production cut put in place by OPEC, it would probably have to include Russia as a partner to an agreement, otherwise it would set up OPEC to lose market share to all of its competitors, something it's not going to allow. To me that would interrupt the process and end the initiative in its tracks.
There is simply no upside for OPEC members agreeing to production cuts, as the supposed increase in the price of oil would be offset by the loss of barrels sold per day.
If anyone believes OPEC is a benevolent cartel looking to help its competitors with stronger earnings, they aren't thinking straight.
There have been mixed signals from Russia so far, with some producers lining up with Putin's assertion the country wants to enter into a production agreement, and others that resist agreeing to production cuts. Igor Sechin, head of Rosneft, has already stated the company won't participate in any production cut. If that holds true, it's not likely his domestic competitors will enter into an agreement with OPEC. There's negative history on the side of Russia and OPEC, both of whom have continued to pump oil above the stated quotas.
Conclusion
It's far more important for oil investors to watch the inventory level of oil than to watch the ongoing soap opera of the OPEC oil production talks. Every day there seems to be an added catalyst that makes a deal almost impossible to make, or at best, the deal will be so watered down with various exemptions and readjustments of production levels, it will be ignored as important by the market.
In my view this was an announcement made to force a number of producers to the table, including some non-OPEC suppliers like Russia. The thought appears to have been with a number of leaders getting together it'll bring about the desired outcome of a production cut everyone can live with. That increasingly looks like it's not going to happen in a way that can be monitored and verifiable. That's another way of saying it's history repeating itself.
As I've mentioned numerous times, all of this is a moot point after U.S. shale producers ramp up production. Any short-term gain will quickly be offset by an increase in supply from the U.S. and other competitors looking to cash in on an increase in oil prices.
Crude inventory levels and rig counts are the two most important metrics to watch, as they give the current balance of supply and demand and what the near-term future holds for production levels. That's far more important because they can be counted on to reflect existing and future market conditions.
Disclosure: I/we have no positions in any stocks mentioned, and no plans to initiate any positions within the next 72 hours.
I wrote this article myself, and it expresses my own opinions. I am not receiving compensation for it (other than from Seeking Alpha). I have no business relationship with any company whose stock is mentioned in this article.