In a recent article we touched upon today's rich Equity market valuations in the context of historically low interest rates. While our view was that the market is overvalued, we concluded that one could build a case that much of the apparent overvaluation is caused by depressed global yields. We remain somewhat sceptical of this explanation and so in this article pursue a slightly different angle to get at the fair value of the market.
The indicator we use for this exercise is very simple - it is composed of just two market variables: one Fundamental metric and one metric borrowed from the Derivatives market. We continue using the P/E ratio in the numerator as our Fundamental metric and pair it with the VIX index level in the denominator.
So, to summarize:
Equity Market Sentiment Indicator = P/E Ratio / VIX
Without further ado, this is what it looks like: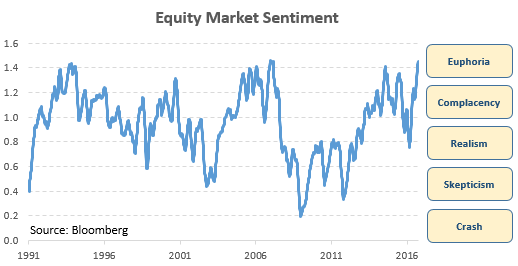 We've annotated the chart on the right - essentially dividing the entire historic range of the indicator into five broad sentiment groups ranging from "Crash" to "Euphoria". This fits broadly with our intuition - especially the period of the Financial Crisis as well as the Tech Boom.
If you take the indicator above at face value there are two immediate conclusions that we can make:
The current market sits at the extreme end of the historic range - indicating extremely bullish sentiment
We do not tend to spend a long time at such extreme valuations - suggesting that in order for the indicator to normalize quickly either the P/E must fall or the VIX must rise
In order to gauge how today's situation compares to the previous peaks in the indicator we plot below both the P/E as well as the VIX.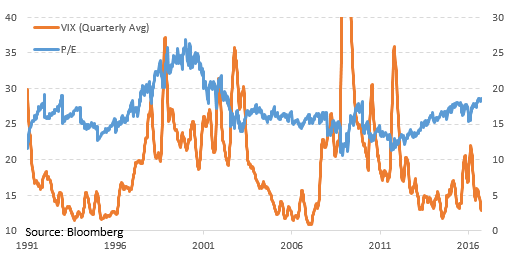 Drilling into the dynamics of the previous three peaks:
1993: VIX was relatively low however P/E was arguably exagerated due to depressed Earnings
2000: Risk-averse VIX with a complacent Equity Market at a very high P/E
2007: Average P/E but very complacement VIX
2016: Complacent VIX and an arguably complacent Equity Market with high P/E
So, in conclusion today's market does appear (perhaps not surprisingly) different from previous instances of 'Euphoria' according to the definition we use here. Both the Derivatives as well as the Equity markets are at rich / complacent valuations. One interpretation is that this is the "new normal" of artificially high asset prices, low global yields and beaten-down volatility. If so, investors should ignore comparisons to historic valuations since "history" no longer applies to an environment of a fundamentally different monetary policy and should manage their exposure based on economic outlook, earning forecast and technical analysis.
The alternative view is that the market is setting itself up for a roller-coaster ride in the coming months. Our own view is closer to the latter than the former. Apart from the valuation angle discussed here, we have a busy docket of risk events over the next weeks and months:
Nov-16: U.S. election
Dec-16: Italy constitutional referendum
Mar-17: ECB QE tapering
Ongoing OPEC negotiations
Ongoing European Brexit negotiations
We don't have a strong sector view, however if you are long the main indices via (NYSEARCA:SPY), (NYSEARCA:DIA) or (NYSEARCA:IWM) we advocate caution.
For now, Good Luck!
Disclosure: I/we have no positions in any stocks mentioned, and no plans to initiate any positions within the next 72 hours.
I wrote this article myself, and it expresses my own opinions. I am not receiving compensation for it (other than from Seeking Alpha). I have no business relationship with any company whose stock is mentioned in this article.